Valdivia, Chile: A Riverside Gem
By Jennifer Roberts
Nestled near the northern edge of Chile's sublime Patagonia region and squarely in the middle of a temperate rainforest that bears its name, Valdivia is an ecological wonder. Its costanera (waterfront) hosts swarms of enormous sea lions that lay sunbathing and roaring into the air for the greater part of the day. Those who can't find a spot on the concrete slip through the water, their heads bobbing in and out, delighting the children who run and skate near the Calle-Calle River. In the surrounding rainforest, you can find the mono del monte, a small marsupial that resembles a tiny, adorable monkey; colorful birds; and even pumas.
Valdivia is found in the Los Ríos region, which translates to "the rivers." Valdivia hosts no less than five major rivers, a landscape that was chiseled out after the earthquake of 1960, the most powerful ever recorded in the world. Since then, Valdivia has reshaped and settled into its new identity as a peaceful, friendly city that welcomes all kinds of people.
Reaching Valdivia requires jumping off Chile's Ruta 5 and driving an hour through winding roads that cut through the picturesque Oncol Mountains and marshlands. This adds a sense of tranquil isolation to this bustling city of southern Chile. Here, you have access to delicious restaurants, quality healthcare, gorgeous views, a nearby airport, and friendly people, making it a perfect place to put down roots as an expat or retiree.
Retire in Valdivia, Chile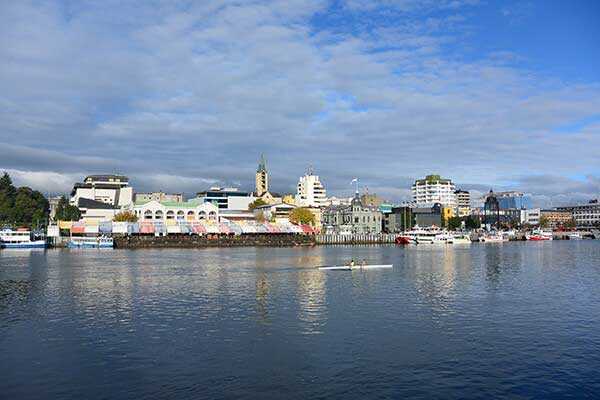 Valdivia is a medium-sized city by Chilean standards, with a population of about 143,000. Austral University attracts young people from around the country, and Chilean retirees are now beginning to look to southern Chile as their chosen destination in order to escape the extreme heat and dryness of the central and northern regions. While winter in the south can be very foggy and rainy, this means the landscape stays ever-green while the rain keeps temperatures from rarely dipping below freezing.
You would be hard pressed to find a lovelier place in the spring and summer than Valdivia. The sun begins to burn off the fog and throws sparkles onto the river's surface. The bandurrias (buff-necked ibis) return to their posts on top of the buildings, calling out at passersby below. Local markets creep back onto the streets as temperatures hover around the high 60s and mid-70s.
Most everything you need for a comfortable lifestyle is located near the city center. The Plaza de Los Ríos is a large mall with everything from clothing to technology to household items. Clínica Alemana is a private clinic offering high-quality healthcare options, and if you are a resident of Chile, you automatically gain access to the country's public health insurance. There are numerous coffee shops, restaurants, book stores, museums, and even a casino to help you fill any day.
Walking through the streets of Valdivia, you may notice the German architecture of the older houses. German immigrants began to settle in southern Chile as part of a state-led colonization scheme in the mid-19th century. They continued to settle around Valdivia and other cities in the south for the better part of the 20th century and have had a lasting effect on not only Chile's architecture and food (looking at you, kuchen), but its economy, as well. This is why you'll pass by many German schools, clinics, and restaurants in Valdivia and southern Chile in general.
While English is a part of the school curriculum beginning in middle school, speaking skills continue to lag behind reading and writing skills, so finding someone who speaks English well enough to offer directions can be a bit of a challenge. You should plan to study some Spanish if you decide to make the move to Chile, and keep in mind that Chilean Spanish is quite different from that of Spain. Once you embrace this and learn to have fun with the phrases and accent, you'll be well on your way to communicating with ease.
Lifestyle in Valdivia, Chile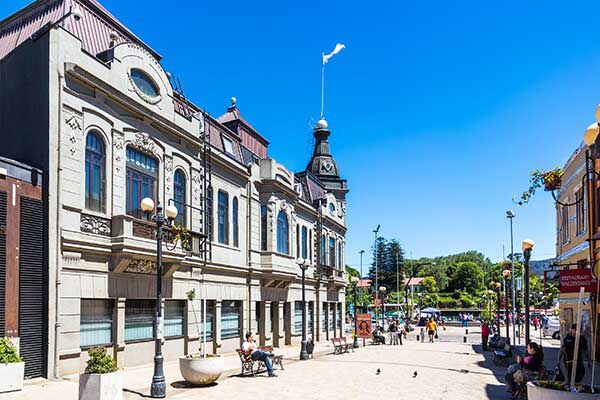 Life in Chile tends to move at a slower pace than what many Americans and Europeans are used to. While this can be a shock at first, it makes for an overall less stressful lifestyle.
Chileans are much more community and family-oriented and are quick to welcome foreigners. This focus on community also means there is more emphasis on supporting local businesses, especially locally grown produce, which is available on just about any street corner.
Weekends in Valdivia can be spent exploring the Feria Fluvial, Valdivia's large, covered market, or taking a stroll through Austral University's botanical garden. Go a bit outside the city, and you'll find beaches, hiking trails, and more.
Getting around Valdivia without a car is very easy as public buses (micros) run constantly and have stops throughout the city. They do get quite busy around rush hour, but the city is also very walkable, so you can add a nice evening stroll to your dinner plans.
Cost of Living in Valdivia, Chile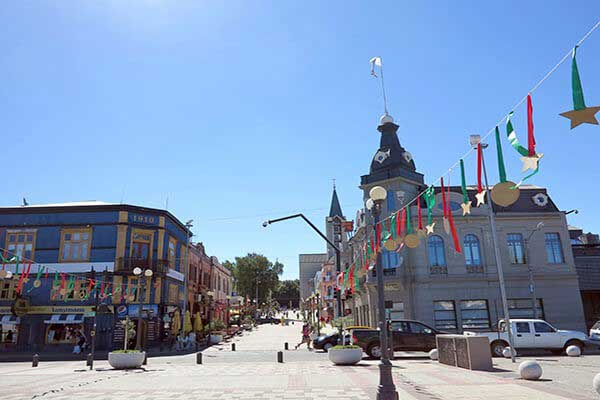 Below is a Monthly Budget Breakdown for a Couple in Valdivia, Chile:
| | |
| --- | --- |
| Rent (two-bedroom apartment in the city center) | $500 |
| Utilities (gas, electricity, water) | $45 |
| Internet | $30 |
| Basic Phone Plan (x 2) | $20 |
| Maid (three hours, once a week) | $50 |
| Groceries | $250 |
| Transportation (mass transit/tank of gas) | $100 |
| Dining and Entertainment | $120 |
| Total: | $1,115 |
Things to Do in Valdivia, Chile
Whether you love being surrounded by the sounds of nature, staying active, experiencing local foods, or taking life at a slower pace, Valdivia is happy to accommodate you.
Go Kayaking or Paddle Boarding on the River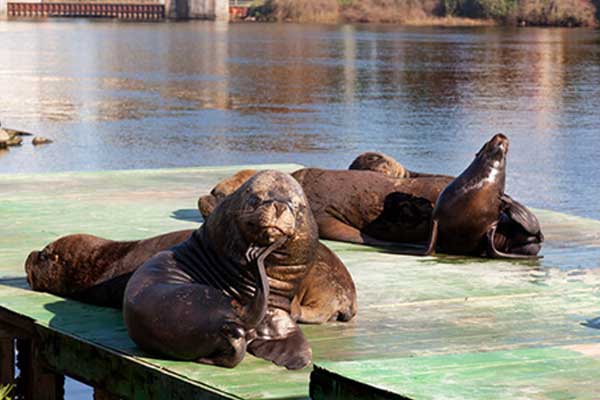 Valdivia is surrounded and divided by rivers, with the largest being the Calle-Calle River, the Cau-Cau River, and the Valdivia River. Walk along the Calle-Calle River on any relatively warm and sunny day, and you'll spot people kayaking, rowing, and paddle boarding along its surface. There are few restrictions when it comes to entering the river, meaning that athletes young and old are welcome to brave the chilly water, dipping their paddles in alongside the sea lions that bob along the surface.
Visit the Restaurants on Isla Teja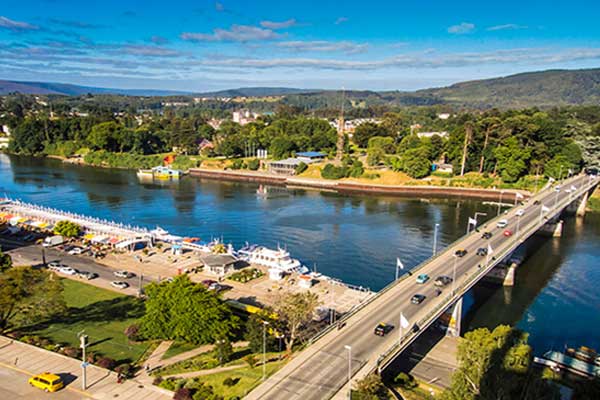 Isla Teja (Teja Island) is connected to the rest of Valdivia by a bridge that crosses the Calle-Calle River. Make the short journey over the water, and you'll be rewarded with a wonderland of food and artisanal beer offerings.
Austral University is situated on the island, so Isla Teja's food scene has exploded to accommodate the tastes of young university students. However, you'll find people of all ages chatting, eating, and drinking on the patios of the local restaurants. Whether you're in the mood for Chilean, Italian, American, or Middle Eastern cuisine, Isla Teja has something for everyone.
Buy Local Produce and Seafood at the Feria Fluvial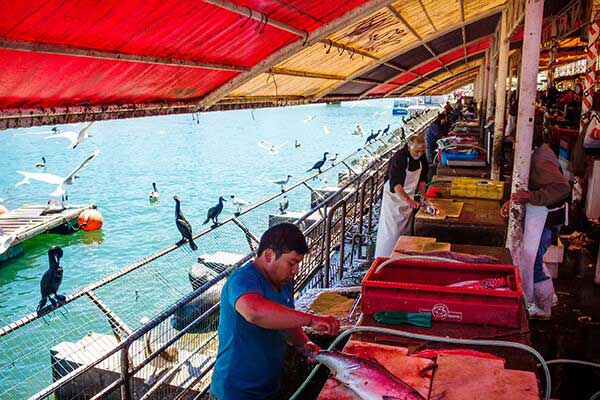 Valdivia's Feria Fluvial, situated next to the Calle-Calle River, is lined with fresh fish and seafood on one side and local fruits, vegetables, and nuts on the other. In the warmer months, the feria expands beyond the reach of the colorful roof as stalls selling artisan items and souvenirs open along the length of the river's coastline.
Relax on Niebla's Beaches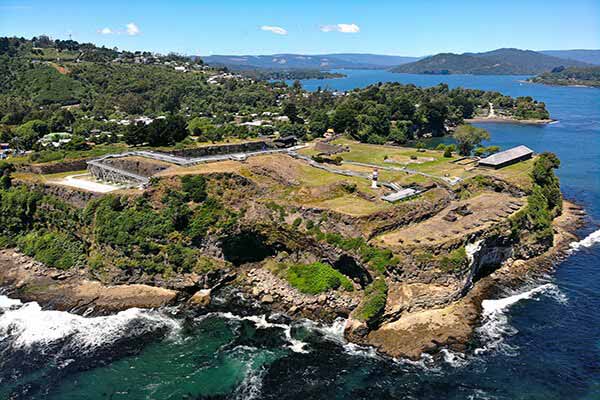 Just 30 minutes outside Valdivia sits Niebla, a coastal town that overlooks the mouth of the Valdivia River as it makes its way to the Pacific Ocean. Niebla means "fog," which you'll find a great deal of in the winter, but summertime throws sunshine over several beautiful beaches with easy access to markets full of seafood and fried empanadas.
In Niebla, you can also find the Castillo de la Pura y Limpia Concepción, a historical fort built in the 17th century by the Spanish conquistadores. It has been converted into a museum that anyone can visit between Tuesday and Saturday with an online reservation.
From Niebla, you can also take a ferry over to the small town of Corral, where you'll find another historical fort, great seafood, and more nice beaches.
Go Hiking at Oncol Park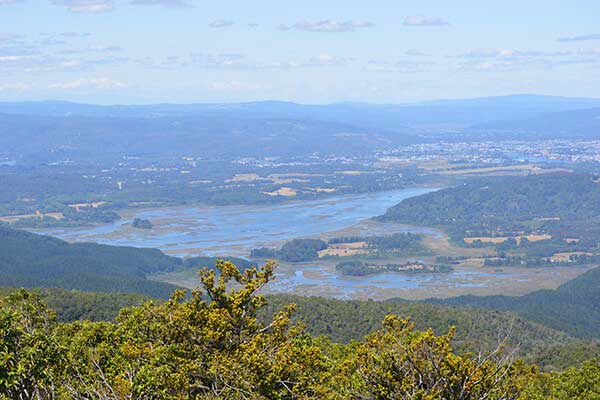 If you're looking to get into nature and enjoy the surrounding Valdivian Rainforest, an hour drive will take you to Oncol Park, where you'll find several great hiking trails. The main trail leads to a spectacular lookout with views of the Pacific Ocean and the treetops of the forest. The longest trail will take around two to three hours to complete, depending on your activity level, so give yourself plenty of time, especially if you want to check out some of the shorter trails afterward.
Take a Stroll Through Austral University's Botanical Garden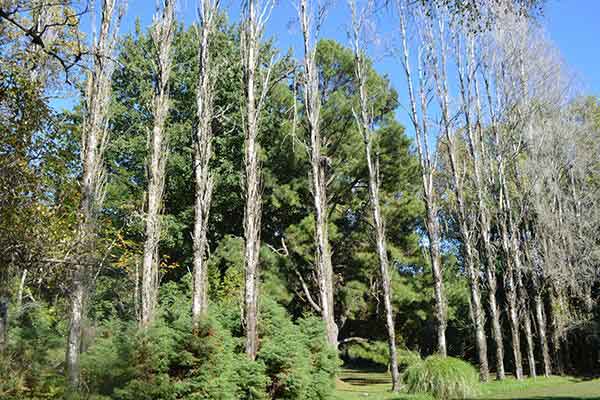 Austral University's Botanical Garden (Jardín Botánico) showcases nearly a thousand species of Chile's native flora and aims to create a space for scientific investigation and education. The garden covers around 25 acres, so a leisurely walk can easily fill a full morning or afternoon. There is no fee to enter the garden, making it one of the best free activities in the city. Keep in mind that picnicking and dog walking are discouraged here in the interest of keeping the garden as clean and accessible as possible.
Visit the Kunstmann Brewery
The Kunstmann Brewery is a must-see for any beer fan. This brand has roots in the German immigrants who came to Chile in the late 19th century. The original brewery collapsed in the 1960 Valdivia earthquake, but that didn't stop them from rebuilding at their current location in the 1990s. The brewery now houses a restaurant with German-inspired dishes and offers tours to those interested.
Featured Image Copyright: ©Wastesoul/iStock