Oceanfront Property in Croatia
Croatia, with more coastline than any other European country, boasts some of the most exquisite oceanfront property in the world. Every twist and turn of the coastline serves up grand views of secret coves, little harbors, and calm turquoise waters. The coastline is often rocky, which makes true "beachfront" property harder to come by, but many pebble beaches and a few sandy beaches do exist—scattered in between rocky pathways and striking cliffs—and even without the actual beach, many properties boast breathtaking ocean views.
Out in the Adriatic Sea, a galaxy of islands–1,185 of them–shimmer like a cache of emeralds. The legendary Jacques Cousteau, esteemed biologist and oceanographer, once described Croatia's waters as the cleanest and clearest in the world. When you come here, you simply must take a boat and go out into the Adriatic–you'll be astounded at how far down into the depths you can see.
Ocean-View Real Estate on Split and the Central Dalmatian Coast
If you're interested in Split, you'll be happy to know that many parts of town boast ocean views or short walks to the beach.
In Old Town—a favorite and central place to base yourself—you'll find a good combination of properties for sale in old (and often well-kept) buildings along pleasant and often pedestrian-only streets, just a short walk from the beach and the palace. You'll also find a sprawling farmer's market and a lively summer nightlife.
Summers are warm and dry (there is some need for air conditioning), and winters are mild (central heating is necessary occasionally, but you'll see locals swimming in the ocean as late as November here and mild days are the norm even when the Christmas lights go up around town). Locals take advantage of their location and weather, and are well known for their love of the outdoors and sport.
Ocean-View Property on the Island of Brac
Under an hour's ferry ride from Split and the mainland, Brac is central Dalmatia's largest island (the third largest in the Adriatic), and the windsurfing capital of Croatia. An island of vineyards, olive groves, and pine forests, its other claim to fame is its white marble.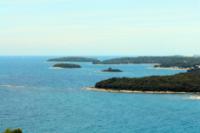 The island's population is just under 14,000. Along with idyllic coves, traditional villages, and bustling fishing harbors, one of Croatia's most famous beaches is here: tongue-shaped Zlatni Rat (Golden Cape). It looks Caribbean on posters, but be prepared for pebbly golden shingle, not soft sand. Some people automatically object to stony beaches, but bathing in the water here is idyllic. The white stones lend a champagne clarity that sand beaches just can't match.
Beachfront Property on Hvar–Croatia's Sunshine Island
A two-hour ferry ride from Split, Condé Nast Traveler listed Hvar as one of the world's top 10 most beautiful islands. Surrounded by sapphire-blue seas, this is another idyll of hidden coves, dense woodlands, and a clutch of quaint towns and villages.
As it's basically a long, skinny island, you're never too far from the sea. Home to around 11,500 inhabitants, it's definitely an "in" place–Giorgio Armani and Princess Caroline of Monaco have visited in the past. A low-lying island, Hvar claims to be Croatia's sunniest spot with more than 2,700 hours of sunshine annually.
Hvar's main settlement is Hvar town, a renaissance beauty of 16th-century houses with a harbor, stepped-stone streets, and a citadel that once defended the islanders against the Ottoman Turks. The only other sizable settlement is Stari Grad, at the end of a 4-mile-long bay on the island's northern side.
Purchase Beachfront Property Around Dubrovnik
For better value, it pays to look beyond Dubrovnik. In the villages nearby, you'll come across plenty of coastal building plots and waterfront lot properties offered at much more reasonable prices. For example, less than eight miles away, you'll find Plat. Hidden between the resorts of Cavtat and Mlini, Plat is a tiny oasis of tranquility.
Pine and cypress trees line its lovely pebble beaches and enchanting bay. This spot is ideal for those who want to escape the rush of daily life, yet still enjoy easy access to amenities. If you're here on vacation, tourist boats regularly ply between Dubrovnik's Old Port and the little seaside resort of Cavtat.
Get Your Free Real Estate Report Now
Sign up for our free daily Postcard e-letter and get a valuable free report on the The 5 Best Places to Buy Real Estate In 2023.