Portugal is a country rich in fruits and vegetables grown locally in the fertile farmland throughout the country. Orchards, vineyards, and crops of healthy delights like kale, cabbage, and chard are abundant and make it easy to eat healthily. Local markets offer a platform for farmers to sell their wares at discounted prices, putting a smile on the faces of those who buy them. Large grocery stores feature sections called, "bio," with organic, vegan, vegetarian, gluten-free, and other options for the specialty shopper.
Although Portugal may not be known as a vegetarian food paradise with its abundant fish, beef, and pork, restaurants are popping up throughout the country offering plant-based options. And since eating out is more affordable here than in North America it won't break the bank either.
Long-time poultry, meat and dairy lovers, my husband Clyde and I made the change to plant-based eating about eighteen months ago. So, why did we make this change now? As we get older, we all seek healthier options to extend our lives and help us to age gracefully. And because we live in Portugal, a country with an abundance of produce sold at discount prices, it seemed like the perfect time.
Throughout Portugal, especially in the larger cities like Lisbon, Porto, and Albufeira, specialty restaurants have popped up offering a host of vegan, vegetarian, macrobiotic, gluten-free, and other options for the specialty diner. With such a long-time British presence in Portugal, Indian cuisine is never far away, and always offers a large selection of plant-based choices.
Let's have a look at some veggie-friendly restaurants that we have enjoyed.
In central Portugal, the city of Caldas da Rainha fills with the aroma of fresh produce every day of the year. Praça da Fruta, a large market in the center of the old town overflows with fresh fruits, vegetables, baked goods, dried meats, and more. Nearby, small shops carry spices sold in bulk, health food options, and sports nutrition supplements in the midst of a few restaurants geared toward plant-based eating.
On the corner near the market sits a small cafe, bakery, and restaurant called, Citrus. Enjoy a light snack or lunch including vegan/vegetarian wraps, burgers, crepes, and coffees topped off with non-dairy milk options. Enjoy your meal outside and people watch, living life in one of Europe's most popular countries. Cost to have lunch for two costs around $15.
Just a short walk from the fruit market is an adorable little restaurant called Leef. Once inside, the atmosphere is all about plants with a lush, green-covered wall that almost reaches out to hug you as you dine in close proximity. The menu features specials that change daily. Options include an entree, main course selection, desserts, and fresh smoothies. Leef is all about healthy eating that offers something for everyone. Along with a meat entree, there are vegan and vegetarian options included, from the entree to delectable desserts. We have enjoyed their burgers, salads, soups, desserts, and other specials, none of which have disappointed us. Enjoy a three-course healthy lunch for around $20 for two.
As the name suggests, The Green Affair in Lisbon offers plenty of green options on its vegan-based menu. Selections include pasta, veggie burgers, meat alternatives, curries, and desserts. The first time we arrived with no reservation and they managed to squeeze us in but on our second visit, we were not so lucky. I enjoyed a seitan steak served with potatoes and a salad while my husband selected a pasta dish served with spring vegetables. Plan on spending around $30 on dinner for two including drinks.
Across the street from this restaurant, we stumbled on a large "Bio" store, Portugal's term used for organic foods. It offered a wide array of everything from packaged foods to produce, locally sourced items, and more.
The city of Albufeira in southern Portugal has a variety of healthy eating establishments that we've come to enjoy. Our favorite is a small restaurant called, The Alfarroba Cafe, located ironically across from the old bull ring. Thankfully, bullfighting is no longer permitted in Albufeira and the ring is being demolished.
The cafe offers daily specials that include a soup, main course, and drink, all for $9. All of the offerings in this restaurant are vegan, macrobiotic, sugar-free, and made from the freshest ingredients. Meals are kept simple, and often feature beans, tempeh, tofu, rice, and other ingredients flavored with delicious sauces and spices. Even when we indulge with dessert, we never leave here feeling like we've cheated since all food prepared at Alfarroba is healthy.
A large, multi-level vegetarian restaurant called, Veggie Cafe has an extensive menu of burgers, salads, pizza, pasta, soups, desserts, and daily specials. Lunch for two costs around $12 each including drinks. I ordered a vegan pizza that was small in size yet piled high with a mountain of vegetables and vegan cheese, forcing me to share some with my husband. Clyde enjoyed a vegan pasta with carbonara sauce that was served with a salad.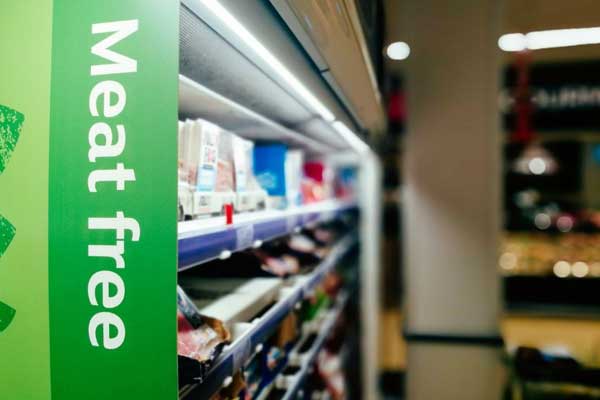 Food courts in shopping malls throughout Portugal offer an assortment of delicious food choices, made to order, served on real plates using stainless steel cutlery. There are not like U.S. food courts which offer only fast food. Vegan and vegetarian options can be found here too.
Another favorite of ours is inside the well-loved, giant Ikea store attached to this shopping center. While the Dutch superstore is known for selling everything you could ever want for your home, their cafeteria offers something to fill up our tummies. Even here plant-based options take center stage with offerings like veggie meatballs served with a choice of two side dishes for just $3 to $4. The small cafe and coffee shop located on the lower level serves a veggie hot dog for the unbelievable price of just 60 cents. Pick up some to use at home, frozen in the Ikea food shop nearby. But we never manage to get out of Ikea without indulging on a soft-serve ice cream cone for only 60 cents. Hard to believe that we can enjoy lunch for two, including drinks and desserts for just $10 at Ikea.
Get Your Free Portugal Report Here:
Romance, culture and adventure awaits in Portugal. Learn more about Portugal and other European countries in our daily postcard e-letter. Simply enter your email address below and we'll send you a FREE REPORT - Explore the Old World in Laidback Portugal.
This special guide covers real estate, retirement and more in Portugal and is yours free when you sign up for our IL postcards below.
Related Articles
An Overview of Traditions and Culture in Portugal
Is Portugal a Safe Place to Live?
Everything You Need to Know about The Algarve, Portugal
Popular Articles You May Also Like