Imagine living just a 20-minute flight from a world-class island destination…a 45-minute ferry from a tiny haven called the Island of Flowers…or an hour's drive from an expansive, uncrowded beach that is home to an exuberant expat community. In Panama, even those who choose to live in the bustling capital can enjoy the best of both worlds…city and beach. In fact, no matter where in the country you live, it's difficult to be more than an hour away from a pristine beach.
Along Panama's Caribbean coast, white sand beaches and aquamarine waters rival the best of the Bahamas. For a memorable vacation, these picture-perfect destinations provide the ultimate tropical backdrop.
Pacific coast beaches, on the other hand, are the most popular for weekend homes and full-time living. With cobalt-blue waters and pine-grey sands…storm petrels and pelicans careening above…these beaches rival the beauty of Nantucket and Martha's Vineyard. And their waters are always warm.
Panama has so much to offer, from mountain havens boasting year-round mild temperatures to colonial towns where the traditions of grand old Spain have shaped and enriched the local culture. But it's Panama's sunny beaches that get the most attention…and with good reason.
Here are some of the best beaches in Panama:
1. Best of the Caribbean: Bocas del Toro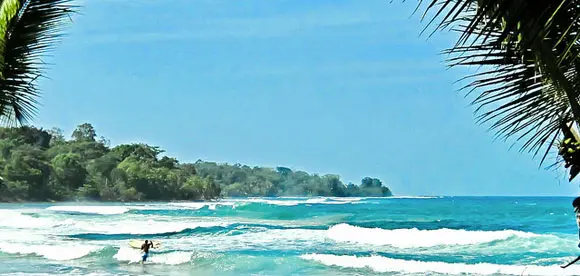 Best known for its islands, Bocas del Toro is one of Panama's two westernmost provinces, bordering Costa Rica. (The other is Chiriquí Province, just south of Bocas del Toro.) From the rough waters of Red Frog to the starfish-strewn Boca del Drago, there are dozens of hidden coves and pristine beaches to explore.
Spend your days sprawled on white-sand beaches, snorkeling the crystalline waters, or trekking through exuberant outcroppings of tropical foliage. My favorite beach is on Zapatilla Island, about an hour by boat from the tiny airport on the main island of Isla Colon. There are no shops or restaurants here. To pass the time, you can walk around the entire island (in about 20 minutes), wade into the baby blue waters, or simply enjoy the spectacular vistas.
At night, Isla Colon—also known as Bocas Town—comes alive, with restaurants and bars offering live music and a wide variety of cuisines. Evenings are leisurely, with everyone relaxing and enjoying the slow Caribbean pace.
Titled property can be difficult to find in Bocas del Toro, so we recommend it as a place to visit or rent, but not to buy.
2. Experience of a Lifetime: Guna Yala (formerly San Blas)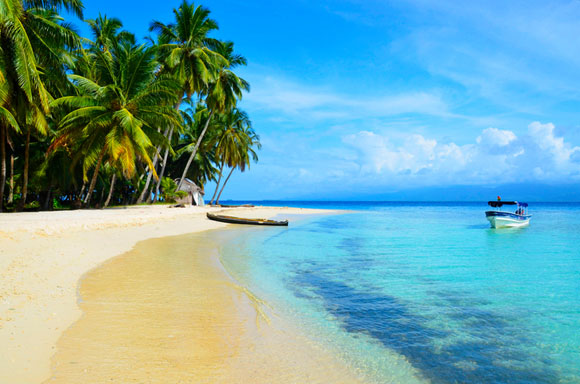 There's virtually nothing for sale in Guna Yala (formerly known as San Blas). No land, no condos, no malls, or shops. You won't find any resorts here, and all the simple huts and lodges are as eco-friendly as can be.
An indigenous reserve governed by the Guna tribespeople, this Caribbean region boasts an archipelago of more than three hundred islands, some 40 of which are inhabited. Many are mere dots of talcum white sands, sprouting jungle growth and palm trees, and floating in a sea of turquoise.
Visitors to Guna Yala snorkel in crystal clear waters…buy lobster and hand-made crafts from tribespeople…and drink the cool refreshing agua de pipa (coconut water), fresh from the beachside palms. This is a place to live (for a few days at least) the way the Guna have for centuries, as well as lay in hammocks and enjoy some of the world's most captivating ocean views.
3. Tiny Colonial Gem: Pedasí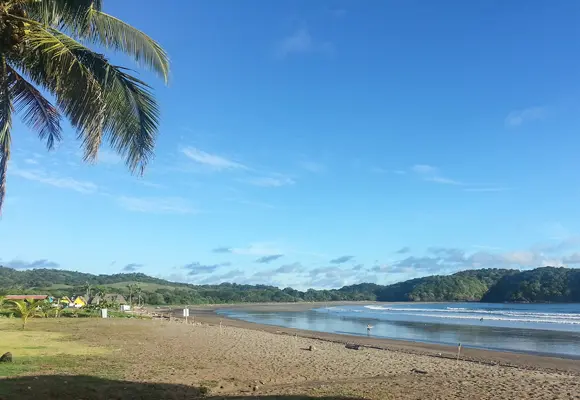 One of the most picturesque fishing towns in Panama is tiny Pedasí. Located near the southern tip of the Los Santos province, Pedasí is known as the "tuna coast," and it has acquired a reputation as a prime off-the-radar destination for sport fishermen.
The little village boasts a main drag lined with a handful of restaurants and inns. Behind that you'll find a colonial plaza graced by a gazebo and a neatly whitewashed church. Drive a mile or so south of the town center and you'll hit the first of a string of Pacific beaches, the sands varying from light tan to deep bronze to a glittering black.
Friendly locals and clean, uncrowded beaches (not to mention world-class surfing) make the Pedasí region well worth a visit. It has become a popular retirement destination, with a small but active expat community. And more and more expats are discovering other parts of the region too, from the little colonial hub of Las Tablas to the surf destination of Venao.
4. Close and Convenient: Coronado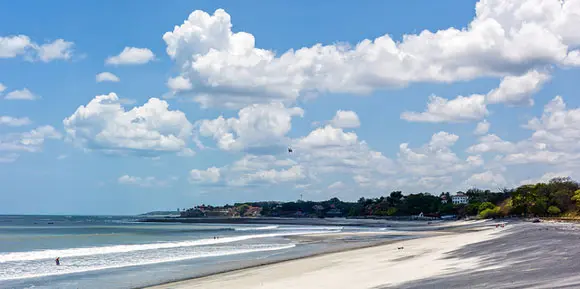 Just an hour's drive from Panama's capital, near the Bay of Panama, Coronado is perhaps Panama's most popular beach town. Unlike the diamond bright sands of the Caribbean, the beach here looks a light tan…until you get close and realize it's white sand punctuated with swirls of black that shimmer in the powerful sun.
The "it" place for well-heeled locals in search of weekend homes, Coronado is a little hub for surrounding towns. In recent years it has grown to include comforts and amenities once found only in Panama City. An upscale medical facility, modern supermarkets, and new shopping plazas have sprung up around the entrance to the exclusive community, with the beach area remaining quiet and uncluttered.
Coronado's expat community is large and active, with events and gatherings running the gamut.
5. The Pearl of the Pacific: Contadora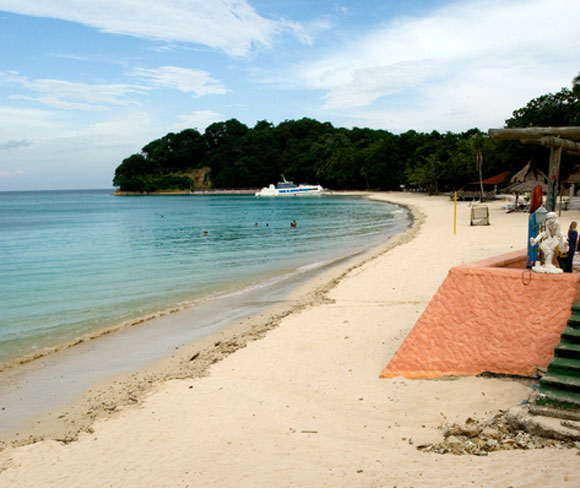 A twenty-minute flight is all it takes to get from Panama City to the island of Contadora. The "airport" is little more than a landing strip, from which you can walk to any destination on the island. Here, you'll find a few small "mini-marts," inns and restaurants…and 11 beaches.
Part of the Pearl Archipelago (a string of islands visited by famous figures like Jimmy Carter, John Wayne, and the Shah of Iran), Contadora is quiet and elegant. There's virtually no crime…or smog or cars, for that matter. The locals are welcoming. And the fishermen are happy to take tourists exploring. Visit outlying islands, go fishing, or simply enjoy a romantic ride. Homes here range from sweet cottages (a few inhabited by expats) to great mansions owned by Panama's wealthiest families.
Not a fan of tiny planes? There is a ferry, too. Travel time is just under two hours. The ride back to Panama City can be a bit choppy, but the views are spectacular.
Get Your Free Panama Report Here:
Learn more about Panama and other countries in our daily postcard e-letter. Simply enter your email address below and we'll send you a FREE REPORT — Panama: Easy, First-World Living and the World's Best Retiree Program.
This special guide covers insider advice on real estate, retirement and more in Panama. It's yours free when you sign up for our IL postcards below.
Related Articles
Everything You Need to Know about Retiring in Panama
Cheapest Places to Live in the World
Upcoming Conferences
Live Better, Spend Less, Retire Sooner
IL's Retire Overseas Bootcamp
October 21-23, 2022 in Atlanta, GA

In safe, warm, welcoming communities abroad, as little as $1,700 a month can bankroll a good life... this fall, our experts will show you where—and how.
Details Here IL's Retire Overseas Bootcamp
---
"Online Income Engine" Masterclass October 15
An Online "Participate from Anywhere" Event
We'd like to show you how you can upgrade your life and live richer using an Online Income Engine.
Best of all, you needn't leave your home to see how you could make this happen.