I've never felt so comfortable living anywhere as I did in Vietnam. The people are welcoming and genuinely friendly, the mountains and beaches are breathtakingly beautiful, and the cities are alive and vibrant. It was my home for more than ten years—first in Nha Trang on the south-central coast, and then in Hanoi and Da Nang. I made deep and lasting friendships with several Vietnamese people, leaving behind two god-daughters and several individuals who became more like family to me than my own birth family—though I left my biological brother in Hanoi, as well. Because he had a Vietnamese wife, he could stay; unfortunately, it was not an option for me. In late May 2021, my request for a visa extension was denied by the Department of Immigration. I was told that I had two weeks to leave the country.
For many years, it was easy to stay in Vietnam indefinitely whether you had a tourist visa or a business visa. At various times, tourist visas could be extended from within Vietnam for a minimal fee, or re-issued following a brief trip to a neighboring country. People used to just hop on a plane to Bangkok and return the same day with a new tourist visa. It was cheap and easy. The laws changed frequently—some years, we might have to make visa runs, in other years, we could get in-country extensions. One way or the other, staying was always possible.
A few years later, the most common way for non-working foreign retirees to be permitted to live long-term in Vietnam was by getting a business visa obtained through an agent. Hundreds of agents advertised online; for a reasonable fee, you could stay for a full year in Vietnam without having to make any trips abroad. Visa agents simply took their clients' information and collected their fee; the client was offered the choice of getting a tourist visa and making regular visa runs or paying a bit more and getting a business visa. The Ministry of Immigration reviewed each visa application, granted their approval, and issued an approval letter with their official seal. The vast majority of retirees, myself included, were living in Vietnam with business visas. It was common and accepted.
The immigration laws were re-worked in late 2020; when they were implemented in the second quarter of 2021, everything changed. The borders had been closed to the vast majority of foreigners since March 2020 due to COVID-19. Because of the pandemic, the new immigration laws affecting foreign workers, tourists, and investors, were not applied. Tourists were allowed to remain in the country, mainly because of the limited availability of outgoing flights.
In May 2021, the government suddenly announced that people who had business visas but did not have verifiable Vietnamese business sponsors would need to leave the country immediately. This requirement was buried deep in the revised immigration laws, and the implications were not apparent to those of us who had lived here for years or the visa agents we had worked with. As a result, tens of thousands of long-time retirees and others living in Vietnam who were not working directly for Vietnamese employers suddenly found themselves facing deportation.
If that wasn't devastating enough, other changes in the new immigration law were suddenly implemented. Foreigners who had made their original initial minimum $50,000 investment to start businesses were told that they needed to meet the new minimum investment guidelines of $130,000—or leave. Teachers who had worked for years in Vietnam were told that their university degrees were not related closely enough to their positions, or their prior experience before they came to Vietnam to teach was no longer adequate. The new law specified that teachers and other foreign experts must have had three years' experience obtained overseas (but not from Vietnam) before they could legally work. Overseas Vietnamese, including those who fled Vietnam in 1975 after the war, had to prove that they were born in Vietnam—documentation that many of them did not have and could never find due to their unplanned and tumultuous departures nearly 50 years ago.
As a result, tens of thousands of foreigners have been forced to leave Vietnam. Thousands more have left because all their friends and associates are gone. Popular retirement havens like Nha Trang have turned into ghost towns; practically no foreigners remain. A few people with tourist visas issued before the 2020 border closure have been allowed to stay but it's tenuous at best. No one with a tourist visa knows from one month to the next if they will be told to go—and if they have to leave, they'll have at most a few days to find a flight out. Most of them, too, have left Vietnam if they had the means to do so. I've seen unofficial figures that between 85% and 90% of all foreigners have now left the country.
I was informed that my visa extension was denied only a few hours before my current visa expired, and after the immigration department had already closed for the day. I went there first thing the next morning to arrange for an exit visa (a requirement since my old visa was now expired), and was told that I had overstayed—true, but unavoidable. I was told I must pay a fine for having an "illegal visa" and leave immediately, though not before the five days it took for my exit visa to be processed. Again, this business visa wasn't considered illegal until earlier this year, and even then, neither the visa agents nor anyone else seemed to be aware of the change until the abrupt enforcement that began in May. As it turned out, I had to pay an extra fee to the Ministry of Immigration in exchange for being allowed a few extra days to terminate my lease, pack my belongings, and say goodbye to my friends and family.
Vietnam has changed dramatically in the past four months. A handful of highly qualified teachers and other foreign workers who were able to satisfy the new, stricter criteria still remain. Diplomats and foreign executives have been allowed to stay. Foreigners with Vietnamese spouses or immediate family have been able to stay (unfortunately for me, by their definition, my brother is not considered immediate family), and some investors who have able to satisfy the increased financial requirements have stayed on. Towns that used to have significant populations of non-employed foreigners, including Da Nang, Hoi An, Nha Trang, Dalat, Mui Ne, and Vung Tau are nearly empty of expats now. Many businesses that catered mostly to the foreign community have had to close down, too. Condominiums built to attract foreign buyers have had to reduce their prices by 30% or more and many units remain empty. It's affected nearly every aspect of the economy.
Visa laws in Vietnam have always changed like the weather, and I believe that the current situation is a temporary one, driven by the pandemic. Maybe they'll create an option for retirement visas similar to those available in many other Southeast Asian countries. Perhaps they'll expand the concept of business visas to include long-stay options for the many remote workers, freelancers, and people who would like to base themselves in Vietnam but are employed by overseas companies.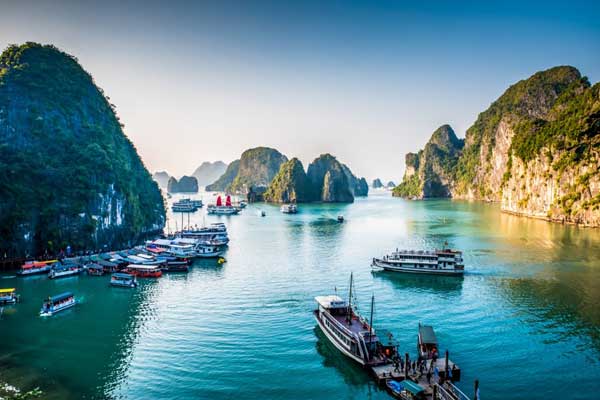 Vietnam has so much to offer: the spectacular scenery, the savory and healthy cuisine, the amazing people, and the low cost of living all make it one of the most attractive places on Earth. Already, the government has announced plans to reopen the resort island of Phu Quoc to vaccinated foreign tourists. This may be the first step in what will hopefully return the country to the inviting place that it was before the pandemic.
If the opportunity presents itself to me to return to Vietnam and live there legally, I will be on the next flight to Hanoi. It was my home for years, and leaving was heartbreaking. It was certainly not my choice. However, the laws will need to change (yet again!) before retiring in Vietnam makes sense. I think this will eventually happen, if for no other reason than the local economy benefits from the presence of foreign visitors and an influx of foreign cash. Until then, I have obtained permanent residency in Mexico and I'm building a new life, learning about a fascinating new culture in the beautiful Central Highlands city of Santiago de Querétaro.
Related Articles
Traditions and Culture in Vietnam
Popular Articles You May Also Like