Expats living all over the world, during the holiday season have one thing in common—their adopted countries have Christmas traditions that are likely very different from those back home…if they have Christmas at all.
The U.S. and Canadian expats my wife Suzan and I know bring their own personal and cultural Christmas traditions with them to their adopted countries, and they can be very creative and flexible when it comes to celebrating one of the most popular North American holidays while living abroad.
I asked four of IL's correspondents living around the world to share their Christmas plans. Their responses show how creative expats can be…especially when dreaming of a white Christmas in places where snow has likely never have fallen, and the only thing white is the sand on the beach.
In Mafra, Portugal, Portugal Correspondent Tricia Pimental and her husband, Keith, find the trappings of the Christmas holiday not much different than in the U.S.—except that the season starts on December 8 with the Day of the Immaculate Conception.
"There are Santas, crèches, and tasquinhas, which are stalls selling handmade crafts, wines, cheeses, jams, and jellies," Tricia says. "Festive lights are everywhere—downtown Lisbon is aglow—and in smaller communities, like where we live, the sounds of Christmas carols are heard through loudspeakers as locals shop and passersby enjoy festivities on the esplanade in the center of town."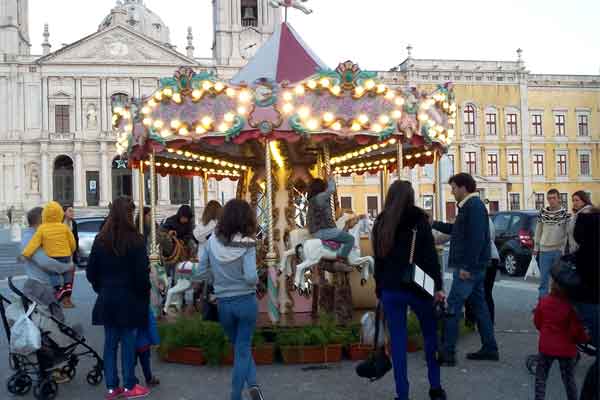 Tricia says the traditional local holiday foods leave no doubt that they are celebrating a Portuguese-style holiday.
"Soups, pork, and salted cod fish…but expat communities also have traditional English and American dinners as well. As stores are stocked with foodstuffs from around the world, making our own traditional feast is relatively easy. So, we don't miss a thing. If anything, it's even more festive here."
IL Riviera Maya Correspondent Don Murray and his wife, Diane, live in Cancun, Mexico. Don says they celebrate Christmas twice…but in a much more relaxed way than the hustle and bustle the holidays used to call for in the U.S.
"We have our first dinner in a nice restaurant on Christmas Eve. Then, Christmas Day is our time for a homemade turkey dinner, calling friends and family on Skype, binge-watching Netflix, and enjoying some wine.
"After so many years of large holiday gatherings, it's nice to just chill…just the two of us."
Donna Stiteler, Cuenca Correspondent, says that she had almost given up enjoying the Christmas holiday in the U.S., but things changed when she retired to Cuenca, Ecuador, where life has taken a change for the better, thanks to a far lower cost of living.
"This is the first time I've actually had time to put an effort into decorating. I had sort of given up on enjoying Christmas while living in the States. Fighting over whose house to go to, spending money on presents no one wants, the holiday music that starts at Halloween. Christmas had turned into a chore instead of a celebration."
"In Cuenca, I have rediscovered the true meaning of Christmas, and for me now, it's about stopping to take time to appreciate the things I have… like a secure future. I can look out my front window and watch the Pase del Niño parade, where thousands of little girls dressed as angels ride horses decked out in flowers down our cobblestone streets. Fiestas pop up everywhere, and the genuine joy is contagious. But mostly, I love my Christmas tree because every time I pass it, I get this nice uplifting kick that reminds me that you are responsible for bringing light to yourself and others."
Donna says that she and her cat have reached an agreement about their Christmas tree this year.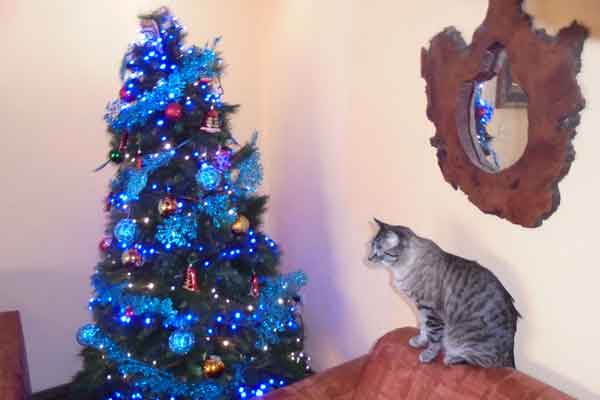 "I usually I take the tree down right after Christmas because my cat, who starts taking the tree down as soon as it goes up by batting the balls off it during the night, is apt to finish the job if I don't. But we've reached an understanding this year. I carved out a section in the back of the tree for him to nest in, and he promises to leave the ornaments alone. So, why not leave the tree up? It gives me pleasure and is the best gift I can give myself, a reminder that a little brightness can come into our life every day if we let it."
In Penang Malaysia, IL Southeast Asia Correspondent Kirsten Raccuia says when she moved there she thought she'd never celebrate a U.S. style Christmas again—and she was right about that.
"Malaysia is a multicultural country, so they celebrate all sorts of holidays here, and Christmas is a big one. I'm still shocked to see girls in traditional hijabs, wearing Santa hats, putting up Christmas trees with their Chinese coworkers at a shop. They deck the malls with fake snow and huge Christmas scenes where people line up to pose and take pictures in all the merriment. They play holiday music starting the first day of November and Chinese Santa walks around in full regalia, never mind that it's 90 F. Just like home, kids are running up to hug Santa as he belly laughs and walks around the mall."
Kirsten says the best part of Christmas is that she gets to choose who to spend it with.
"No more drunk uncle in your face or boring cousin droning on about law school. In my adopted country, my chosen family and I get to spend it together and make new traditions. So no, Christmas isn't the same as in Chicago, but it's pretty incredible nonetheless, and I don't have to freeze to celebrate it."
And so the story goes for most of the expats we know. They'll be celebrating the Christmas holidays in ways that match their new surroundings and taking advantage of the best features of their adopted countries and cultures. That's the hallmark of a successful expat—adaptability and creativity. Because no matter where you celebrate, good weather and good friends go together to make a memorable holiday.
So, what are Suzan and I doing for Christmas? Well, just as there are many expats who carve out their own Christmas holiday traditions where they live abroad, just as many travel back to the U.S. or Canada. We have a granddaughter who will be celebrating just the third Christmas of her life, and we'll be there to help her discover her own traditions.
We'll be giving up the warm weather and camaraderie of our adopted Mexican home for a few weeks, but we'll be making memories we can carry with us when we head back down south.
Related Articles
Going Solo: How and Where to Enjoy Life Abroad as a Single
Living Internationally: How to Enjoy a Roving Retirement
Infographic: A Comfortable Retirement Overseas…Without the $1 Million Price Tag