Ever dreamt of a luxury retirement with your own maid, a gardener, and dining out in gourmet restaurants, but thought you could never afford it? The good news is you can in the right locations.
We highlight five locations outside of the U.S., where you can automatically upgrade your retirement to one of pure luxury…and it'll cost you far less than a comparable retirement back home.
Read on to discover how expats are living in luxury in Colombia, Ecuador, Malaysia, Panama, and Thailand.
Medellí­n, Colombia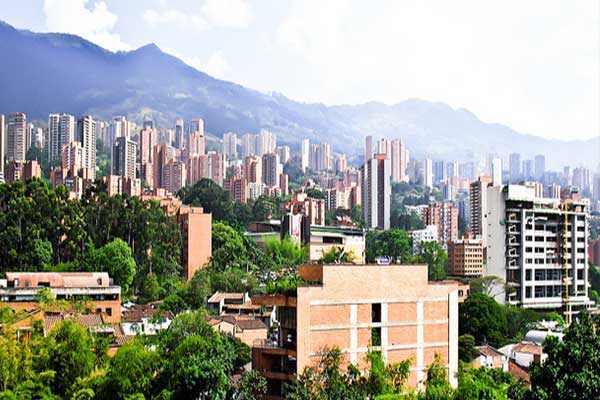 Medellí­n is a cosmopolitan city with a neighborhood feel. Set in the middle of the Andes Mountains, Colombia's second-largest city is known as the City of Flowers. Enjoying a spring-like climate year-round, Medellín is always in bloom—bright exotic flowers stand out against the lush green trees.
It is strategically situated practically equidistant from Colombia´s other major cities of Bogotá, Cali, and Bucaramanga, making it an excellent hub for both commerce and tourism. Although the greater Medellín area has nearly 3 million people living there, the city really feels more like a lot of neighborhoods connected to each other by green spaces.  Accented with green parks, flowers that are always in bloom, gurgling brooks, and hundreds of birds in brilliant colors, Medellín feels smaller than the metropolis that it is.
The city offers super high-end living for significantly less than what it would cost in the States. You can find expats living in most areas of the city, but the highest concentrations are in the neighborhoods of El Poblado and Laureles. El Poblado, is known for its terracotta highrise apartment buildings and steep hills. It offers some of the most impressive mountain and city views.
Aaron Brabham rents a magnificent 1,625-square-foot, three-story penthouse apartment in the trendy, Provenza area, in the heart of the upscale El Poblado neighborhood, for less than $2,000 a month. The third floor has a guest bedroom and a deck, with a private Jacuzzi, that looks out over the city.
Aaron says, "I was looking to live in the lap of luxury for much less than I could back in the U.S. The apartment came fully furnished, right down to the towels and silverware. This would rent for close to $10,000 a month in San Diego, California, or South Beach, Florida—and that's if you could even find something like it."
Aaron lives a pampered lifestyle. "I have a chef prepare five gourmet meals per week. He did the shopping for the ingredients, came to my home to cook the meals, and cleaned up afterwards. All this for about $50 per week," he says. Keeping his large penthouse clean and tidy doesn´t break the bank, either. "I have a maid come twice a week. She cleans, does the laundry and ironing, and runs any errands I ask, for only $15 per day."
With over 30 universities, an array of art and history museums, theaters, restaurants, and several sports complexes, Medellín has a very cosmopolitan vibe. The Metropolitan Theater presents a varied program of international classical music, jazz music, and dance performances. The Museo de Antioquia, located just off the Parque Berrio Metro stop, is home to a large collection of paintings and sculptures by Medellín native, Fernando Botero.
The city is also a great place to live a part-time lavish life—just like wealth manager, Don Mouton from Lafayette, Louisiana, who divides his time among Medellín, Florida, and Texas.
A guitar and harmonica player, Don was first attracted to Medellín and its music scene during one of his many vacation trips to the city.
"My cost of living when I am in Medellín is less than half of what I pay in the U.S.," he says. Don rents a striking three-bedroom, four-bathroom, 1,725-square-foot townhouse with three balconies, in one of the city's most sought-after areas, for $933 a month. "Where I am is so convenient," says Don. "I am just a few minutes' walk to restaurants, shopping, and the Hard Rock Café."
He spends some of his down time relaxing by the swimming pool, working out in the gym, or enjoying the barbecue area and gardens within the complex. Don says, "I have a lifestyle several times better than I would in the U.S. with my income and assets."
Salinas, Ecuador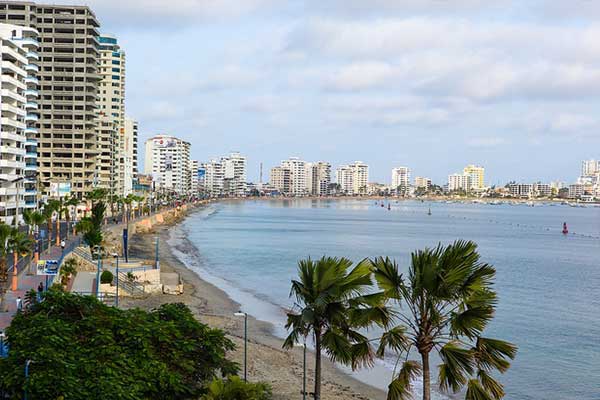 Salinas is the most popular beach resort in Ecuador, sitting at the westernmost tip of the Santa Elena peninsula. Located just two degrees south of the equator, days in Salinas are always almost exactly 12 hours long.
The beach is divided almost perfectly in half by a jetty where you'll find the docks of the Salinas Yacht Club. The sandy half-moon bay on the north side, where the abundance of action takes place, is Salinas Beach. To the south is Chipipe Beach, quieter and more family oriented.
Salinas is the place for those who like all amenities: modern condo buildings (which line much of Salinas's miles-long beach), restaurants, coffee shops, bars, and discos. Plus, there's regular bus service to Guayaquil, only two hours away, which has an international airport. All of this makes retirement in Salinas an attractive option.
Life here can be as slow and relaxed as a walk on the beach, or you can amp it up a notch with your choice of many water sports, including spending time at one of the area's two major yacht clubs.
Picture waking up to the sound of the Pacific Ocean crashing against the rocks outside, the sun bursting through your windows, warming your skin, and the fresh, clean, salt air filling your lungs as you step onto your balcony to survey the elegant scene below of grand white yachts anchored in the bay. This is the plush life of IL Coastal Ecuador Correspondent Jim Santos and his wife Rita in Salinas.
"There are few places on the planet where you can buy or rent oceanfront property as cheaply as you can on the coast of Ecuador," he says. "Rita and I have a large 2,129-square-foot, four-bedroom, four-bathroom condo on the upper floor of a modern building, with views of the ocean from every room. There's 24/7 staff, hot tub, pool, sauna—the works." And all for $220,000.
"If we had bought on the California coast, in an area with comparable weather, we would have paid five times as much or more. We might not have been able to afford even the property tax and maintenance fees of an oceanfront condo elsewhere. In Salinas, we pay less than $200 a month for all our amenities, including trash pickup. Our property taxes are less than $300 a year."

Penang, Malaysia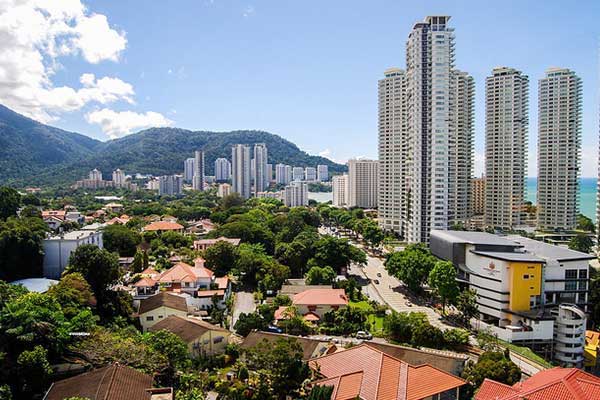 Penang, a tropical Malaysian island in the Andaman Sea is one of Southeast Asia's most attractive retirement havens. For the expats already living there it ticks every box.
"Between the lower rental costs, lower utilities, and eating out a few days a week, we are looking at a 50% lower cost of living than our home in Canada," says expat Ellen Ma of the life she and her husband Jim enjoy in Malaysia. "A round of golf back home was $72, whereas here it's $30. A tennis pro could cost up to $100 an hour [back home], whereas here it's $15—another reason why I'm taking lessons twice a week."
The Ma's sum it up well. Bang-for-buck, the quality of life in Malaysia puts it among the best retirement havens in the world.
Penang enjoys warm weather all year round. Temperatures average 82 F, though it's warmer between November and March. The city offers luxurious living at bargain prices—a place where it's possible to live in palatial splendor for less than you imagine.
You can have it all in Penang. Arts and culture, history and nature, beach and jungle.  Penang's largest city, George Town is home to eclectic architecture, a vibrant art scene and the best street food in the world. You can go shopping at high-end shopping centers with many of the same stores you'd have back home.
Jacques and Sharon Giraud from Toronto live in Springtide, a luxury condo complex in the beach suburb of Tanjong Bungah. Their condo is 4,800 square feet. It has smooth marble floors and high ceilings throughout, and every room—even the pantry—has a jaw-dropping view of the Straits of Malacca or the emerald-green, jungle-covered hills that run deep behind them.
Their complex also has an infinity pool, a large gym, covered parking, and sculptured gardens with direct access to the beach. At just $2,000 a month, it's an absolute steal. "In Canada, for an apartment like this you'd pay $10,000 a month or more," says Sharon.
"Overall, the cost of living is about one-third to one-fifth of what it cost us back home," says Jacques.
"Had we known about Penang, how social this place is, how good the food is, how high the standard of living is, and how alike we are to the other expats who live here, I think I would have been pushing to move earlier. Maybe years earlier," says Sharon. "But you know, we made the move when we thought it was right, and in the end I'm glad that we did.
"We've been here since September 2016, but it's home. It's not a second home, it's actually home for us.""
Panama City, Panama
If you're looking for inexpensive cosmopolitan living—but with many of the conveniences you'd expect in New York, Miami, or any other major First-World city—you owe it to yourself to take a serious look at Panama City.
Panama City boasts a skyline of skyscrapers, modern office buildings, condo complexes and hotels of shining glass and steel, with world-class views of the Bay of Panama. The city is a major international commerce and banking hub, home to more than 80 of the world's largest banks, scores of international non-profits, and giant multi-nationals.
While it's the most expensive part of Panama, no matter what your taste or budget, you'll find that the cost of living in Panama City offers plenty of high-quality options.
IL Panama Editor Jessica Ramesch is another example of how changing location can lead to so much more than a deeper suntan or a more active lifestyle.
Jessica has been enjoying the gourmet restaurants, art galleries, attractive parks, and bayside promenades of Panama City for over 10 years. But the city's low cost of living has recently inspired her to wonder if it's time for a lifestyle upgrade, as well.
"I'm contemplating another luxury," she says. "A fancy apartment, possibly with an ocean view. A glut of modern apartments means that long-term rental prices are coming down in Panama City, and I've seen ocean-view units for as little as $1,300 a month. These aren't tiny studios, either. I'm talking two bedrooms and two bathrooms in new buildings, which tend to boast pools and gyms, too." Compare that to the cost of renting in a warm weather, Pacific Coast city in the U.S. San Diego is a good example—you could be looking at $6,300 a month for something similar.
Jessica's also tempted by the hip city-center zones, with all those happening bars and restaurants. "In my favorite areas, El Cangrejo and Obarrio, I'm seeing listings for as little as $1,100 or $1,200 a month," she says. "These may not have ocean views, but they're central neighborhoods on the metro line, walking distance from cute little cafés and tapas bars. In what other world capital can you get this kind of value for so little?
"Another thing I've taken advantage of here is the good, reliable hired help. When I lived in the green Clayton sector of Panama City, my gardener charged me just $15 for a full day's work. I had him come by once every two weeks to help clear fallen mangos, cut the grass, and prune or weed as necessary. He even helped care for the delicate orchids.
"And while my dad was living with me here, I also had a maid. She was a sweet, hard-working lady who was always kind to him. We paid her $20 for a day's work, once a week. She did laundry, made the beds, dusted and mopped, helped with cooking, and even ran the occasional errand."
While back home, having a cleaner come around for just an afternoon every other week in the U.S. would cost upward of $130. 
Chiang Mai, Thailand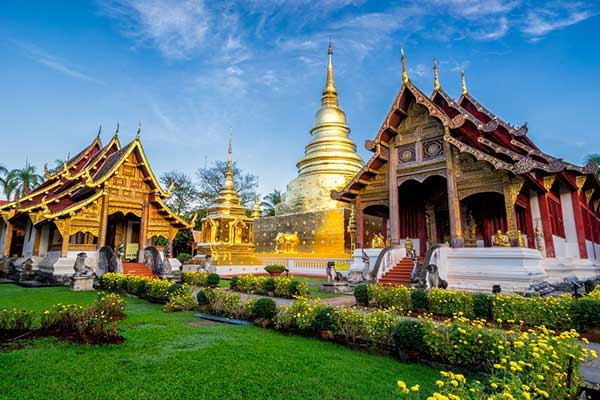 Chiang Mai, Thailand's second largest city, is well known as being one of the top places for retirees to settle—a place to upgrade their lifestyle.
With its hundreds of golden temples, a wide variety of international restaurants, stunning surrounding countryside, and a large choice of outdoor activities, this northern Thailand city has something to offer everyone. And the year-round tropical climate is a bonus.
Markets scattered throughout the city offer locally grown fruits and vegetables along with a variety of prepared dishes for as little as a dollar apiece. Those who seek more familiar foods can find a wide selection of imported goods at any of the large supermarkets in town.
Some expats prefer to live along trendy Nimmanhemin Road, with its upscale condos and eateries, designer boutiques and popular bars. Others prefer being in or near the old gated city. But for many, living in the nearby countryside is the ultimate retirement lifestyle. There, they can have a big garden, grow their own fruits and vegetables, and often have a spectacular view of the nearby mountains.
"The chance to live an opulent, resort lifestyle is at your fingertips," says Rachel Devlin, IL's Chiang Mai correspondent. "You'll find the top resorts offering gym memberships to local expats—they're a bargain. For just over $500 a year, you can have a membership to the Rati Lanna Resort & Spa. Getting fit and healthy has never been so easy and so competitively priced—not to mention the heavenly salt-water infinity pool overlooking the river, just waiting for you to cool off in after your workout. A further 10% discount on meals means that you can eat under a traditional Thai pagoda, while water features splash and golden fish swim in the surrounding water gardens."
One of the great joys of retirement is the freedom it brings to indulge your passions—just like golf. And here, you can do just that for a fraction of the cost of back home.
"In Chiang Mai, you can play in the footsteps of royalty at the Gymkhana Golf Club," says Rachel. "Established in 1898, this club has been visited by kings and queens, consuls, and even the novelist William Somerset Maugham. For under $5, a nine-hole game may be just what you need and all within view of an ancient and famous Yang Na tree that has also been ordained as holy."
Chiang Mai has always been known as one of the main cultural hubs of Thailand. This coupled with the fact that it is a university town, results in many art and cultural displays throughout the year both at local galleries and at the large number of annual festivals. The more than 30,000 expats in the city have given rise to an active expat club that holds monthly meetings. It also acts as the umbrella for many local interest groups that meet regularly, to partake in everything from hiking to computers to photography.
Southeast Asia is justifiably famous for great street food but what's less well known is that luxury dining options in the region are becoming more and more inviting, too. "Chiang Mai is now rivalling Bangkok for elite dining experiences," Rachel says. "Just recently, the Shangri-La Hotel has been hiring Michelin-ranked chefs to offer divine culinary meals at very affordable prices. For example, nine dishes set over a seven-course lunch costs only $44 per person. For $17, you can add a glass of wine—specifically chosen to complement the dishes on offer—with each of the first five courses."
Related Articles
The World's Best Places to Retire in 2018
Living Internationally: How to Enjoy a Roving Retirement