Italy has so much to offer that it's hard to find just a few towns among so many. But let's focus on walkability, relatively flat terrain, proximity to the sea, and warm weather!
One of the best features of Italy is the variety of coastline, beaches, and geography available to everyone. Let's start on the Adriatic Sea… and go north along the coast to the twin towns of Tortoreto Alto and Tortoreto Lido.
Tortoreto Alto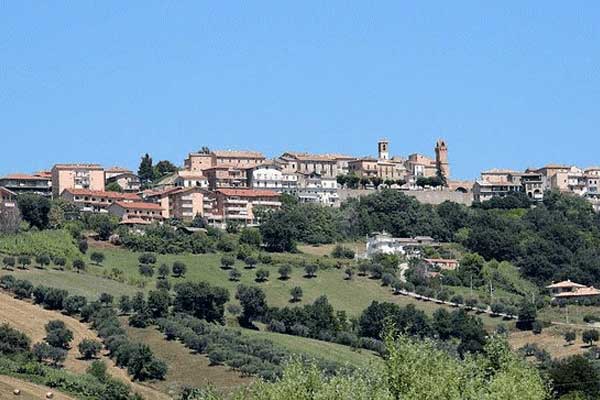 Tortoreto Alto is a small medieval town that sits up on a promontory overlooking the beach town of Tortoreto Lido.
Are you interested in retiring abroad? Yes | Not Sure Yet
Tortoreto Alto is relatively flat, with a slight incline walking to the old town and a decline walking out. The views of the Adriatic and sunrises are stunning, and the restaurants—I can tell you from delicious personal experience—are many and wonderful.
There are lots of great shops to explore—my wife's and daughter's favorite is the leather shop. My daughter purchased six handcrafted leather bags as gifts for less than $250!
If you're looking for sea views, and an incredible landscape close to the sea without the crowding of the seaside in summer, Tortoreto Alto may fit the bill.
Accommodation in Tortoreto Alto can be found on the main street for as little as €35 a night. We walked the entire promontory early in the morning and late at night to get wonderful pictures from sunrise to sunset. We felt safe, and there were no crowds.
From our hotel, buses were available to the private beach, 15 minutes away in Tortoreto Lido, but there we found it hot and much more crowded.
Swimming is easy in this area as the Adriatic is warm and the sand slopes out gradually… making your trip to the beach relaxing.
If you're looking for cool breezes in the summer, endless panoramas of the Adriatic Sea from a unique vantage point neither crowded nor expensive, this unique geographic feature may fit the bill.
Tortoreto Alto is a short distance by car or bus from Tortoreto Lido.
Tortoreto Lido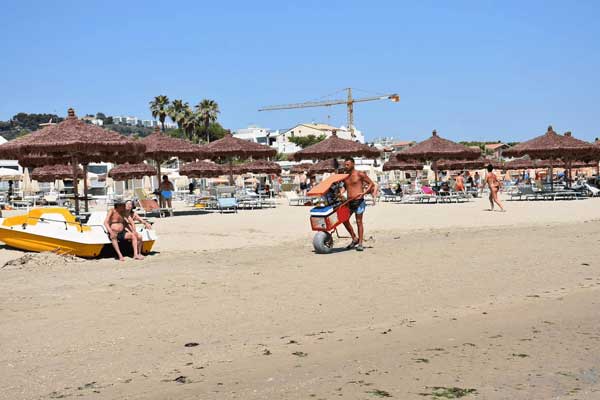 Tortoreto Lido is a typical Adriatic seaside resort town: flat, easily accessible, and popular in the peak months of July, August, and September with a quieter off-season the rest of the year.
But if you're looking for a laid-back atmosphere and water fun, it's fantastic. Learn to wakeboard, rent a boat, go fishing on a private boat, or take a tuna fishing trip for the day for four people for $640.
There is a long promenade, a water park, and many "private beaches" (a small fee makes you a member), roller blading, an animal park, and seafood galore. You can find everything from extreme sports and lessons to the serene, relaxing activities we associate with beautiful beaches and beach towns.
This issue with all Italian beach towns is that much of August is booked by the end of March, but if you're willing to do a little searching and look in July or September, you can find accommodation.
Apartments and hotels are available in Tortoreto Lido during September from €632 ($750 a week) on up.
Lecce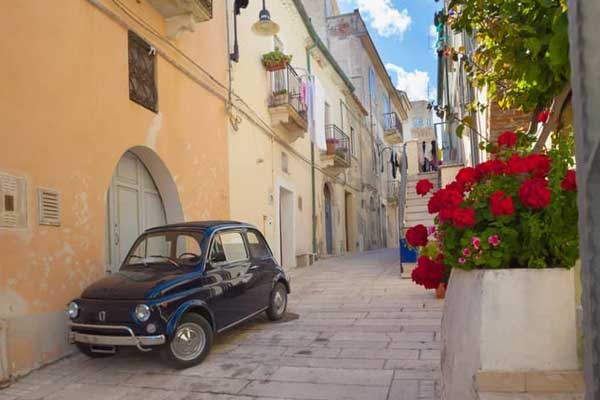 My favorite province in all Italy is Puglia or as the Italians call it "Apulia." Located on the Adriatic side of the boot as far south as you can go, it's known for hidden pristine beaches and wonderful old towns that feature centuries-old homes, churches, fortresses, and cities that have traditions dating back to the time of the Greeks.
Puglia is also known for its food and special style of cooking. Finding a cooking class, or a wine tasting is easy.
This one province produces 30% of the wine of all Italy and much of the olive oil. It's said that some of the olive trees date back to the time before Christ.
My top recommendation in this part of Italy is the walkable town of Lecce.
Considered by many to be the "Florence of the South," Lecce is the cultural capital of Puglia. It's crammed with museums, palaces, ancient churches, and other fascinating sites. No wonder, for a town that was founded in the 4th century BC.
But there's more than just ancient wonders here. The streets of Lecce are lined with lively restaurants and wine bars. Here you can enjoy a pizza and beer for as little as $11, or pay up to $56 for a trattoria dinner out with fish and wine.
The sea is only seven miles from Lecce—a 10-minute drive will take you there to enjoy sea breezes and boating from the marina.
For accommodation, you can find studio apartments from around €664 per week, and 1-beds from €715 and up in September.
One thing of particular note about Lecce and Puglia is the ease of finding information about disabled access. This website has wonderful information for the disabled and those needing more extensive help to see the sites of this special province.
Because of the ease of getting information—and the amount of accessible sites—I think Lecce may be ideal for people with disabilities who desire wonderful food and rich culture close to the sea.
In sum, Italy has much to offer anyone, and disabilities are not a problem if you spend the time researching your needs. Getting close to the sea, finding special foods, culture, architecture, and unparalleled history will make your Italian vacation a life-changing trip!
Related Articles
Two Beautiful Small Towns to Live in Italy
Upcoming Conferences
The Only 2023 Fast Track Costa Rica Conference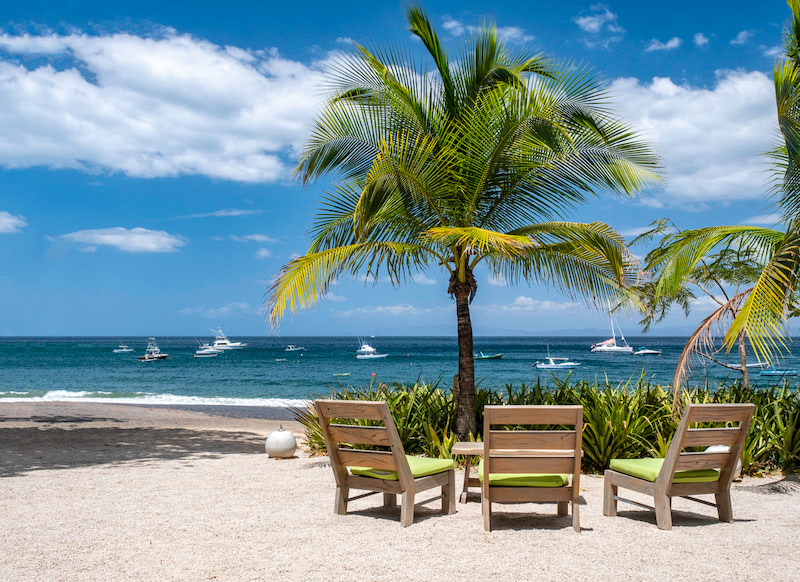 If your dream retirement involves stunning beaches… lush green mountains… a perfect year-round climate… first-rate healthcare… incredible value for money (a couple can live well on $2,109 a month—including rent!)...
Join our Costa Rica experts and expats in June and discover true Pura Vida.
REGISTER NOW, SEATS LIMITED: EARLY BIRD DISCOUNT HERE
---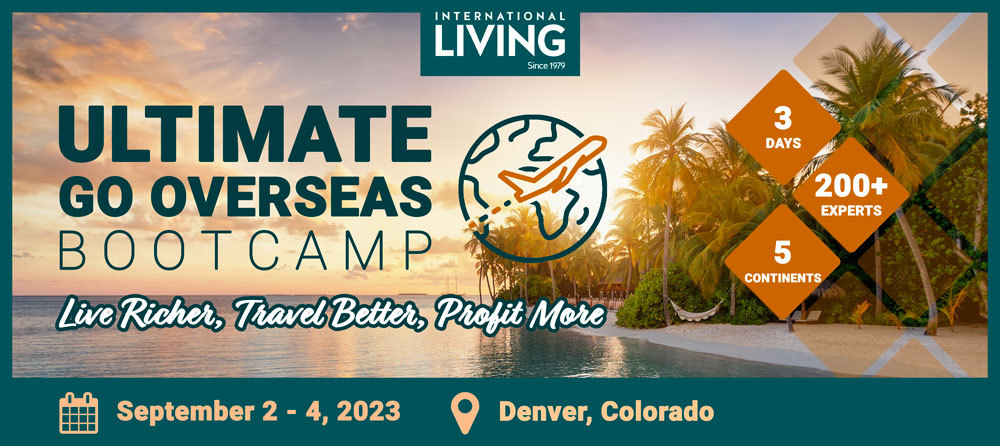 Most Popular Products
Popular Articles You May Also Like