Most everyone who visits or lives in Portugal stops at hotspots like Lisbon, Porto, and the Algarve, all easily accessed by the autoestrada, but far fewer venture beyond. There is the road less traveled that cuts through the center of the country for those looking for more adventure.
The Estrada Nacional 2, or just N2, is the longest national road in Portugal at 739 kilometers. One of the longest national roads in the world, it is outdistanced only by Route 66 in the U.S. and Route 40 in Argentina. It begins in the far north, below the Spanish border in the city of Chaves, and ends at the city of Faro in the Algarve. The N2 passes through rugged mountains, the exquisite, terraced vineyards of the Douro, historic villages, and ends along the impressive coastline.
Are you interested in retiring abroad? Yes | Not Sure Yet
Driving the N2 without stopping along the way takes between six and seven hours but offers little to no enjoyment. My husband, Clyde, and I allowed ourselves a full eight days, stopping briefly in some towns while lingering longer in others.
Day 1: Chaves, Vidago, Pedras Salgadas, Vila Pouca de Aguiar, Castelo, Vila Real
Chaves, a charming city with a population of about 42,000, retains its old town center, complemented by a medieval castle with gardens offering mountain views in the distance. Historic churches, tiny shops, and restaurants dot the city while a well-preserved Roman bridge crosses the Tâmega river.
Pick up an N2 passport at the nearby tourist office and have it stamped, officially marking the start of this iconic road trip. The passport book includes a map and suggests 35 stops along the route, with indications of places to have the passport stamped as a nice keepsake.
Vidago and Pedras Salgadas are both known for their thermal waters and famous spas that date back to the 19th century. Vidago has a former palace which has been turned into a pricey spa and hotel, while Pedras Salgadas has an expansive park and natural area. Since we found no free spots to access the thermal waters, we snapped a few photos and hit the road.
Vila Pouca de Aguiar was by far one of our favorite stops along the N2. Dating back to Roman times, one of the must-see's here was a castle situated in the mountains, accessed by a craggy, unpaved road. Upon closer look, we realized that the castle was nothing more than a small, ruined tower and decided it was not worth hiking up to. As Clyde pulled the car over, looking for a spot to safely turn around, we stumbled upon a tiny village of granite homes where time had seemingly come to a standstill. A small community of mostly elderly farmers lived in this village called "Castelo," aptly named for the castle that once stood nearby. Since we were in their private space, we asked permission in Portuguese to take photographs, and all happily obliged, even including themselves in a few.
Vila Real, a city in northern Portugal, has a population of 51,000 and is composed of stately old homes adorned with wrought-iron balconies. A lively central plaza is lined with shops, cafes, and restaurants, along with a huge hospital complex. On the outskirts of the city is the House of Mateus, a stately private mansion with extensive gardens open to the public by tour only. The Mateus family has been producing quality wines for the past 75 years, and the opulent house attests to their success.
Day 2: The Alto Douro Wine Region and Peso da Régua
The city of Porto is a popular destination for those who desire to see the spectacular views of the Douro Valley and river by the same name. Yet, the lesser-known area called the Alto Douro sits virtually unnoticed in the center of the country, near the city of Peso da Régua. Tourists here can take day trips along the Douro River. Some offer round-trip voyages while others offer train rides back from Porto.
This was another favorite stop on our road trip. Breathtaking views of lush vineyards climbing the impressive hills that surrounded the area. Jaw-dropping scenery as far as our eyes could see. I could almost taste the fragrant wines that filled the air, but that indulgence would need to wait until later.
We spent an extra night in Peso da Régua, a city of 17,000 that sits alongside the Douro River. The city once served as a vital component in the country's wine production and the sale of port wine. It was here that the wine was put into barrels and shipped to Vila Nova de Gaia, near Porto, where it was left to age in wine cellars. Today the area is dotted with elegant mansions perched on hills, surrounded by impressive, terraced vineyards bearing signs with the names of the families who own them.
Day 3: Lamego, Castro Daire, Viseu
Lamego, an ancient city of about 12,000, sits nestled among the terraced vineyards of the Douro. It has retained its historic city center, characterized by steep, rocky streets leading up to its medieval castle. A few handsome churches still exist nearby, while locals mingle with friends at nearby cafes.
The stunning Sanctuary of Our Lady of Remedios, erected in 1750, is where tourists climb the imposing baroque staircase (which has 686 steps). Those who make it to the top are rewarded with a panoramic view overlooking the area.
Castro Daire is a small village with a cobbled old town, and a handful of churches and historic buildings to see.
Viseu, a lively city of about 99,000, is situated in the center of Portugal. Surrounded by mountains, the city incorporates a sizeable, historic town center that offers stately fountains and historic buildings. A bustling cafe culture offers an animated mix of tourists and locals. Not far from the city center is a large university that gives the city a youthful, vibrant feel.
Get Your Free Portugal Report Here:
Romance, culture and adventure awaits in Portugal. Learn more about Portugal and other European countries in our daily postcard e-letter. Simply enter your email address below and we'll send you a FREE REPORT - Explore the Old World in Laidback Portugal.
This special guide covers real estate, retirement and more in Portugal and is yours free when you sign up for our IL postcards below.
Day 4: Santa Comba Dão, Góis, Penacova, Schist Villages
Santa Comba Dão, a fairy tale village, drips with Portuguese charm. An adorable wooden bridge crossed the river as we watched ducks float by from the wooden walkway. The streets were lined with traditional granite houses where locals peered out from open-shuttered windows, wondering who the strangers in the neighborhood were.
Góis is a sleepy village offering a swimming area along the river, surrounded by a nice family-friendly green space. A riverfront cafe offers cold drinks or a place to chill on a hot summer afternoon.
Penacova features a family-friendly natural area and beach along the Mondego River, the perfect spot for swimming, kayaking, or just relaxing. Nearby windmills offer a picturesque remembrance of the past.
Schist Villages, or Aldeia do Xisto in Portuguese, are hidden communities in the mountains where homes are constructed from schist, a type of flat rock commonly found in the area. Although there are 27 schist villages in Portugal, some are more special than others.
We took a brief detour off the N2 to visit a few of these magical gems. Some offered lodging for hikers passing through the area on marked trails, but most did not offer anything in the way of restaurants or shopping.
Day 5: Abrantes, Penedo Furado, Água Formosa, Geodesic Center, Sertã
Abrantes is a working-class Portuguese city of about 40,000 that sits on the hillside of the River Tagus. Although the city has a castle and some historic remnants, this felt like a modern, livable city with a large shopping mall and a modern vibe.
Penedo Furado is an area known for its river beach, with a waterfall surrounded by green hills and mountains. We passed through and moved on to our next destination.
Água Formosa was a pleasant surprise that took us away from the N2 for a short detour. Another one of the famous schist villages, here locals live off the land as they did so long ago, and welcome visitors into their community.
Geodesic Center of Portugal is a museum and monument that denotes the center of Portugal, near the city of Vila de Rei. Nothing more than a quick stop—this is one of those touristy spots in which to stop and take a photo to prove we have been there.
Sertã is a municipality in the Castelo Branco district that sits along the Zêzere River. With a population of 15,000, this typical Portuguese city has an unusual five-cornered castle that offers views of the Serra da Estrela mountains.
Day 6: Évora
Another favorite stop along the N2 is the city of Évora in the Alentejo region of Portugal. Considered to be a museum-city by UNESCO, the city of 56,000 has a charming old town, the best-preserved Roman temple on the Iberian Peninsula, an extensive wall that once served to protect it, and plenty of Portuguese charm.
But even with its abundance of history, Évora has a youthful feel because of its large university, the second oldest in the country.
Day 7: Montemor-O-Novo, Beja
Montemor-O-Novo, a hidden gem in the Évora district, was a jaw-dropping experience and certainly one of our favorite stops. Step back in time and stroll along the streets of this medieval village and just imagine what life was like. Follow the 1.5-kilometer, easily walkable road to see the remains of a castle, palace, church, synagogue, villas, and even a jail surrounded by breathtaking views of the Alentejo.
Our trip to Beja was a slight detour off the N2 to find accommodations for the night and to explore this other liveable city in the Alentejo region. With a population of 21,000, the city is surrounded by extensive plains of nothing as far as the eye can see. We did see a large grocery store, small shops and restaurants, lovely parks, a huge public hospital complex, and a well-preserved castle.
Day 8: Ferreira do Alentejo, Aljustrel, Castro Verde, Almodôvar, Estoi, Faro
Ferreira do Alentejo is a sleepy little village with a few shops and restaurants, along with an unusual tiny chapel. Right on the main street of the village is a small, white, dome-shaped chapel decorated with pointed, black dots and trimmed in yellow.
Aljustrel is another stop in the Alentejo region that was well worth the stop. The town is famous for the Sanctuary of Bom Jesus, which has 577 zig-zagging steps with 17 landings adorned with elaborate statues, fountains, and gardens. Upon closer look we found a road that reached most of the way and offered some of the most stunning views of the Alentejo region we had ever seen.
Castro Verde, a small city with just over 7,000, has a traditional cobbled town center with a few shops, restaurants, and churches. The 18th-century Church of Nossa Senhora da Conceição has a stunning interior with a golden altar that serves as a contrast to the blue- and white-tiled walls that surround it. Understated yet beautiful.
Almodôvar is a peaceful little village with a Roman bridge, church, and a strange-looking, former Chinese-style palace in the center of town.
Next, it was time to pass from the expansive plains of the Alentejo to the Atlantic coastline of the Algarve. But first we would need to tackle the 365 curves of the Serra do Caldeirão, a mountain pass which was not nearly as bad as we first thought. This area offers nothing in the way of stops for breaks or food, so it is essential to plan ahead, stocking up on water and snacks.
Estoi is a cute, Algarvian village with a tiny town center with a church and park. A handful of cafes and shops line the streets, where we saw few people.
Faro is a traditional working-class city with less of a touristy feel than the rest of the Algarve. With a population of around 40,000, it features a small marina surrounded by restaurants, hotels and shops. The large town center offers an array of cobbled streets lined with shops, restaurants, hotels, and more.
The Takeaway
My final thoughts about the N2 are as follows: Because the N2 is an older road, we often had to detour to larger towns to find food and lodging for the night. While there are some rural accommodations along the way that provide a room in someone's home, we prefer hotels, especially during the pandemic. These are not places visited by most tourists so we often found there was no English spoken and had to rely on our Portuguese. For travelers with no knowledge of the language, Google Translate is a good source to use. Even though it uses the Brazilian version of Portuguese, it does help.
The good news is that even the smallest towns in Portugal have grocery stores and most, if not all, have a cafe where you can stop for a quick meal, coffee, snack, and bathroom break. Also, they serve as the perfect place to pick up snacks, or even prepared foods like sandwiches, salads, and drinks, to take along with you.
Taking the road less traveled is quite often a rewarding experience, and this road trip was no exception. We learned so much about Portugal, the culture, and the scenery—from both our travels and the interactions we had with the people who are always warm and wonderful.
Get Your Free Portugal Report Here:
Romance, culture and adventure awaits in Portugal. Learn more about Portugal and other European countries in our daily postcard e-letter. Simply enter your email address below and we'll send you a FREE REPORT - Explore the Old World in Laidback Portugal.
This special guide covers real estate, retirement and more in Portugal and is yours free when you sign up for our IL postcards below.
Related Articles
The Best Places to Live in Portugal From $1,600 a Month
Portugal Itinerary: How to Spend 7 Days in Portugal
Is Portugal a Safe Place to Live?
Upcoming Conferences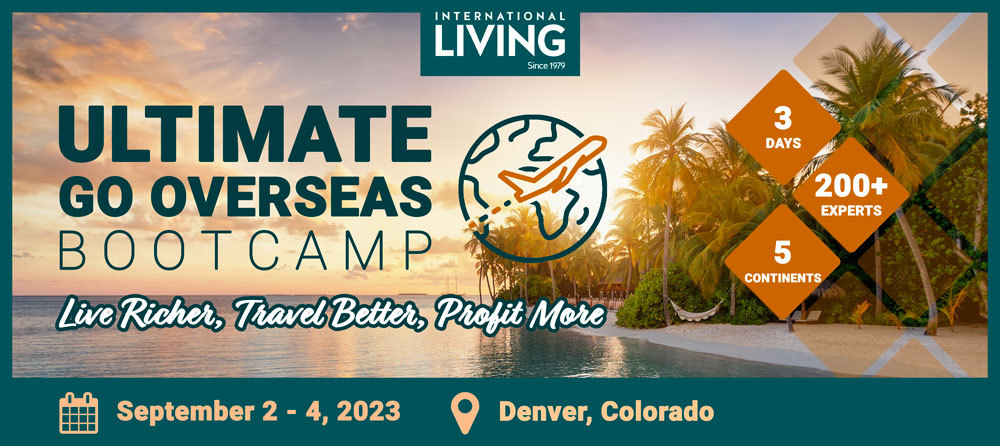 Most Popular Products
Popular Articles You May Also Like