Standing knee-deep in clear Caribbean blue water looking back at the white-sand beach and the swaying palms, I thought it over. I was on vacation, but what was stopping me from living here?
Rent here was a fraction of what I paid for my apartment in Washington, D.C., the cost of living was low, and I hadn't felt this relaxed in years.
(It helps that it's so affordable here: All in all, a couple who own their own home could live on a monthly budget of only $1,000. With rent, that couple would have a comfortable life for around $1,800.)
So…five days after arriving on the Caribbean island of Roatan, 30 miles off the coast of Honduras, my vacation became a new life. I forgot about that return flight and instead settled further into the sand. I felt at ease and welcome in this community, and I realized it was because people were taking the time to actually chat and get to know me. Nobody was rushing; nobody was too distracted by emails or phone calls. Everyone just seemed so calm.
And then I realized what was so appealing: everyone was living on island time.
Back in New England where I grew up, harsh winters had taught me to walk quickly from Point A to Point B without stopping for anyone or anything. I would get stressed if things weren't done straight away and I couldn't tick them off my never-ending to-do list. I was frequently annoyed with delays. Even the most trivial of things like waiting in a long line for coffee irritated my need for efficiency.
On Roatan, expats and locals alike operate on island time. It's a state of mind, something caused by the timeless nature of the ocean all around, and it's taught me to ask "what's the rush?"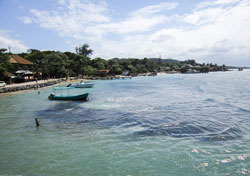 In Roatan, I am not just a number, not just another person in line tapping my foot and sighing in exasperation. I am a neighbor and a friend. Going to the bank is no longer a task for me to begrudgingly undertake. It's a pleasant interaction and a chance to catch up.
With the warm weather and cool Caribbean breeze, I never have to run for cover from a blast of cold wind or snow. And free from the hustle and bustle of the big city—no streets or subways packed with people racing to work, no roads backed up with angry commuters—life in Roatan is pervaded by a sense of calm that touches everyone who lives here, one of many things that makes it such a great place to live.
Living on a small, tropical island has taught me to question the need to rush through life that's so ingrained in us. My life is a journey, not a series of to-do lists. My daily life in Roatan is filled with joy and wonder. It didn't used to be, simply because I was moving too fast.
Get Your Free Honduras Report Here:
Learn more about Honduras and other countries in our daily postcard e-letter.
Simply enter your email address below and we'll send you a FREE HONDURAS REPORT: Island-living at an Affordable Price in Honduras
This special guide covers real estate, retirement and more in Honduras and is yours free when you sign up for our postcards below.
Get Your Free Report Here