"We were frustrated with extremely long, cold winters, high Canadian taxes, and we were weary of the rat race."
So says Denise Patrick, who—along with her husband Neil—moved to the beach community of Coronado—just 90 minutes from Panama City.
The couple first fell in love with Coronado when they spent a vacation there in November 2010—so much so, in fact, that they decided on the flight home to sell their house and belongings. They purchased a three-bedroom, four-bathroom house with a pool for two-thirds the cost of the house they sold in Canada and moved to Coronado in May 2011.
"I felt comfortable with Panama," Denise says. "They use the U.S. dollar and living in Coronado means we are close to the John-Hopkins-affiliated hospital in Punta Pacifica in Panama City," says Denise.
They don't have to go all the way to Panama City for health care though. Coronado also offers good and affordable health care.
"We have a clinic here in Coronado as well as several doctors. Though we've not needed much health care for the three years we've been here, we occasionally see the doctor at an independent clinic for $15 ($12 for pensionados (qualifying retirees)). Besides the several hospitals in Panama City, there's also a hospital in Penenome (40 minutes away)."
Though Coronado is close to Panama City and its modern hospitals, world-class shopping, and theaters and opera houses, it's a world away from hustle and bustle. Expats have been coming to Coronado for years now to relax, hot on the heels of Panama's most elite families who first bought and built vacation homes here.
Today, this increasingly popular beach and expat community offers excellent infrastructure, in addition to its main draw: a beautiful white-and-black sand beach that goes on for miles.
It's a highlight for Denise. "I love the beach and our house is just a 10-minute walk from it."
The sunny weather is one of the Patricks' favorite things about Coronado, which is in Panama's Arco Seco or "Dry Arch," an area that gets less rain than anywhere else in the country. "We love that it never gets cold here," Denise says. "I've not worn a sweater or pair of pants in three years!"
So though Denise finds it too hot to sunbathe (Coronado averages highs of mid-80s F to low 90s F year-round), she visits the beach with her dogs for long walks whenever she can, in the mornings or in the afternoons, when it's coolest.
The Patricks had planned to do like others do and slow down in Coronado…but after de-stressing for six months, they decided they needed something to do. And three years ago they bought a small transport/day trip business.  "It originally gave us something to do part-time and has grown to 14 Canadian and American drivers and now keeps us busy full time."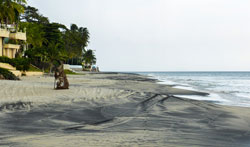 In their spare time, they hang out with their many friends (who are what really make Coronado so special, Denise says).
"Coronado has Canadians, Americans, and Europeans coming and going all the time. We have friends who live here year round, friends who come twice a year for several months, and friends who come down for the North American winters."
Even with so many coming and going, the sense of community is strong in Coronado.
"Coronado has a small-town atmosphere, so, if you're out and about at the bank or the grocery store you're bound to run into someone you know and stop to talk for a few minutes."
And there's plenty to do with those friends.
"We usually go out for dinner once or twice a week to local restaurants. There's a Panamanian restaurant called Malibu which is a hidden gem with good prices and great food. Neil's favorite dish there is the lemon corvina and I like their chicken. The meals are fairly simple but nicely done and they serve lots of fish and local foods. Dining out is less expensive here (we can eat at Malibu for under $20).
Other eateries include Italian, Mexican, and Chinese restaurants and there are plenty of cafés.
Not in the humor to dine out? There are lots of social events to attend in Coronado, too, including happy hours at Picasso's Bar and Grill, at the Coronado Golf Hotel, and rooftop at the Tryp hotel. Many expats also volunteer with Spay the Strays, at one of the local orphanages, or teach English at a local school.
A change of scenery is also close by whenever you want it. The crater valley town of El Valle de Anton is only about 40 minutes from Coronado and the Patricks often take folks there to visit the local markets or to zip-line. "El Valle also has a butterfly sanctuary, an orchid sanctuary, and a great little zoo," says Denise.
Get Your Free Panama Report Here:
Learn more about Panama and other countries in our daily postcard e-letter. Simply enter your email address below and we'll send you a FREE REPORT — Panama: First World Convenience at Third World Prices.
This special guide covers insider advice on real estate, retirement and more in Panama. It's yours free when you sign up for our IL postcards below.
Get Your Free Report Here