Most travelers come to Uruguay for a summertime beach vacation.
But you could easily plan an entire visit around Uruguay's historic sights and cultural events.
Then, there's the countryside, with enough outdoor activities to fill another trip.
To get the most from your time in Uruguay, it makes sense to learn your options and plan ahead.
To that end, here are 10 things to do in Uruguay:
1. Vacation in South America's Most Prestigious Beach Resort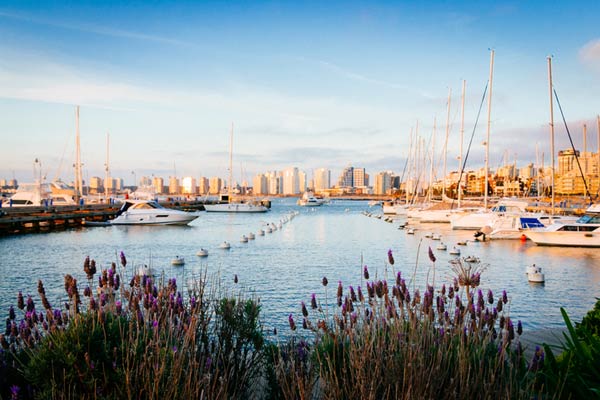 Uruguay's southern coast is dotted with beach towns. The most famous is Punta del Este. It's popular among jet setters who fly in for New Year's and the first two weeks of January.
The heart of Punta del Este is the Punta del Este Peninsula. It's about 16 blocks long and averages four blocks wide. It's where you find the area's top restaurants, fashionable shops, and the marina.
While Punta del Este can be expensive, it's possible to have a great time without breaking the bank. To do so, rent an apartment with a fully equipped kitchen on the Peninsula. You won't need to rent a car, and you can make many of your meals, spending less in restaurants.
What can you do for fun? Enjoy the beach and body surf. Get your picture taken by La Mano (a statue of fingers emerging from the sand). Walk up Gorlero, the main street of the Peninsula. Stop to browse at the artisan's fair in Plaza Artigas. Get ice cream at Gelateria Arlecchino (the best). And watch the sea lions sunning on the boat ramp at the marina.
2. Explore Montevideo's Old City
Montevideo is Uruguay's capital and largest city with a population of 1.4 million. The original city site (an eight-by-12-block area founded in 1726) is a neighborhood within Montevideo called Ciudad Vieja (Old City).
In Ciudad Vieja, you find the city's early architecture and several museums. One impressive building is the Solís Theater, completed in 1856. It's a working theater designed like an Italian opera house. You can see inside on a tour available most days.
The best time to explore Ciudad Vieja is on weekdays when it's most active and everything is open. You'll find several good restaurants, such as Estrecho, Jacento, and La Petite Cuisine, for a tasty lunch along the Sarandí pedestrian street.
3. Watch a Carnival Parade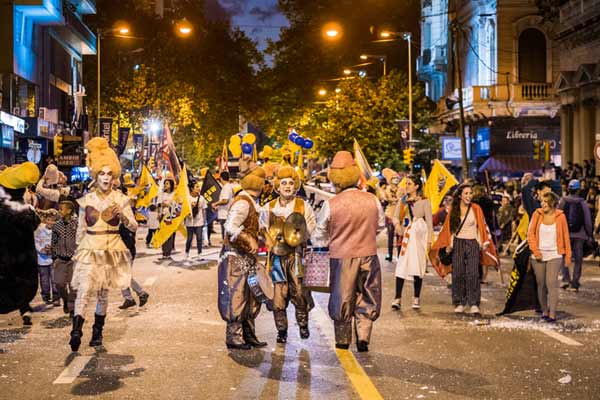 You will find Uruguay's largest Carnival parades in Montevideo. These include the Inaugural Parade, the Samba Schools Parade, and a parade called Llamadas, which means calls (referring to drum calls). While all the parades are well attended, the most famous is Llamadas.
Llamadas parade groups are called comparsas. A comparsa includes a group of female dancers in carnival attire and a large group of male drummers, called a cuerda. It also includes members that wave large flags or hold images of a moon or stars on poles.
While Llamadas is colorful and energetic, the watching crowd stays orderly. Most mischief is limited to small pranks like spraying silly string.
Uruguay's Carnival season is 40 days—the longest in the world. The parades are usually scheduled for dates during the second half of January and the first half of February.
4. Enjoy an Evening of Street Tango
On Saturday evenings, you'll find street tango at Montevideo's Plaza del Entrevero. (Also known as Plaza Fabini).
Anyone can join in. People of all ages and skill levels enjoy dancing to tango classics. Others come to watch. And it's all free.
While a few dancers get a little dressed up, most come as they are. Here, it's all about moving with the music.
5. Tour a Winery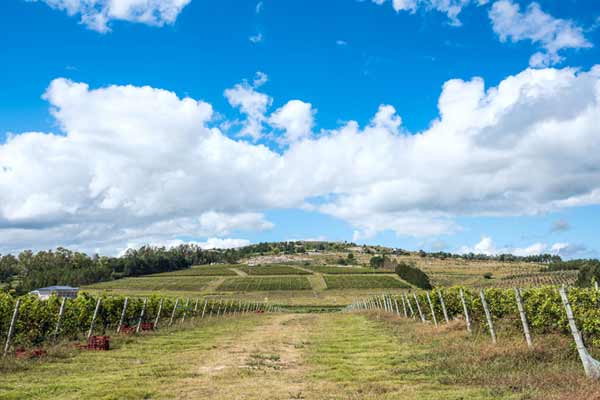 In Uruguay, you find hundreds of family-owned wineries crafting varietals and blends for the local population. Many offer tours that guide you through the vineyard, explain the wine-making process, and let you sample the finished product.
Most wineries that offer tasting tours can help you make transportation arrangements. (The blood alcohol level to legally drive in Uruguay is zero.) You'll also find tours. One is Wine Explorers Uruguay that charters a bus for winery visits a couple times per month.
A great winery that's conveniently located on the edge of Montevideo is Bodega Bouza. It's just a 20 to 30-minute taxi ride from downtown. While Bouza produces many wine varieties, it's best known for its tannat—a full-bodied red. If you prefer white wine, try Bouza's award-winning albariño.
6. Unwind in a Hot Spring Pool
You'll find Uruguay's hot spring region in the northwest part of the country, near the city of Salto. Hot spring facilities in this area range from campgrounds to fine resorts.
The oldest hot spring resort in Uruguay is Termas del Arapey, located 50 miles north of Salto.
The pools with the hottest spring water (coming out of the ground at around 113 F) are in Termas de Daymán—an area of hotels and pools five miles south of Salto. It's where you find Parque Termal Municipal (Municipal Hot Springs Park), with a variety of pools and therapeutic showers, as well as large lawns with picnic tables.
Termas de Daymán is also where you find Acuamanía, a water park with a 59-foot high water slide and river channels.
7. Walk the Streets of Uruguay's Oldest European Settlement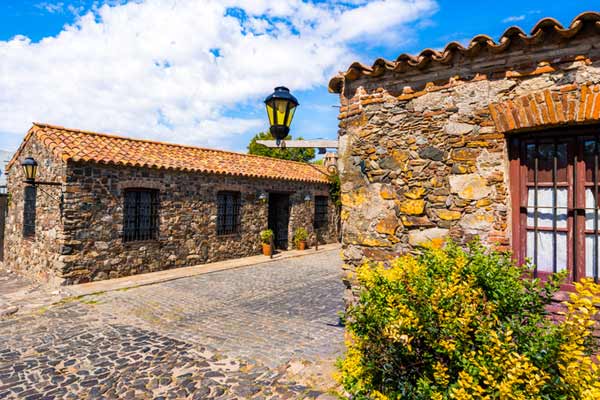 Colonia del Sacramento (population 27,000) is 112 miles west of Montevideo. The original settlement site is called Barrio Histórico (Historic Neighborhood). Founded by the Portuguese in 1680, it's older than Montevideo.
In Barrío Histórico, you find original stone streets and colonial structures, as well as a lighthouse, six museums, a marina, restaurants, shops, and hotels. UNESCO designated it a World Heritage Site in 1995.
In Colonia del Sacramento you also find a ferry terminal with high-speed catamaran service across the river to Buenos Aires, Argentina. Because it's so close, many visiting Buenos Aires include a day trip to Colonia del Sacramento to stroll the streets and see the sights of Barrío Histórico.
8. Visit a Working Amethyst Mine
High-quality amethyst is mined and processed near the city of Artigas in northern Uruguay.
You can visit an amethyst mine on a tour called the Mineral Safari. After exploring at the mine, you visit a factory where the stone is cut and processed.
The tour is organized by the Hotel Casino San Eugenio del Cuareim in Artigas, 370 miles north of Montevideo on the Brazilian border.
9. Take a Day Trip to a Beachfront National Park with a Colonial Fort
Parque Nacional Santa Teresa (Santa Teresa National Park) spreads across thousands of acres in Uruguay's Department of Rocha. It's mostly forested land with a large sand beach fronting the blue water of the Atlantic Ocean.
In addition to the beach, park attractions include hiking trails, a large campground, and scenic day-use areas.
Just east of the park is Fortaleza de Santa Teresa. It's an impressive military fort built from cut stone blocks in 1762. You can explore the inside of the fort during scheduled visitor hours for a small fee.
Parque Nacional Santa Teresa is 180 miles east of Montevideo and 24 miles west of the Brazilian border.
10. Experience Uruguay's Country Life on a Guest Ranch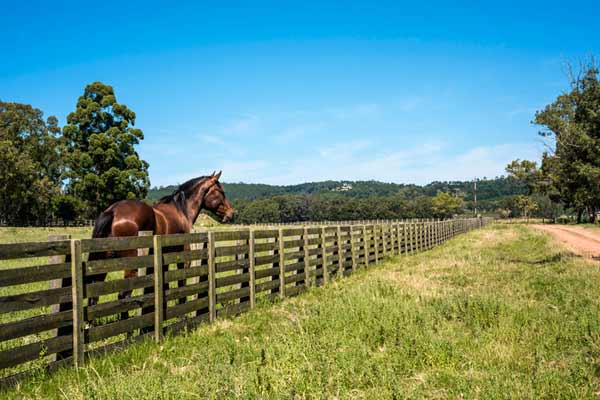 If you're looking for a unique experience with the perfect balance of relaxation and outdoor fun, visiting a Uruguayan guest ranch may be just the thing.
One popular guest ranch is Estancia Águila Blanca. Estancia Aguila Blanca is 107 miles Northeast of Montevideo. It's a 2,400-acre cattle ranch in Uruguay's Department of Lavalleja. It's a place where you can enjoy horseback riding, canoeing, and fishing on a lake.
As far wildlife, you have a good chance to see ñandú (large flightless birds like an ostrich). As well as carpinchos (like guinea pigs, but much bigger).
After a day on the range or the lake, enjoy a tasty barbecue and traditional country food.
Related Articles
Discover your Ideal Retirement in Uruguay