Bali, an island smack in the middle of the Indonesian archipelago, often evokes thoughts of idyllic blue oceans, beautiful sunsets, and verdant green rice paddies. But Bali is much more than that. It is a rich, cultural, spiritual island that can best be explored with the advice of the friendly locals.
Bali is an anomaly; it's unlike every other Indonesian island. Somehow, despite the throngs of expats from around the globe now calling it home, Bali has managed to maintain its traditional atmosphere and ethos. Below are examples of five towns that are distinctly Balinese, while also being great destinations for your overseas retirement.
1. Seminyak: For the Retiree Who Wants it All
Shopping, shopping, and more shopping—this seems like the slogan for this small city. Here you can find everything from Balinese jewelery and furniture, to bikinis and flip flops. Throw in a long stretch of beach and pumping nightlife, and you've got Seminyak in a nutshell. It's bustling, lively, and where the majority of the expats live. With spas on every street, life can be pretty luxurious; from the high-end places where you can bathe with rose petals, to the basic and affordable spas that give a good massage without all the fanfare.
There are also hundreds of restaurants to choose from—ranging from a cheap and cheerful local warung selling traditional Balinese fare for pennies, to the five-star, white tablecloth places where you can spend a hundred dollars for a bottle of wine. No matter what kind of lifestyle you'd like, you can have it in Seminyak.
2. Uluwatu: For the Surf-Loving Retiree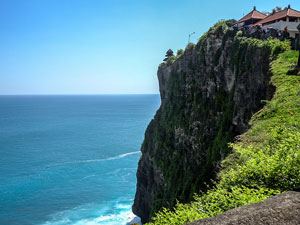 If you're a surfer, Uluwatu might already be in your sights. There is something about how the deep blue ocean meets the sharp steep cliffs that makes this place so unique. To reach many of the beaches, you must climb through caves or walk down narrow pathways, which make getting there an adventure in and of itself, but it also keeps some of the tourists at bay. The town itself is spread out, so having a scooter is advisable, but it's also the best way to explore the area's narrow pathways, which sometimes lead to small temples or shrines just outside of town. There is only one main road that runs throughout the area, and it is peppered with cafés and restaurants. If you're a surf enthusiast looking for a perfect place to ride big waves, Uluwatu could be for you.
3. Sanur: For the Small Town Retiree
Sanur was one of the first towns in Bali to be discovered by tourists, but somehow, it has kept its small-Balinese-town feel. Even though it is small enough to ride a bike from one end to the other, there is so much going on that you'll never be bored. The water is calm and perfect for swimming, paddle boarding, and snorkeling, and there are even a few nearby reefs right off the beach. Fishing and dive boats line the shore, and there is a boardwalk the runs the entire length of the beach—perfect for jogging or taking a sunrise stroll. It also happens to be lined with dozens of fabulous restaurants and a few larger hotels. After dinner, there is plenty of nightlife, and a few bars with live music that draw large crowds nightly.
4. Ubud: For the Holistic Retiree
Ubud is considered the heart of Bali, and is also the island's spiritual center. This is the type of town where you can let out your inner hippie. There is a large art community, so gallery openings are a regular occurrence. You can also take classes in jewelry making, cooking vegan fare, or even balancing your chakras. There are also hundreds of cafés and restaurants to choose from with every type of cuisine imaginable.
Surrounded by lush green rice paddies, and only 30 minutes from the nearest beach, Ubud is a great home for anyone looking to live outside of the box.
5. Amed: For the Pioneer Retiree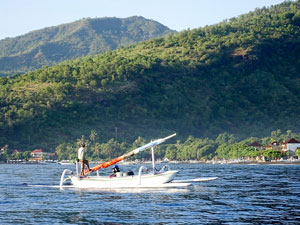 This small town is off the radar for most people visiting Bali, but it has a lot going for it. Amed is considered one of the best areas on the island for divers of all levels, and the number of dive shops here proves it. Of course, if you're not into scuba diving, there are plenty of other ways to enjoy the water. Why not befriend a local fisherman, and he'll take you out for a sunrise journey as he gathers his morning catch.
There is a small expat community, whose influence can be seen in the wide selection of international cuisine on offer here. It's just as easy to find grilled local catch on the menu as it is to find tuna tartar and French wine.
Tourism is just starting to pick up, so in the coming years more Western amenities will be popping up. But until then, Amed is the ideal destination for those looking to get away from it all.
Get Your Free Indonesia Report Here:
Simply provide your email below to receive this Free report. You'll also receive a free subscription to our International Living Postcards – a daily e-letter that explores living, traveling and investing in South East Asia and other exciting countries from around the world.
Get Your Free Report Here