Candidasa, Bali – A Coastal Paradise.
By Josephine Brierley
Candidasa isn't a renowned destination in Bali, but to those who do know, it's a popular seaside village located about an hour's drive north of Sanur.
The main road, which can be quite busy, runs parallel to the shoreline and is populated with places to stay, restaurants, and some stores selling produce, clothing, and homewares.
Amongst all of this you'll find villas for long- and short-term rental. It's a great place base to yourself and explore some of Bali's historical sites and famous dive spots.
The district of the Karangasem regency contains volcanoes, verdant mountains, rice fields, sweeping bays, and crashing waves, with amazing scenery. The Balinese tradition runs strong in the area, with temples and water palaces which date back hundreds of years, it's why so many say you can still find the "real Bali" here. In fact, the historically preserved village of Tenganan is nearby, home to the ethnic group Bali Aga who are thought to be the original inhabitants of Bali.
Retire in Candidasa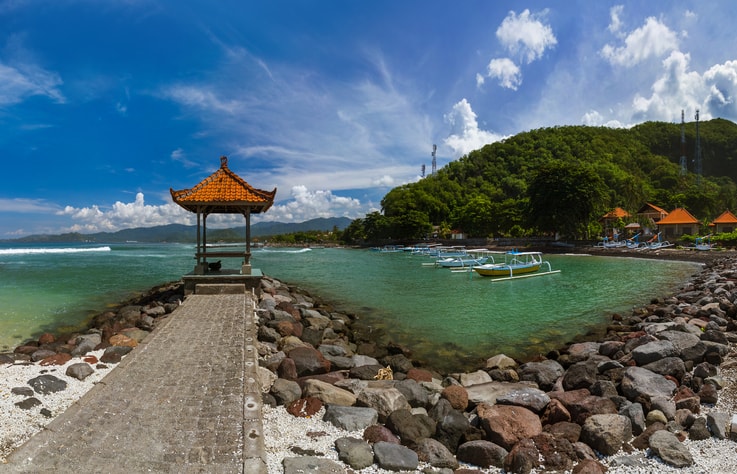 Candidasa is a small town, and delivers the relaxed lifestyle vibe many crave when retiring to a tropical island. The town is known for its small expat community, but you're never far from the larger populated areas of Bali if you need a city-fix.
As far as supplies go, most of your supermarket shopping can be done in Candidasa, but you won't find the big-name stores located here. You can buy most of what you need within town, but a trip to nearby Sanur or Ubud may be needed for anything special and bulk buys.
There are quite a few local markets for fresh fish, fruit, vegetables, and local produce.
Just past Sanur, Lotte Grocer is only an hour's drive away and is great for bulk shopping at bargain prices.
Restaurants line the main street and all the hotels lining the ocean have their own restaurants, too. A favorite is Le Zat, a restaurant located directly on the shoreline with views to the islands off-shore.
Known as an institution in Candidasa, Vincent's is a major drawcard in the area with its monthly jazz nights and international menu. Local warungs are plentiful, with budget tasty meals, and most places have live music at night.
There's the Hungry Crocodile with tables out front and lounging areas out the back, where you can get local and Indonesian favorites and Saturday night features live music. You'll find local expats often meet here. Another place to find expats is the renowned Hot Dog Shop.
From nearby Padang Bai, travel by fast boat to Lembongan Island, or just over two-hours away is Lombok and the Gili Islands.
Lifestyle in Candidasa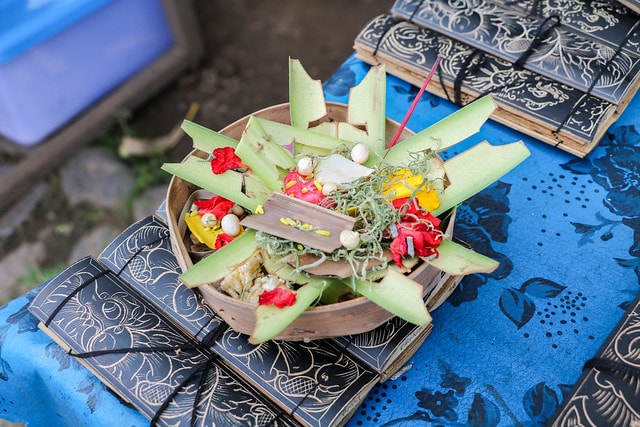 Candidasa is a laidback town, so, if you're looking for nightlife, this is not the place for you. It's said it was first established as a fishing town in the 12th century, and before its modern name was known as Teluk Kehen (Bay of Fire) and Cilidasa (ten children).
There is a temple which still stands near the lotus-filled lagoon, featuring a statue of the fertility goddess Hariti, and many Balinese who want to have children make the journey here in the hope of being blessed.
The town grew in popularity with tourists and expats in the 1970s, when snorkeling and diving in the area became prominent.
Sadly, there aren't many beaches remaining in the area, due to a construction boom between the '70s and '80s. To fuel the construction of beach bungalows and other buildings, the offshore reef was mined for lime to make cement and other construction materials.
This in turn removed the coastal barrier which had protected the beach…now washed away. Local hotel owners then built large brick walls to protect their land. Now, you'll see concrete breakwaters run parallel to most of the shoreline, but the turquoise waters are still picturesque.
The Pasir Putih (White Sand Beach or Virgin Beach), is one of the best beaches in Candidasa and well worth the 30-minute trip north. It's a charming location, relax on sun-lounges and enjoy local food and even a foot massage from the locals on the beach.
Candidasa offers some great diving sites, with three rocky islands, Gili Tepekong, Gili Mimpang, and to the north, Gili Biaha, seen from the shoreline of the town. The currents can be strong, so it's best to go diving with a reputable company.
An hour away in the town of Amed is the shipwreck USAT Liberty, where you can view Oceanic Sunfish when in season. Amed is ringed by black-sand beaches and the towering Mt Agung. Head to Sunset Point for afternoon drinks and the most amazing views in the whole island.
Take a journey to Jasri beach where the large swing allows you to release your inner child, and the Chocolate Factory allows for temptations. Ride in a local jukung, a Balinese boat, for a trip around the waters off the shore—this area offers fantastic views of Mt. Agung on a clear day.
The local lagoon in the middle of town is spectacular with the right timing. When the lotus flowers are all open, it's a colorful pictorial scene. The main temple is directly opposite on the main road and dates back to the 11th century. You'll often see important ceremonies held here.
Cost of Living in Candidasa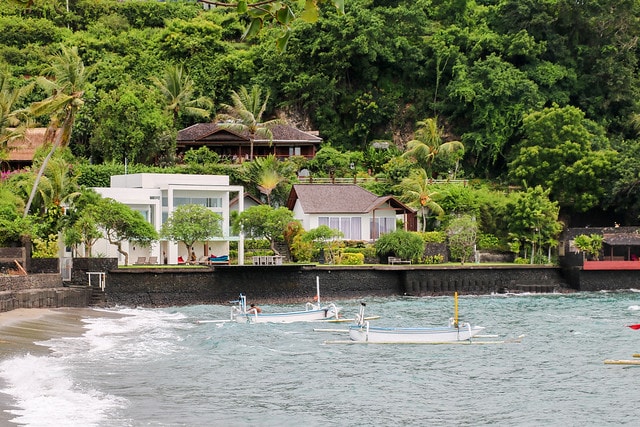 As a potential retirement location, Candidasa offers an easy lifestyle. Villas with views to the ocean or of the rice paddies to the west can be found here. A two or three-bedroom traditional home without a pool, can be had for around $700 a month.
You'll find many options to choose from, it just comes down to what you prefer.
While the nightlife might not seem big in Candidasa, with the many restaurants lining the beach front, you're bound to meet people.
Here's a sample budget for a couple living in Candidasa:
| | |
| --- | --- |
| Furnished two-bedroom villa | $700 |
| Maid/Housekeeper (two hours, three days a week) | $110 |
| Groceries | $200-$400 |
| Dinner at a warung | $15-$25 |
| A restaurant dinner with alcohol | $50-$80 |
| Electricity | $80 |
| Mobile Phone | $15 |
| Internet | $20 |
| Total | $1,190 – $1,430 |