The sun glistened against the snowy white villas that sat precariously on the hillside, seemingly stacked one upon the other. An alluring, idyllic, fairy tale setting of ivory villas overshadowed by the Moorish castle above. This is the magical hilltop village of Olvera, one of the famous "pueblos blancos," or white villages of Andalusia Spain.
La ruta de los pueblos blancos, or route of the white villages, is a 185-mile drive through the rural, mountainous back country of Andalusia, Spain. Traditional whitewashed houses, originally painted white to reflect the extreme summertime sunshine, topped with terracotta tiled roofs lie in the shadow of medieval castles.
Are you interested in retiring abroad? Yes | Not Sure Yet
Situated in the foothills of the Sierra de Grazalema Natural Park, Olvera is located in the province of Cadiz in the region of Andalusia. With a population of around 8,500 this charming, medieval village has been inhabited for the past 2,000 years. Verdant groves of more than 2 million olive trees blanket the mountains that surround the village, producing some of the finest olive oil in the region.
As our car approached the village my eyes were drawn up to the skyline dominated by a prominent castle and church. The well-preserved tiled main plaza is decorated with a large multi-colored sign with the word Olvera prominently displayed. The sign leads visitors to the mirador that overlooks the palate of olive-green loveliness as far as the eye can see.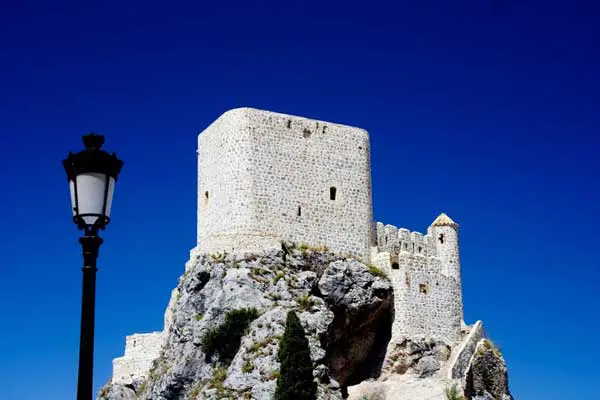 Constructed between the 12th and 13th century, Olvera Castle was strategically built as one of a series of signal stations on promontories, 2,000 feet above sea level, that served to protect the villages. Lookouts posted in the towers could signal and communicate to other castles nearby using a series of lights reflected off mirrors. This system was deliberately designed to disadvantage enemies and provide maximum protection. But despite the efforts, the castle was seized in 1327 by the king of Castile and later the Christians who rebuilt the castle into what we see today.
The 12th-century Arab castle features a unique design that specifically fits into the cliffside in the shape of an elongated triangle. The keep spreads out over two levels with a wooden barrel and vaulted ceiling. Like any good castle, this one is equipped with a gateway protected by a barbican, curtain walls and a parapet walkway, turrets, and a subterranean enclosure with cisterns. Visitors can purchase a ticket to the castle at the tourist center and climb the steps to the top for a bird's-eye view overlooking the city below.
Next to the castle is the charming and historic church called Our Lady of the Incarnation. Built in 1822 in a neoclassical style, it takes over the spot where a former Gothic/Mudejar-style church sat, and before that this was the home of an Arabic mosque. Construction was completed in 1843 and the church was considered to be one of the most impressive churches in the province, large enough to even be called a cathedral.
A Moorish wall once surrounded the town of Olvera and today is comprised of a tourist office, small store, and museum. Tickets to the castle can be purchased here along with cold drinks, snacks, and souvenirs.
Stroll downhill a bit through the old town, stepping back 700 years in time when the village was under Muslim rule. Known locally as La Villa district, where visitors can admire the narrow, cobbled lanes, quaint cottages, and plenty of Old World delights. This could be the perfect spot to stop for lunch, tapas, or a glass of wine before heading back out to explore more white villages.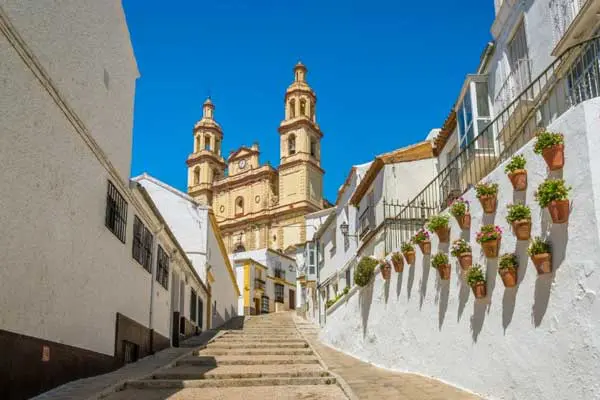 Eight miles from the center of Olvera sits the Peñon de Zaframagón nature reserve. This huge rocky outcrop is home to the largest nesting ground of Griffin vultures in Andalusia and one of the largest in all of Spain. The rocky landscape follows alongside the Guadalporcún River with its deep canyon at its base called the El Estrechón. Since the crag must be accessed by foot or bicycle the river may provide a nice respite to cool off afterward on a hot summer day.
There are 20 white villages throughout the provinces of Málaga and Cádiz just waiting to be explored. Spend some extra time in cities like Cadiz, Málaga, and Benalmádena for beach time or to explore what each has to offer.
Watch Terry's video tour below:
Get Your Free Spain Report Here:
Learn more about Spain and other countries in our free daily postcard e-letter. Simply enter your email address below and we'll also send you a FREE REPORT - Live the Good Life in Sunny, Affordable Spain.
This report covers real estate, retirement and more in Spain and is yours free when you sign up for our IL postcards below.
Related Articles
There Are Many Reasons for Moving to Spain
Two Beautiful Small Towns to Live in Spain
Five Places to Live in Spain; Two to Avoid
Upcoming Conferences
Live Better, Spend Less, Retire Sooner
IL's Retire Overseas Bootcamp
October 21-23, 2022 in Atlanta, GA

In safe, warm, welcoming communities abroad, as little as $1,700 a month can bankroll a good life... this fall, our experts will show you where—and how.
Early Bird DISCOUNT—Save $100 When You Register by Sep. 29
Details Here IL's Retire Overseas Bootcamp
---
Registration Now Open for the Best of Europe Private Screening

In the Right Spots in Europe, You Can Retire in Style—in an Historic, Sun-Drenched Locale—for as Little as $2,300 a Month or Less—Especially Now With the Dollar and Euro at Parity for the First Time in Two Decades.
And We'll Show You How, October 1-2, During the Special All-Online Best of Europe Private Screening.
---
The Income Revolution Forum
What if You Had the Freedom to Enjoy the Good Life Anywhere in the World You Wanted to Be...and Get Paid While You're There?
We'll show you how—with hands-on guidance—you could beat inflation...secure your retirement...ditch your commute...and turn a skill you already have into a portable side income of $300, $600, even $3,000 or more a month.
Popular Articles You May Also Like