While beach destinations in Mexico, such as Cancun and Playa del Carmen, are well-known for their long, beautiful stretches of sand, there's another perfect spot along the Caribbean Sea that receives far less tourist attention: Xcalak.
Xcalak is a small fishing village on the southern tip of the Yucatan Peninsula, in the State of Quintana Roo. The town is remote, and so far south, it's only six miles to the Belize/Mexico border. At a whopping six-hour drive from Cancun, not many tourists make it to Xcalak, and that's too bad for them. But maybe it's good for you.
The first time I went to Xcalak, what stood out the most was the place's authenticity. Partly because of its far-flung location and partly because it's protected from development (it's a National Reef Marine Park), Xcalak isn't overrun by tourists. The town is home to just 400 local fishers and a scattering of resident expats. It's a secluded region perfect for travelers looking to experience a genuine beach-life.
Given Xcalak's limited development, you'd be right to guess that the tourist hotels take sustainability seriously. Accommodations are off-grid, which gives any vacation in Xcalak a touch of adventure. Electricity comes from solar panels, except for on cloudy days when a diesel generator kicks in, and the rooftops capture rainwater and channel it into underground cisterns to use for showers and cleaning. With the scarcity of resources in mind, it's not surprising that there's no air conditioning—here, you'll have to count on the Caribbean breeze and ceiling fans to stay cool.
Natural Beauty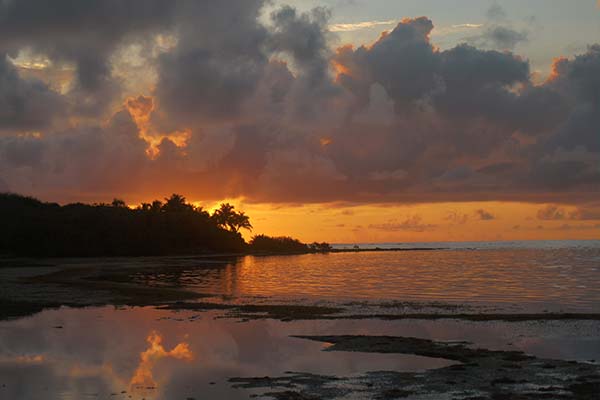 Xcalak is home to a quintessential view of the Caribbean, with translucent turquoise waters and mostly undeveloped beaches, backed by swaying palms.
Saltwater Flats
Off Xcalak's coast is the Mesoamerican Barrier Reef. The second-longest reef in the world, it stretches nearly 700 miles, from Isla Mujeres in Mexico to the Bay Islands in Honduras.
The reef is a physical barrier that breaks up big ocean surge and turns it to gentle waves. Between the shore and the reef, the calm saltwater flats are home to a thriving variety of game fish and tropical marine life. And with a white-sand seabed, the coastal water displays a stunning aquamarine tint.
Beachside and Inland
It's uncommonly easy to find a stretch of the Caribbean all to yourself in Xcalak. Because of the sparse population and lack of development, there are isolated miles of shoreline between accommodations, allowing you to walk the beach without interruption. Xcalak's shore is made mostly of tiny coral fragments that aren't exactly powdery-soft. But what the sand lacks in smoothness, the beach makes up for in seclusion.
Inland, the ecosystem is a fragile mix of mangrove lagoons and thick jungle. The fresh (but slightly salty) water in the lagoons hosts an entirely different species of wildlife than the saltwater flats. And, being set in the jungle, the Caribbean breeze doesn't disturb the calm lagoon waters, making them perfect for exploring by kayak or stand-up paddleboard (SUP).
Things to Do in Xcalak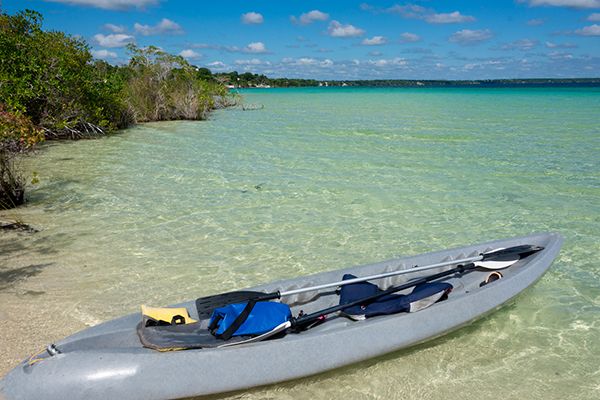 In an area as remote as Xcalak, you can always appreciate the natural beauty, but you might be wondering, what else is there is to do?
Fly Fishing
Xcalak is renowned for fly fishing. The town is set on a peninsula separating the Caribbean Sea from the Bay of Chetumal, and offers three unique areas for fly fishing: the saltwater flats, the mangrove lagoons, and the edge of the bay. Because of the diversity of waterscapes, Xcalak is an excellent place for fly-fishers to attempt the Grand-Slam, catching a bonefish, a tarpon, and a permit all in the same day.
Scuba & Snorkeling
With clear underwater visibility, warm temperatures, and the presence of the Mesoamerican Barrier Reef, the coast of Xcalak offers fantastic scuba diving and snorkeling. Some of the most exciting underwater experiences include seeing manatees and diving with schools of yardstick-long tarpon. Scuba enthusiasts should consider an overnight trip to the Banco Chinchorro atoll, an underwater paradise with a pristine biosphere, shipwrecks, and coral canyons.
Kayaking & SUP
Both the saltwater flats and inland lagoons make for excellent kayaking and SUP. If you wish, you can join a kayaking tour, which is usually paired with a snorkeling excursion. Or, use the free kayaks and SUPs offered at most beachside hotels.
Discover More: Day Trips from Xcalak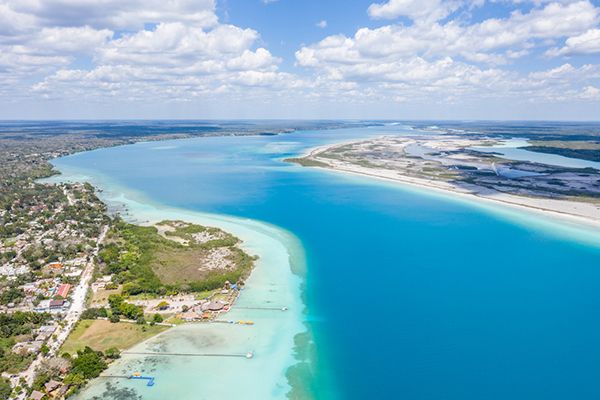 Adventurous travelers will be curious to explore beyond Xcalak's tranquil beaches. With a rental car and an early start, you can make a day trip to some of southern Mexico's intriguing, lesser-visited sights.
Bacalar
The small town of Bacalar is famous for its many-hued Bacalar Lagoon, also known as the "lake of seven colors." A two-and-a-half-hour drive from the village of Xcalak, Bacalar is one of Mexico's enchanting, yet underrated, "Pueblos Magicos," and exudes a laidback vibe that harkens to Tulum of 20 years ago.
Chacchoben
Ruin explorers can easily visit the Chacchoben archaeological site, about a two-hour drive from the village. This ancient Maya city boasts three excavated stone plazas and a towering pyramid. Climb the steps for a sweeping view of the entire site.
Mahahual
The closest town to Xcalak is Mahahual, home to a cruise ship port, restaurants, shops, hotels, and a Mayan-themed water park. Although more populous than Xcalak, the "crowds" here are nothing compared to the Riviera Maya. If you're craving a lively afternoon, head to Mahahual's pedestrian-only malecón, and find a beachside bar for some people-watching.
In the Know: Xcalak Insider Tips
Before you head off to Xcalak, here is some advice for making the most of your trip:
Renting a car from Cancun is the most common way to reach Xcalak. Leave early to arrive before nightfall.
Cell coverage is non-existent in Xcalak, so make sure you have an offline map before making the drive.
Xcalak is cash-only, and there's no ATM; you'd be wise to load up on pesos before arriving.
Most hotels are self-catered. You can buy food from the local grocery trucks that ply the beach road. These pickup trucks carry fresh seafood, fruit, vegetables, and snacks.
Get Your Free Mexico Report Here:
Learn more about Mexico and other countries in our daily postcard e-letter. Simply enter your email address below and we'll send you a free special report - Why Millions of Americans Are Moving to Mexico.
This special guide covers real estate, retirement and more in Mexico and is yours free when you sign up for our postcards below.
Related Articles
3 Of Mexico's Best Hidden Beaches
Los Cabos: Mexico's Gem of the Desert
5 Places to Live in Mexico…and 3 to Avoid
Upcoming Conferences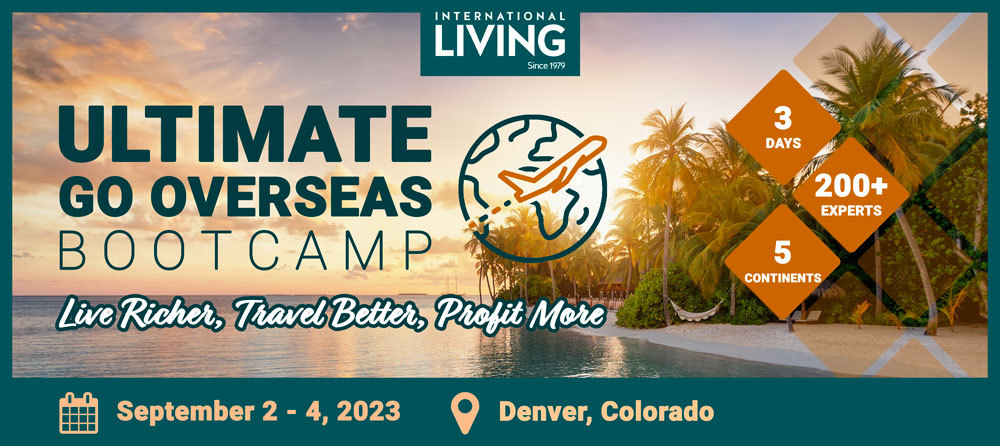 Most Popular Products