It's hard not to adore Italy.
It's the country that brought us Leonardo Da Vinci, mouthwatering cuisine from pizza to pasta, enchanting art and culture, world-class fashion capitals, wine, and the very best of it, and perhaps most importantly the concept of la dolce vita (literally translated as "the sweet life"). It's where you'll find history-steeped Rome with its well-kept ancient monuments and food culture…Venice with its air of mystery and its famous masquerade balls…and Florence with its art and culture and vineyard-covered surroundings.
But, of course, Rome, Venice, and Florence aren't all this sunny, food-obsessed, Old-World country has to offer. Some of the most breathtaking moments you can experience are in the tiny villages perched on green cliffs and historic little towns nestled in the secluded countryside.
If you, like me, love small town escapes and quiet rural retreats, you'll find plenty of them in Italy—more than I could possibly name. But, to get you started, here are five of my favorites:
Assisi
Made famous as the birthplace of Saint Francis, founder of the San Franciscan order of monks, Assisi is a hill town in Umbria with a grandiose bright-white basilica surrounded by a maze-like town full of small shops, bakeries, and restaurants.
My favorite memories of Assisi are of hiking down the hill and away from town in autumn, surrounded by colorful leaves. At the bottom of the hill, the views of the basilica and town stunned me into silence. The little brick restaurant behind the former nunnery is the perfect place to stop for a break.
Tavernelle Val di Pesa
With a population of less than 8,000, this Tuscan town is one not many have heard of. Which is a shame because it's really something special—surrounded by vineyards and sunflower fields and just 45 minutes from Florence by bus (less by car). It's a tiny town with just one main square and a single (but lovely) church. But with a truly rural experience, it's a charmer.
While in Tavernelle I stumbled upon one of their little-known summer food festivals, when the whole town shows up for homemade pizza, fresh pasta, and local wine, eaten and drunk at large communal tables full of flowery Italian conversation. When I discovered the festival, I booked two extra nights in the tiny town because I couldn't bear to leave without a few more of those meals.
Biassa
Just a short bus ride from the famous Cinque Terre cliff towns, Biassa is a tiny village of just 400. There's a church, whose picturesque bell tower rises above the town, a pizzeria (that serves some of the best pizza I've ever eaten), and a well-kept hostel. And above the town you'll find a series of hiking trails leading down through the mountains to the Cinque Terre coast.
For those who want to visit the Cinque Terre, but retreat to quiet spot without the crowds at the end of the day, this is it.
Garda
Located on the shores of Lake Garda (pictured)—a popular holiday destination just a short train ride from Verona, the city made famous as the setting for Shakespeare's Romeo and Juliet—the town of Garda is small, but charming. A well-preserved historic center, an ancient castle, and, of course, views of the lake combine to make this a very Old-World European experience. While, at the same time, a steady tourism trade and modern amenities make it an easy place to plan a getaway.
Modena
Substantially larger than the other towns I've mentioned—with a population over 179,000—Modena still manages to feel quaint, especially along the cobbled lanes of its old town. Its claim to fame is as the birthplace of balsamic vinegar, a thick, tangy, sometimes sweet sauce that connoisseurs eat not only on salads and steaks, but also sometimes ice cream.
Personally, I love Modena for both its vinegar (and the wonderful tours some of the vinegar producers offer) and its classic Italian charm. The loud open market is famous in the region, the restaurants are world-class, and there's the simple pleasure of sitting with an aperitivo on a narrow lane and watching people stroll by.
Image ©iStock.com/bernsman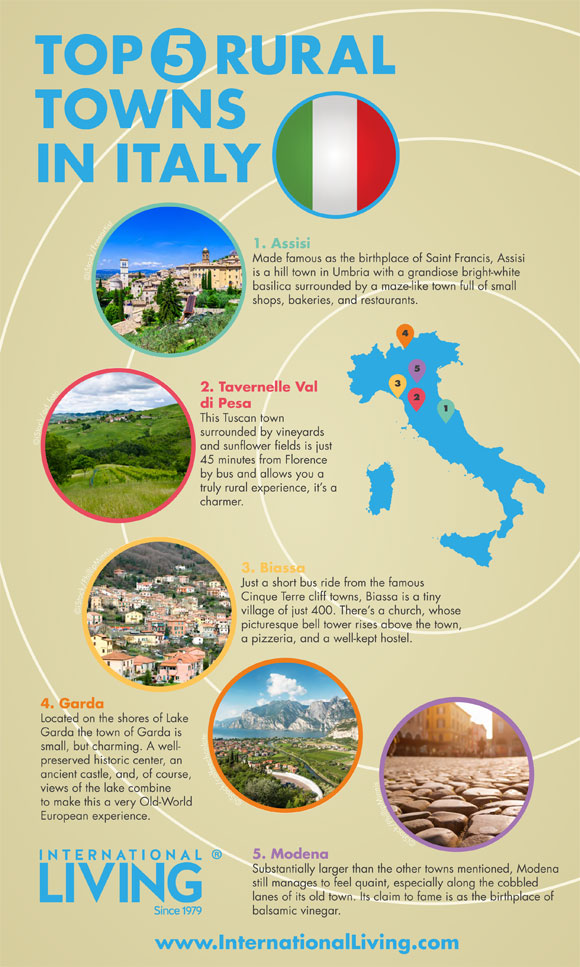 Related Articles
Move to Italy and Enjoy La Dolce Vita (the Sweet Life)