While thousands of expats and retirees are flocking to Colombia's "City of the Eternal Spring" Medellin, many more who are looking for a break from city life are seeking alternatives in the wider Antioquia province.
This Andean region of the country, which offers spectacular landscapes, a variety of temperatures, and a relaxing lifestyle has plenty to offer those looking for a life-changing alternative. With more and more people becoming location independent, the practicalities of finding your own little paradise in Colombia and settling there has never been more favorable.
1. Guatapé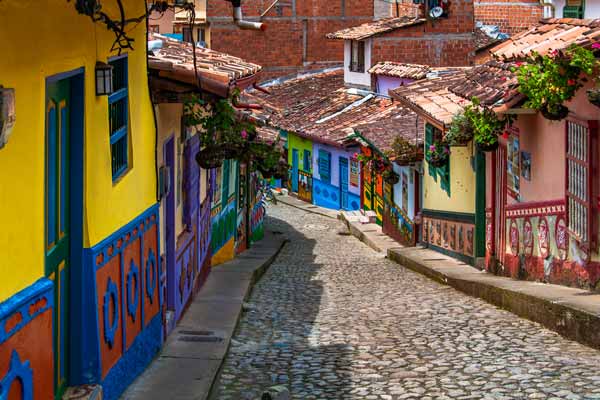 Often at the top of the list of places to visit for tourists in the region, the town of Guatapé is rapidly developing its way towards a great location for long-term settlers.
Nestled on the shores of a 15,000-acre lake that is the main water reservoir for Medellin, "Colombia's most colorful town" offers landscape, adventure, and relaxation.
While the 70-million-year-old monolith in the neighboring village of El Peñol draws thousands of tourists to the area annually, Guatapé's municipal council has responded with a development plan for the area that is driving its transformation.
The opening of a $6 million park and boardwalk that runs down along the shores of the lake has breathed new life into the town and the planned development of a $2.4 million boat dock will extract every bit of potential that the stunning lake has to offer.
From jet-skiing to kayaking to ziplining to hiking, Guatapé has it all to offer those who want to stay active and take full advantage of a perfect climate with temperatures averaging 75 F.
The real beauty of Guatapé however is that it still holds onto its traditional, sleepy pueblo feel. This could see you wandering the narrow streets, taking in the brightly colored zócalos (decorative relief tiles) inspired by stories of village tradition, or sipping a tinto or a beer in front of the church in the main square.
Located roughly 50 miles from Medellin in Eastern Antioquia, the opening of a new tunnel puts Guatapé within just 90 minutes of Medellin and 45 minutes of the international airport by car.
2. Envigado
For those looking for an in-between solution to big city life in Medellin and something more relaxed, the municipality of Envigado is another increasingly popular option.
Located within the Medellin Metropolitan Area, Envigado provides all the luxuries of Antioquia's capital but with a unique change of pace.
Resulting from years of public investment, Envigado boasts an abundance of infrastructure for outdoor activity with high-quality sports facilities, outdoor gyms, parks, cycle routes, and ecological trails luring residents into a healthy, active lifestyle.
Despite being a town of approximately 220,000 people, Envigado has a community feel to it where expats and locals mix freely in what is one of the safest urban areas in the Aburrá Valley.
Envigado's food district la buena mesa attracts families and foodies from across the valley and with tastes literally from all around the world, it is undoubtedly the social hub of the town.
The Deborah Arango library and cultural center is another important focal point in the town, a place to read, immerse yourself in local culture or just relax on the outdoor terrace looking over the park.
While Envigado is often referred to as "Medellin's suburb," in recent years it has very much carved out its own identity as a home from home for expats.
With Colombia's biggest shopping center now located in Envigado, the town is very much self-sufficient in what it can provide to residents.
Envigado is approximately six miles from Medellin making the city easily accessible by metro or taxi. The international airport is approximately 15 miles away.
3. Santa Fe de Antioquia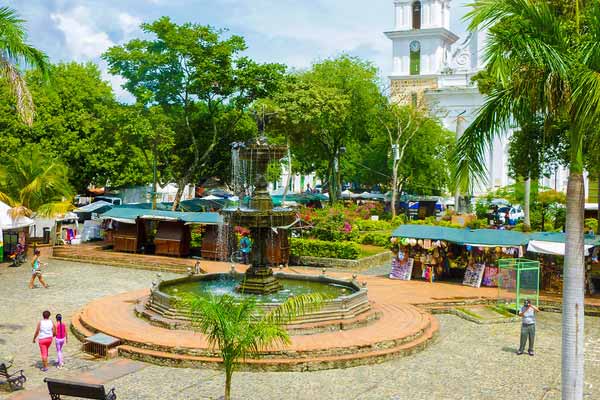 The former capital of the Antioquia province, the colonial town of Santa Fe de Antioquia is one which is attracting the attention of both tourists and long-term settlers.
At 1,879 feet, the town lies at a much lower altitude than Medellin, thus offering a warmer climate and a slower pace of life that goes with it.
If you could imagine the perfect mix of warm weather, colonial architecture, cobbled streets, and fresh food markets in a traditional Colombian setting, then Santa Fe might be just the place to go.
Spending time in Santa Fe is really like traveling back in time as the town is almost perfectly preserved since it was replaced by Medellin as the political center of the province nearly 100 years ago.
Santa Fe is very much about relaxation and detachment from the hustle and bustle.
Read a book, drink a tinto in the main plaza and soak in the surroundings because there is a unique historical feel to the town that is unrivaled in Antioquia.
While the town itself is a peaceful, tranquil environment, there is a healthy buzz in the air mainly due to the small markets selling fruits and vegetables and artisanal produce.
The area surrounding Santa Fe is largely agricultural, so the abundant availability of fresh fruits and vegetables is a major plus, and this is reflected in the high-quality local food that is served in restaurants.
A typical Antioqueño lunch of the day will cost you less than $5 including dessert and one of a wide selection of locally produced fruit juices.
Located in a valley between the Rio Cauca and the Río Tonusco, Santa Fe and its surroundings boast true natural beauty and can be easily explored on foot or by the popular motor taxis that operate in the town.
The Sun and Fruit route, which takes you to the beautiful nearby villages of Sopetran and San Jeronimo allows you to connect with nature through easily accessible campsites and ecological parks.
Santa Fe is located about an hour and a half from Medellin by car.
4. Jardin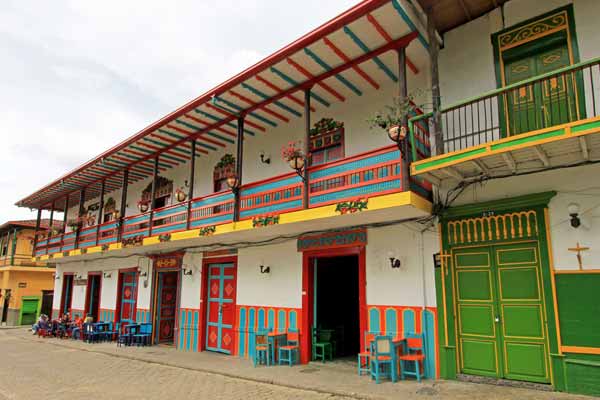 Jardin located in the southwestern part of the Antioquia province is possibly the most popular tourist town in the province and arguably the jewel in the crown of this region of Colombia.
Its lush green mountains, vast coffee plantations, and colorful houses provide for devastating views and a truly spectacular paradisal setting.
This pueblo patrimonio or heritage town is almost perfectly preserved and a haven for those looking for a true experience of colonial Colombia.
With a population of just over 13,000, this is rural Antioquia, and much of daily life centers around agriculture and coffee production.
As the name suggests, it is a place where nature abounds with locals and tourists alike exploring the surrounding mountains on horseback, hiking, or by one of the two cable car lines in the town.
A Cerro Cristo Rey or Christ the King statue looks over the town provides hikers with a panoramic view of the whole region.
There are several caves and waterfalls in the area, the highlight being the El Salto de Angel Jardin, which is a 50-meter waterfall nestled in the dense jungle.
If bird watching is your thing, the Reserva Natural Jardin de Rocas bird sanctuary provides a wonderful opportunity to see the famous and beautiful Andean cock-of-the-rock, which comes out every day at the same time around dusk.
Trout is the delicacy of choice for locals in Jardin and with ever-increasing numbers of tourists visiting, the variety of restaurants around the main El Libertador plaza is always expanding.
As with many of Antioquia's pueblos, food and coffee are produced locally and priced accordingly with the general cost of living being significantly lower than urban alternatives.
Jardin is located approximately three hours' drive from Medellin.
Located at 5,500 feet, Jardin generally maintains a spring-like climate all year round with the temperature averaging 66 F annually.
Related Articles
5 Places to Live in Colombia; 2 to Avoid
Overview of Barranquilla, Colombia
Upcoming Conferences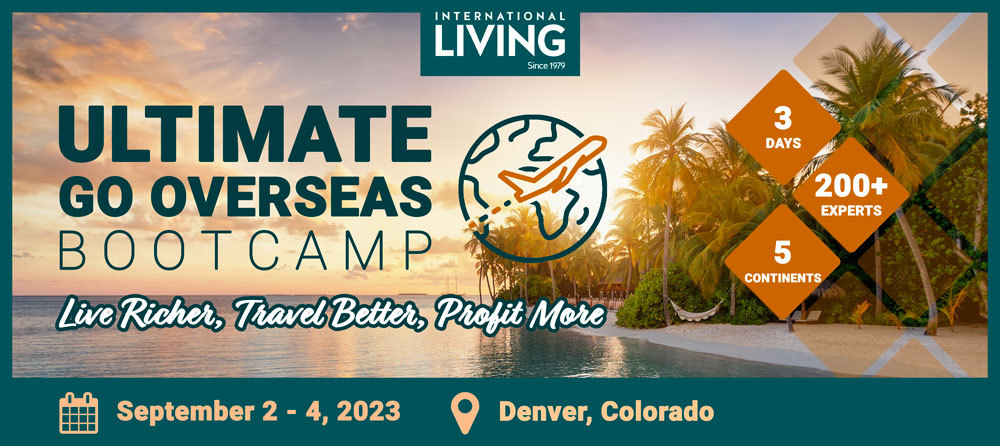 Most Popular Products