When thinking of a spot to live in France, it's tempting to consider the fabled coastline of the Côte d'Azur or the romantic towns and villages of the southern region of Provence. Others might be drawn to the cities of Montpellier, Toulouse, or Perpignan, with their abundance of sunny terraces and joie de vivre attitude.
While it's true that with a pied-à-terre in southern France, you're guaranteed a host of pretty views and perennially sunny weather, but what makes this area so attractive for home buying (or renting), can also be one of its greatest drawbacks. Given the region's popularity, expats can expect higher real estate prices, more tourists, and hot summer months.
Are you interested in retiring abroad? Yes | Not Sure Yet
More and more people, the French included, are looking at different spots around the country where they can enjoy the same "fine-living" attributes at a lower cost. Some regions, Alsace and Lorraine, are a bit off the beaten track, while other, time-honored favorites are making a comeback on the expat scene.
Well-known the world over, the Burgundy region offers far more than just exceptional wines—although if you've ever tasted a full-bodied Pinot Noir or crisp Chablis, that might be reason enough to pack your bags.
The striking capital city, Dijon, combines the elegance of its royal past with a savoir-vivre closely tied to local cuisine, which includes hearty boeuf bourguignon (beef burgundy), flavorful Coq au vin (chicken braised with wine, ham, and mushrooms), and pungent cheeses. While Dijon is a great spot for arts and social events, the real appeal of life in Burgundy lies in its smaller towns and villages.
Beaune, Burgundy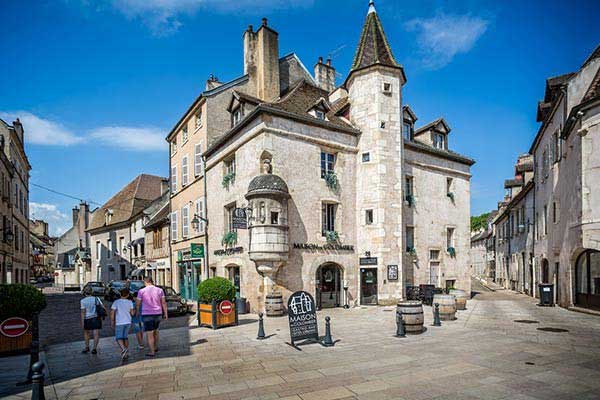 Beaune, known as the wine capital of the region, is a Burgundian town with a rich cultural and architectural heritage. With a well-preserved medieval center—enclosed by its original ramparts— Beaune is a postcard-perfect image of a small French town. Gothic spires mix with Renaissance façades and cozy, vine-covered alleyways add a touch of earthly elegance.
More importantly, for those looking to settle in the area, Beaune provides a great compromise between country and city living, large enough to have an enviable collection of restaurants and boutiques, and small enough to easily move around the town center.
Surrounded by the vineyards of the Côte-d'Or, the geographic distinction for the red and white wines produced within local villages like Nuit-Saint-Georges and Meursault, the town is also a cultural hub. The historic center's most iconic landmark, the Hospices de Beaune (a charitable organization, museum, and historical monument), attracts visitors from far and wide. Topped with the flamboyant yellow and red-glazed roof tiles which characterize Burgundian architecture, the Hospices produces its own wine (premiers crus and grands crus) which are sold at auction every year to finance its charitable endeavors.  One of the top social events of the year, the annual wine auction has been taking place since 1794.
Although there's no need to mark your calendar in order to taste some of the area's finest crus. Wine caves, merchants, and sumptuous wine estates can be found in, and around, Beaune. Big names include Bouchard-Aine et Fils and Maison Jaffelin, and the centrally-located wine cave, Caves de l'Abbaye, offers tastings, classes, and tailor-made lunches and dinners.
There are several green spaces and parks in Beaune, including nearby Bouzaise park with its picturesque lake. Cycling through the countryside, with stops along the villages, is another popular pastime. The Saturday farmers market is a treat for food lovers and people-watchers alike, and expats can take cooking classes in English at the Chef's Atelier cooking school.
A two-bedroom, one-bathroom, furnished apartment (750 square feet) rents for $978 in the center of Beaune. Village homes of the same size, also in the center of town start at $238,400.
Colmar, Alsace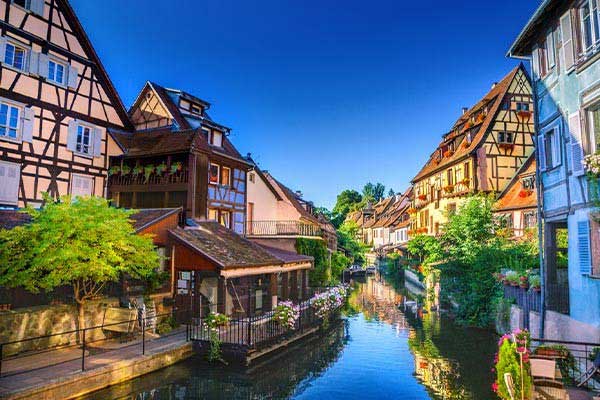 Another area closely tied to the winemaking traditions of France is Alsace. Part of the Grand Est (Great East), this region in northeastern France includes Alsace, Champagne-Ardenne, and Lorraine. While many expats are drawn to larger metropolitan areas like cosmopolitan Strasbourg, the undisputed star of this charming land of half-timbered houses and flower-lined canals is the fairytale town of Colmar.
It is easily accessed by rail, bus, or the town's local airport, Colmar-Houssen—about one mile north of the center.
On the official Alsatian wine route (La Route des Vins d'Alsace), the town enjoys a microclimate that is not only perfectly suited for producing refreshing Rieslings and Pinot Gris, it also allows residents to escape some of the characteristically gloomy weather of northern France. With hot and sunny summer months, and winters which are milder than the rest of the region, Colmar is one of the driest towns in all of France.
Much like Beaune, the town has held the designation of "Wine Capital of Alsace" since 1999, even laying claim to its own municipal vineyards which produce an array of local wines (bubbly Crémants being a particular favorite). The winery contributes to the social life of the town, hosting wine and cheese "happy hours" in the vineyard gardens.
Beyond its wine and gastronomic heritage, Colmar is simply an incredibly beautiful town. The historic center is a well-preserved collection of architectural landmarks which reflect centuries of French and adaptive German design. From secular to religious, a stroll through the cobblestone streets is quite like walking through an open-air museum—impressive Gothic (Maison Adolph) and Renaissance homes (Maison Pfister) are niched between Neoclassical theatres (Theatre municipal) and the town's Neo-Baroque covered market. Towering Saint-Martins church, with its iconic stained glass windows and Renaissance sculptures, is one of Colmar's most visited landmarks.
While visually striking, Colmar is far from staid. Expats can expect a rich and varied social life, where activities turn around the harvest season, local festivals, and a vibrant foodie scene. Restaurants, bars, and cafés line the main, pedestrian-only, avenue which follows the twists and turns of the central canal. Walk over a series of flower-topped bridges to experience Petite Venise (Little Venice), arguably Colmar's most picturesque neighborhood of canal-lined homes and gliding gondolas.
The adjacent covered farmers market sells fruits and vegetables, wines, cheeses, and Alsatian specialties like oversized pretzels and sweet Kouglof cakes. In the summer, look to the market's outdoor beer garden for grilled German sausages, lagers, and live music.
Given Colmar's popularity, real estate prices will be a bit higher than other towns and villages in Alsace. A furnished, two-bedroom, one-bathroom apartment (915 square feet) averages around $1,090 a month in the center of town. Two-bedroom, one-bathroom village homes of a slightly smaller size (820 square feet) to buy start at $263,400.
Related Articles
5 Best Cities and Towns to Live and Retire in France
The Best Places to Live in France From $2,000 a Month
Is France a Safe Place to Live?
Popular Articles You May Also Like