The northeastern French region of Alsace is a land teeming with handsome fortresses and colorful half-timbered villages. Vineyards blanket the landscape as far as the eye can see, and the Vosges Mountains provide a gorgeous backdrop. Storks—the symbol of Alsace— keep things whimsical by building giant nests in prominent perches.
Things here haven't always been so peaceful. Over the past few centuries, France and Germany have repeatedly fought over this swathe of land. Since Alsace has been ruled by both countries, the resulting culture and Alsatian dialect feel like a blend of the two.
For years, I lived in Germany, just across the border from Alsace and made frequent visits to this lovely corner of France. I was tempted by the cosmopolitan city of Strasbourg, as well as Alsace's idyllic villages and esteemed wine. Here are a few of my favorite places.
Eclectic Strasbourg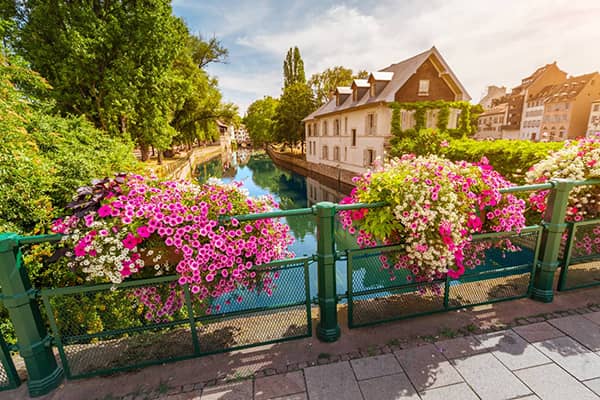 Strasbourg is home to several European Union institutions, one of France's largest universities, and about 275,000 people. The city is crisscrossed by pretty canals and the Ill River. Buildings reminiscent of gingerbread houses contrast with Art Nouveau architecture and shimmering glass structures. A variety of museums, parks, restaurants, historic churches, boutiques, and big-name French department stores round out the city's offerings.
Two Strasbourg districts, the Grande-Île (Large Island) and Neustadt, are UNESCO World Heritage sites. The Grande-Île is characterized by labyrinthine lanes and medieval buildings, while Neustadt (German for "new city") feels more planned. It was constructed when Strasbourg was ruled by Germany.
The Cathédrale Notre-Dame de Strasbourg is a Gothic and Romanesque-style cathedral. Boasting a 466-foot-tall spire that pierces the sky, this 15th-century church was the world's tallest structure for more than two centuries. Imposing because of its massive size, yet delicate because of its intricate decoration, the cathedral's pinkish sandstone exterior appears to blush when the light is just right.
Inside the cathedral, there's an astronomical clock dating back to 1842. The clock showcases a parade of carved figures at 12:30 p.m. most days of the week. For splendid views of Strasbourg's historic core (even Germany's Black Forest if the weather is cooperative), ascend 332 steps to the cathedral's viewing platform. Once here, you'll be 216 feet above the cobblestone lanes and steep-roofed buildings that radiate out from the cathedral.
After your "medieval spiral staircase workout," rest your feet and celebrate your accomplishment by pausing for coffee and something sweet at the nearby Maison Kammerzell. Built in the 15th century, the Maison Kammerzell dazzles passersby with 75 stained glass windows and chocolate-colored wood carvings. Inside, there are dining rooms with vaulted ceilings and frescoes. Even if you don't take a break here, do soak up the extraordinary facade.
The Petite France district is a pleasant 10-minute walk from Strasbourg's cathedral. It's a delightful place to stroll, thanks to its waterways, candycolored buildings, footbridges, and overflowing flower boxes. The district is located on the delta of the Ill River. During medieval times, the river's waterways provided hydropower for mills and tanneries.
While in the Petite France, be sure to admire the Maison des Tanneurs (Tanners' House), which was built in 1572. In warmer weather, this half-timbered building is adorned with ruby-red geraniums. Nearby, you'll also find the formidable Ponts Couverts, a series of bridges and towers dating back to the 13th century. You'll also pass by the Barrage Vauban, a defensive dam built in the 17th century. The Strasbourg Cathedral and the Ponts Couverts are visible from the Barrage Vauban, making this a superb spot to snap your quintessential souvenir photograph.
Though Strasbourg's historic core is walkable, another pleasant way to get acquainted with the city is on a boat tour. Several companies allow you to rent a small boat. Fortunately, no license is required. You can also join a group cruise with Strasbourg's provider, Batorama. During this 70-minute tour, you'll glide by the main attractions of the Petite France and Neustadt, as well as several European Union institutions.
There is a plethora of museums in Strasbourg—with themes ranging from archaeology and modern art to the city's history and even African voodoo objects. The Musée des Beaux-Arts de Strasbourg (Fine Arts Museum) is housed in the 18th-century Palais Rohan, which is an elegant attraction in its own right. The museum showcases work from many artists, including Botticelli, Raphael, Rubens, and El Greco. Strasbourg has its own philharmonic orchestra and also hosts opera, theatrical, and dance performances, plus a wide range of musical festivals.
The Alsace Wine Route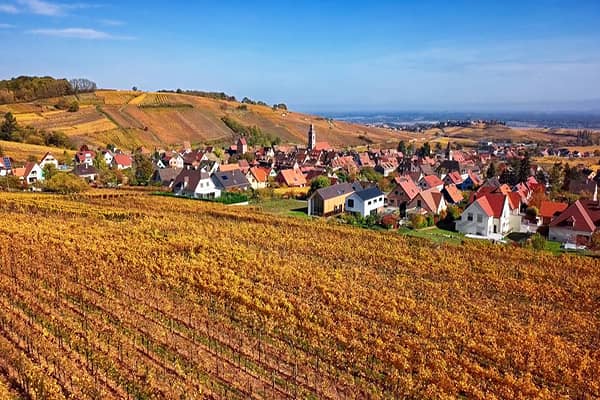 The Alsace Wine Route is the oldest wine route in France. Beginning in Marlenheim and ending in Thann to the south, the route is just over 100 miles long. About 120 towns and villages line the Route des Vins (Wine Route), meaning that you'll be spoiled for choice when it comes to deciding which ones to explore.
Wine-tasting here is fun and straightforward. Be on the lookout for signs indicating dégustation et vente (tasting and sale). Tastings are often complimentary; however, you can find more formal paid tastings during which you'll get to try a flight of wine. Wine purchased directly from vintners can start around $7 a bottle and goes up from there.
Ribeauvillé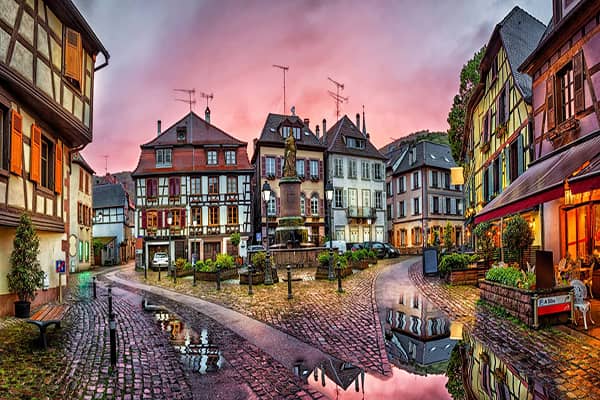 Make sure to check out Ribeauvillé, a town surrounded by a patchwork of vineyards. It is dotted with several defensive towers and intricate fountains sculpted out of pink sandstone. Three fortresses (Girsberg, Haut-Ribeaupierre, and Saint-Ulrich) overlook Ribeauvillé. They were built by the Lords of Ribeaupierre between the 11th and 13th centuries. You can hike to them from Ribeauvillé. What's more, every September, the town plays host to Alsace's oldest festival, the Pfifferdaj, or Fiddlers' Festival. This medieval-themed celebration is replete with parades, costumed revelers, and brass-band performances.
Riquewihr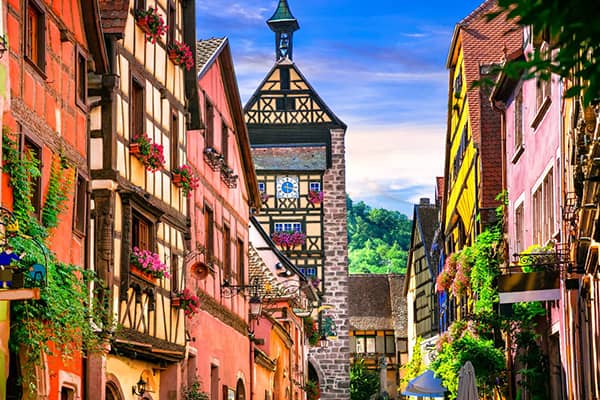 Another village worth seeing is Riquewihr, which has long been celebrated for its high-quality wine. Owing to its rural setting and cultural heritage, it is also a member of Les Plus Beaux Villages de France or the "Most Beautiful Villages in France" association. Like nearby Ribeauvillé, romantic Riquewihr is encircled by rows of vines and centuries-old defensive architecture. Many of the town's homes and shops sport colorful facades and shutters, as well as ornate iron advertising signs.
Riquewihr is also home to the Maison de Hansi Museum. It's dedicated to an artist nicknamed Hansi who created some of the region's most iconic images of traditional life. As you explore Alsace, you'll notice Hansi's colorfully dressed characters adorning the pages of children's books, emblazoned on fabrics, and even decorating wine bottles.
Colmar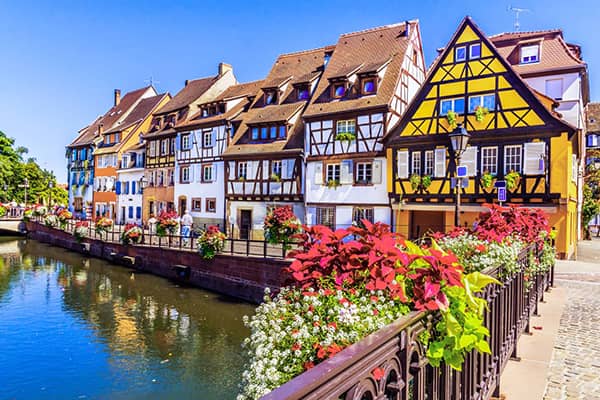 U.S. visitors should be sure to visit Colmar, the birthplace of Frédéric Auguste Bartholdi, the sculptor who designed the Statue of Liberty. His legacy is preserved here, with a museum dedicated to Bartholdi, as well as a smaller version of the Statue of Liberty that holds court in the middle of a traffic circle.
The Petite Venise (Little Venice) district is one of Colmar's prettiest areas. With its jewel-toned, half-timbered buildings, the architecture is decidedly Alsatian and not at all Venetian Gothic. However, as you watch small boats gliding along the canals and admire the buildings hugging the water's edge, Venice might come to mind.
The Maison des Têtes, a 17th-century house featuring 106 quirky heads rendered in stone on the building's exterior, is worth a peek. The statue atop the building's gable was sculpted by Bartholdi in 1902. Today, the property is home to a Michelin-starred restaurant and luxury hotel.
If you like art history, you'll also want to visit the Musée d'Unterlinden. This museum showcases many treasures, including a Gallo-Roman mosaic and works by Monet and Rodin. Its most famous holding is the Isenheim Altarpiece, painted in the 16th century by artist Matthias Grünewald. It features religious scenes on multiple panels and was originally displayed in the chapel of a monastery hospital.
Related Articles
Moving to France Will Be the Best Move You've Ever Made
5 Best Cities and Towns to Live and Retire in France
An Overview of Traditions and Culture in France