In a lush green valley, 5,000 feet above sea level and surrounded by verdant mountains, sits the vibrant and cosmopolitan city of Medellín, Colombia.
Known as "The City of Eternal Spring," it's a place where the weather is just about perfect year-round. Stroll down the city streets, and you'll come across towering palm trees, inner-city rivers, and even frothy waterfalls. It's one of the leafiest, greenest cities you'll ever visit.
And now it's becoming one of the hippest too… with chic cafés, Michelin-star restaurants, theaters, museums, parks, and open-air graffiti and mural galleries.
Are you interested in retiring abroad? Yes | Not Sure Yet
For years it's been a hot spot for digital nomads, too. And since the pandemic, more remote workers have been coming than ever before… folks who rent by the month and will happily drop $1,000 to $1,500 on a one-bedroom condo.
It's a trend that's been taking hold in Medellín for decades, but that's gone into overdrive since millions of folks transitioned to remote work. And it's happened so fast that the local real estate market hasn't reacted yet.
And that's opened up a unique opportunity for real estate investors…
The Transformation of Medellín
Once regarded as the most violent city in the world, today Medellín draws in folks from all over. It's youthful, entrepreneurial, and dynamic. It's also astonishingly modern, clean, and easy to get around.
Its economy is now among the fastest-growing in Latin America and a magnet for foreign investment. Two decades of urban development driven by infrastructure investment, a succession of progressive mayors, civil projects, and a new tech zone, the "Medellínnovation District," have made it a model of transformation.
Medellín's transformation kicked off in 1995 with a new city metro system that connected neighborhoods and created opportunity throughout the city. Add to that the Metrocable (a system of cable cars), which connected hard-to-reach neighborhoods to the business districts but also acted as a draw for tourists.
Enormous amounts of time and money have been put into environmental projects, education schemes, street art, and music initiatives, as well as projects to increase the quality of mobility for pedestrians, cyclists, and city center dwellers by regenerating existing urban spaces.
There's inward migration from Colombia, too (Medellín's progressive policies and economic clout make it very attractive). It has a diverse economy with a large textile and mining industry, and the city has been successful at attracting foreign direct investment in the tech space (Chinese technology giant Huawei has a base here).
Tourism is also booming. At the beginning of 2019, the number of tourists in Medellín had increased by more than 50% over the previous three years. At the beginning of 2022, tourism growth had already jumped another 38% on its 2019 numbers, with hotel occupancy reaching its highest numbers since 2006.
As I said, it's a city that's rapidly growing popular with the "work from anywhere" set… but there's also the foreign retirees.
Almost none of these people were there when I first visited Medellín in 2011. Back then the city still suffered from its out-of-date, Pablo Escobar-era reputation. That false perception meant you could find real estate that was profoundly undervalued.
For example, in 2011, I recommended buying in the popular El Poblado neighborhood. Due to a pricing anomaly, older and better-located condos were valued at half the price of newer ones. I recommended buying condos of around 1,000 square feet for $90,000 or so.
Values have almost tripled since then. In 2018, I recommended buying a well-located, four-bedroom house with some land around it in the up-and-coming Laureles neighborhood for around $150,000. Today, there are very few of these homes left, and they start from about $300,000.
I don't see the same level of capital appreciation potential in these neighborhoods today. But thanks to the boom in post-pandemic remote working and the rise of long-term furnished renting, a new opportunity has emerged that could be hugely profitable for the right buyer…
Get Your Free Real Estate Report Now
Sign up for our free daily Postcard e-letter and get a valuable free report on the The 5 Best Places to Buy Real Estate In 2023.
From Hostel Hoppers to Wealthy Renters
Medellín has long been a popular city for mobile workers. It's known as the digital nomad hotspot of South America.
They come for the perfect climate—temperatures typically stay between 65 F and 75 F year-round—and the stunning beauty. Surrounded by verdant mountains, Medellín is a huge sprawling city steeped in nature.
Cost is another massive driver for digital nomads. Housing, food, transport, and activities are incredibly reasonable. In Medellín, you get a lot of bang for your buck, from modern private rooms to swanky apartments.
But since the pandemic, the steady flow of remote workers coming to Medellín has turned into a flood, as millions have been untethered from the office. And these new remote workers are no longer just budget-conscious backpackers. They're wealthy folks coming from places like New York or San Francisco, so they're not afraid to pay good money for superior housing.
Because of its long-held popularity with digital nomads, Medellín has already developed a strong infrastructure to support remote workers—it has an active community of long-term expats, countless co-working spaces and expat events, and lots of local festivities. It recently introduced a "Digital Nomad Visa," too.
Plus, Medellín's airport (Rio Negro airport) is undergoing a boom of its own. Medellín-based low-cost airline Viva Air now flies 14 times per week to Miami, as well as to Lima, Mexico City, Cancún, Orlando, Buenos Aires, Saõ Paolo, and the list goes on (plus other airlines fly from cities like New York and Fort Lauderdale). All of these connections will bring in more tourism, more business, and importantly, more moneyed North Americans, who can get to the city in under three hours.
And here's the thing: despite the relative affordability of real estate in Medellín, there's a limited supply of high-quality and well-managed condos for this new and growing group of wealthy renters.
Generate Yields of as Much as 14 %
Because of the rising demand in Medellín, rental rates for the kind of homes remote workers are looking for (paid in dollars) have exploded. And yet, thanks to the falling value of the peso, the cost of purchasing real estate has dropped in dollar terms. (The Colombian peso has fallen about 15% against the dollar in the past year.)
So to maximize your yield, you want to buy in pesos from the local market and rent in dollars to the international market.
You just need to find the right neighborhood. The topography of the city already limits supply— hemmed in by mountains, it has a lack of developable land, creating a barrier to expansion. Plus, there's a limit to where international remote workers will want to live in the city.
El Poblado is Medellín's primo neighborhood—where wealthy locals want to live, and tourists want to stay. It's packed with boutique and luxury hotels, food and fine dining, shopping malls, and nightlife. But in the last few years, prices in El Poblado have as much as tripled.
The rapidly gentrifying neighborhood of Laureles is calmer and offers better value, and there's a vibrancy to the area. To compare, think of Laureles as the Brooklyn to El Poblado's Manhattan. It's mostly a residential low-rise neighborhood, unlike El Poblado, which has seen an explosion in commercial and high-rise condo building over the last decade.
Laureles is undergoing a boom of its own. It's a central hub alive with hip cafés, restaurants, jazz clubs, and fondas (bars with traditional music). There are co-working spaces, schools and a large university, plentiful parks, shopping malls and plazas and the popular sports stadium—the Estadio Atanasio Girardot—where you can catch a soccer game or concert.
Laureles is a comfortable, upscale but affordable neighborhood, where renters want to be. And importantly, it's where you'll find much better value.
To get the highest yields, establish what the market is looking for. You'll see the best returns by targeting the foreign market, who are willing to pay more for ease, convenience, and a high standard. Typically, remote workers travel solo or in couples. They want their own space and don't usually require more than one bed. A studio condo is ok for short stays, but anyone staying more than a month will want a separate bedroom.
Right now, the average monthly rate on Airbnb for a nice one-bedroom apartment in Laureles is between $1,000 and $1,500. For similar condos on the resale market, you can figure paying between $100,000 and $150,000. For renovation and remodeling, you'll typically pay between $19 and $42 per square foot.
So, for instance, a one-bedroom, 755-square-foot condo is currently listed for sale in Laureles for $118,799. As it's in good condition, your remodeling costs will be on the lower end. All in, you're looking at about $130,000. You could figure on renting it for about $1,200 a month, making your gross yield over 11%.
Limited supply of high-quality condos for renters.
Another strategy is to target larger groups of renters with big-home rentals. Families traveling together, wedding parties… that kind of thing. In Medellín, I'd target groups of young remote workers who are looking to rent a luxurious penthouse together. For this, El Poblado offers the strongest potential. Groups like this will want to be close to the heart of the action and will pay a premium for it. For a four-bedroom penthouse that offers something special, you could figure on making between $3,000 and $4,000 a month.
The key to your yields is to get in at the right price. You might find something old and overlooked for $250,000 to $300,000, but in El Poblado, you'll likely need to pay more. For instance, I found a four-bedroom, three-bathroom penthouse for $322,000. It has great views overlooking Medellín and has a large terrace with a jacuzzi. At 4,693 square feet, there's real bang for your buck here.
It will need a little remodeling capital to make it stand out, but figuring you could rent this for at least $3,500 a month, you're still talking about a gross yield of over 13%.
As Medellín continues to grow in popularity as a remote working destination, opportunities like this won't be around for long.
I've been tracking growth in this city for over a decade, as more and more foreigners discover it and values rise.
The get-in window for double-your-money capital appreciation may already have passed. But right now, thanks to Colombia's weak peso, you still have this opportunity to lock in undervalued real estate that can generate 10% to 14% in gross rental yields long-term.
Get Your Free Real Estate Report Now
Sign up for our free daily Postcard e-letter and get a valuable free report on the The 5 Best Places to Buy Real Estate In 2023.
Related Articles
Buying Real Estate in Colombia
Medellin or Manizales — Comparing Colombia's Lush Expat Mountain Cities
5 Places to Live in Colombia; 2 to Avoid
Upcoming Conferences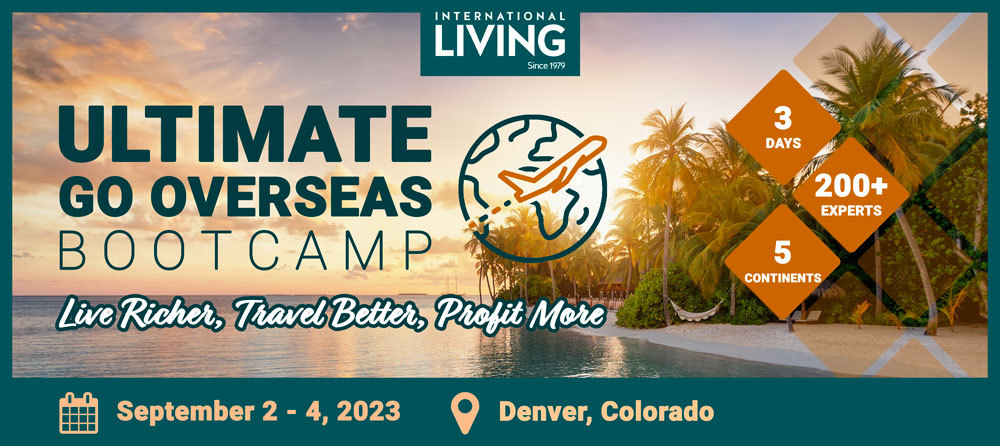 Most Popular Products
Popular Articles You May Also Like