The last time I was in Greece— Athens, 2015—the world fretted about "Grexit," or Greece exiting the European Union, a move with severe political, economic, and currency ramifications across Europe. It was, in short, a messy time. But this is Greece—a country where "messy" dates back to some of humanity's earliest days and earliest mythologies.
Today, the birthplace of democracy can still be a messy place—just as it increasingly is across the U.S., the United Kingdom, and elsewhere. But this, too, is Greece: A country so beautiful, calm, relaxing— and so relatively inexpensive—that it's attracting retirees happily trading the messiness elsewhere for the messiness of a more fulfilling, often healthier lifestyle in a sunny corner of the Aegean.
Are you interested in retiring abroad? Yes | Not Sure Yet
A place where days pass exploring local festivals or strolling through outdoor markets and haggling over the price of olives and the freshest of produce. Where an embarrassment of beaches and peaceful coves regularly want for someone to spend a day there. Where diners linger for hours over $7 bottles of wine the caliber of $50 bottles back in the States.
I recently spent 10 days meeting nearly a dozen retirees here. And my take-away is this: Greece is everything the U.S. is not in the best possible way…and everything the U.S. is not in some frustrating ways (especially in terms of bureaucracy or following societal rules). According to EU law, for instance, smoking inside bars and restaurants is illegal; just don't tell the Greeks, who gladly puff away right in front of a No Smoking sign.
Thankfully, retiring to Greece isn't so bureaucratic. For North Americans, Australians, and residents of non-EU countries, the primary hurdle to legal residence is simply proving you have adequate income—€2,000 a month (around $2,250)—and health insurance. With that, you can get a one-year residence permit that you can then renew annually. (Britons—until/unless Brexit happens— and other EU residents can just show up, because Greece is an EU state.)
So it is, then, that as Greece sets out to become the Florida of Europe, a vanguard of non-Greek retirees is helping push that effort by resettling their lives across the country's mob of islands. Some have moved here permanently; others settle here for a few months every year.
Either way, their message is the same, that Greece offers the quintessential example of a lifestyle so many retirees seek: a low cost of living in a beautiful, warm destination with high-quality, affordable healthcare. It's also located in a part of the world that offers unlimited opportunities to explore, in this case across Europe, Africa, and the Middle East.
How to Pick an Island
No one is quite certain how many Greek islands exist (between 1,200 and 6,000, depending on what one defines as a proper island), and no one is quite certain how many of those islands are inhabited (between 166 and 227, depending on who's counting). The point: How do you pick a place to potentially settle in Greece when so many island options exist, not to mention the mainland?
Well, as someone who's 53 and in the early stages of "retirement contemplation" mode, I settled on this calculus:
Must be reachable by plane so that you're not reliant on ferries that, while comfortable, can take hours to sail between islands and which can cancel routes because of weather or sea conditions.
Consumer infrastructure is a must, meaning banks, supermarkets, etc. One Greek island recently offered €500 ($560) a month and a plot of land to settlers who relocate there, and that sounds enticing— until you realize only 40 locals live there, no banks operate on the island, only one shop offers basic provisions, and there's no airport.
Access to quality healthcare.
Adequate housing—rental or purchase— at affordable prices.
Creature comforts, including highspeed internet (for those of us addicted to Netflix and other streaming services).
Proximity to other expats or expat associations that can help with transitioning to local life (though arguably the least important factor for some of us).
Many Greek isles fit all or most of those check points. Ultimately, though, I focused on two that are particularly livable for different reasons: Corfu and Crete. Let's start in Corfu…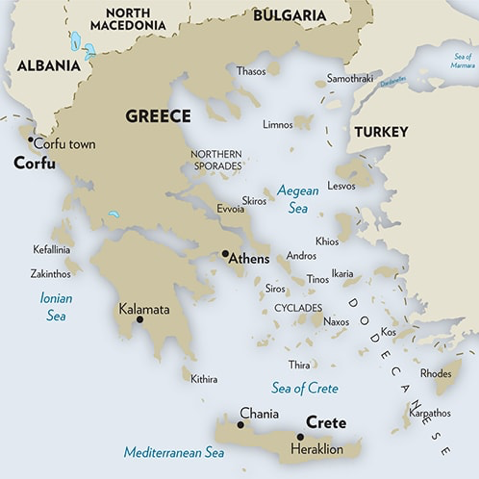 Get Your Free Report on Europe Here:
Learn more about countries in Europe and other countries from around the world in our daily postcard e-letter.
Simply enter your email address below and we'll also send you a FREE report - All the Charm and Romance of Europe…at a Price You Can Afford.
Corfu: A Near-Tropical Ionian Island
You've undoubtedly seen travel photos of typical Greek islands. They tend to be rocky with the low-rise vegetation of dry landscapes. But Corfu? "It's one of the greenest islands in Greece," says Maria Smyth, a retired teacher who spends about 95% of her time in Corfu because, "I prefer this kind of lifestyle, and I prefer this kind of weather. It has its faults like every place, but there's no place I'd rather live."
The small island is home to roughly 100,000 residents and sits just a few miles off the western edge of the Greek mainland, and so far north that when you look across the Ionian Sea from many parts of Corfu you're looking at Albania, Greece's northern neighbor.
Corfu Town, the main hub and home to the airport (multiple daily flights from all over Europe, though winter's schedule is sparser) is built around a picturesque harbor overseen by an ancient, 15th-century Venetian fortress constructed atop a rocky outcropping. In tourist season, Corfu Town is a hive of activity, particularly the Old Town section, a UNESCO World Heritage site that dates to the 8th century but which largely reflects construction from the Venetian period 500 years ago.
Off-season, however, brings a different vibe. It's "like you have the place to yourself," Marilyn Leeburn tells me over a cappuccino in the mountain village of Spartilas, about 40 minutes north of Corfu Town. The bustle and warmth of a Corfiot summer transforms into a quiet chill in winter, when shops are often closed and transportation less abundant. Sometimes snow arrives. "You have to love quiet. And if you do, this is a place you fall in love with."
Old Town's stone streets and alleyways meander such that you think you're heading in one direction, only to emerge in an opening and realize you've walked in a circle. They're all choked with colorful stone shops and restaurants and houses, all cheek to jowl, and then one suddenly opens onto a sun-dappled square where locals and tourists dine al fresco under bougainvillea blossoms, or simply relax in the sun.
Shop for fresh fruits and fish caught in nearby waters.
Turn a different corner and you're looking at ancient church ruins…or, maybe, the central outdoor market, where locals shop for fresh vegetables, fruits, and fish caught in nearby waters. In fact, much of the non-packaged food you find on Corfu was grown on Corfu or nearby islands, or was just recently pulled from the Ionian Sea, a point made to me by every retiree I spoke with in underscoring their belief that they're living healthier lives here because food is so fresh and unprocessed. Every one of them claims to have lost weight here or seen existing medical problems abate.
Though you might stumble upon a lone McDonald's or Starbucks, restaurants are mom-and-pop affairs. And, once you walk just a couple of streets away from Old Town, you're dining almost exclusively with locals, often al fresco in small, leafy parks of eucalyptus trees where old Greek men play bocce in the afternoon shade. It's in one such area I found a quite nice, detached 900-square-foot, two-bedroom home about a 10-minute walk to Old Town, and maybe 12 minutes to the sea. Rent: $785 a month. A very nice, 500-square-foot one-bedroom about seven minutes to the sea in the Kanoni neighborhood south of Old Town is $400 a month.
Outside of Corfu Town the island is hilly to mountainous, sparsely populated, and largely covered in forests. Mountain villages of just a few score of people occur here and there. Down south are sandy beaches and hill-ringed coves. Their crystalline waters, in variations of emerald, cobalt, and teal seem lit from within. Up north, forested cliffs rise from over calm bays.
In both locations—and in Corfu Town—international communities thrive. The island is particularly popular with U.K. expats, given that Corfu was a 19thcentury British protectorate. Because of that, you find lots of English spoken here, as well as British medical professionals. Also, for better or worse, restaurants advertising "full English breakfast."
Outdoorsy types have not only the beaches, coves, and mountains to explore, there's the Corfu Trail that winds through the island for 138 miles and is untouched by any hint of mass tourism. But because the island is so small—only 40 miles long—expats who retire here regularly hop on ferries to visit the mainland or other nearby islands, or even to sail across the Adriatic Sea to Bari, Italy.
"It's just an easy life," says Vivian Minjivar, who relocated permanently to a small village in the center of Corfu with her husband, Sal. "It's a simple life. It's a quiet life. It's a healthy life." As she says that, a hawk screeches overhead as we sit on her patio looking out over a forest. "I never get tired of that."
Crete: Historical Urban Living
At the opposite end of Greece is Crete—an island closer to Africa's northern coast than it is to Athens.
Crete is also Greece's largest, longest, and most populous island. But with 197 people per square mile (that's on a par with Anchorage, Alaska—one of the least densely populated U.S. cities) you have plenty to places to roam.
The two main settlements on the island are Chania (pronounced: Hahn-ya) and Heraklion, about two hours apart by car and both located on the northern side of the island. Key secondary sights are the quaint, centuries-old harbor towns of Rethymno, roughly halfway between Chania and Heraklion; and Agios Nikoloas, about 90 minutes east of Heraklion.
Chania and Heraklion are ages apart in their look and ambiance. Chania looks like the quintessential Venetian port that it is. And its old town looks like a movie set: pastel-hued stone buildings dating back hundreds of years line a waterfront promenade that wraps around a deep blue harbor. It's all protected by a stone Ottoman-era lighthouse, fort, and seawall. In short, it's photogenic.
Heraklion is more urban, more working-class. It's almost double the size of Chania and feels grittier, though not necessarily in a bad way. Just a few miles outside of Heraklion are the ruins of the truly ancient palace of Knossos, the center of the Minoan civilization that peaked between the 16th and 14th centuries BC, and where the mythological Greek Minotaur roamed its labyrinth.
Expat retirees to Crete tend to center their lives around the two main cities, typically in nearby villages where housing prices are lower and the tourist crowds are non-existent, yet where they retain easy access to all the amenities they need. Both Chania and Heraklion have an abundance of shopping and each has a small, international airport with flights from all over Europe (frankly, though, Heraklion's airport is a nearly 50-year-old overcrowded nightmare). Both have quality medical facilities, though bigger issues are typically handled in Heraklion, which has a top-notch university medical center with a range of specialists.
"Nothing is missing here," Jocelyne Kerrigan tells me as I settle in for an afternoon chatting with her and her husband, Adam, in the Lilliputian-scaled village of Pentamodi, about 20 minutes south of Heraklion. The village hides in the hills, in an area of Crete that looks seriously Tuscan with its panoramic views of olive groves and vineyards spreading across a rolling landscape.
A couple of years ago, friends came to visit from Jocelyne's women's group back in Virginia, where the Kerrigans still own a home and spend part of every year.
Jocelyne warned them: "This is not what you're used to. This is rustic," she said of her stone house overlooking a scenic valley in a village of just a few dusty streets so narrow that cars can barely pass.
"These are women from a well-to-do life, and they said, 'I want your life,'" Jocelyne says. "The fact is, you can have it. You can choose where you want to be. Here, life is much more affordable. The people are so friendly. And if you make the slightest effort to fit in—maybe learn a few Greek words—Greeks happily pull you into their lives."
Indeed, Wayne and Leslie Brown were walking their dogs in the small Cretan village where they bought a stone house, a fixer-upper from the 1940s, "and we got pulled into an olive oil factory where they were having a celebration for the local olive harvest," Leslie says. "We left with some of the best, fresh-pressed olive oil I've ever tasted that they just gave us for being part of the community. It's just an idyllic life."
Panoramic views of olive groves and vineyards.
And it's not an expensive life. An absolutely beautiful, modern, 650-square-foot, one-bedroom apartment of floor-to-ceiling glass and 1,000 square feet of balcony overlooking the sea and mountains 20 minutes from Old Town Chania… just $730 a month.
Or for $20 more, you could rent a charming, two-bedroom stone house amid the olive groves and rocky hills 30 minutes south of Heraklion. (Overall, the retirees I spoke to told me their all-in costs range from about $800 to about $1,500 a month.)
Crete is large enough that there are plenty of exploration opportunities, from diving to climbing to hiking and long-distance walking. Ancient ruins, caves, quiet beaches, and wineries spatter the landscape like a Jackson Pollock painting. Seemingly there's a festival every weekend somewhere on the island.
But if you want to get out and explore beyond Crete, Santorini is just a two-hour ferry ride from Heraklion. Longer trips, including overnight ferries, will get you to Rhodes, Mykonos, and various other islands. Airlines serving Chania and Heraklion will get you to the farthest edges of Europe in just four hours.
Get Your Free Report on Europe Here:
Learn more about countries in Europe and other countries from around the world in our daily postcard e-letter.
Simply enter your email address below and we'll also send you a FREE report - All the Charm and Romance of Europe…at a Price You Can Afford.
Related Articles
Europe's Top 5 Affordable Retirement Havens
5 of Europe's Best Hidden Beaches
5 Months on the Road Discovering Europe's Best Culinary Delights
Upcoming Conferences
The Only 2023 Fast Track Costa Rica Conference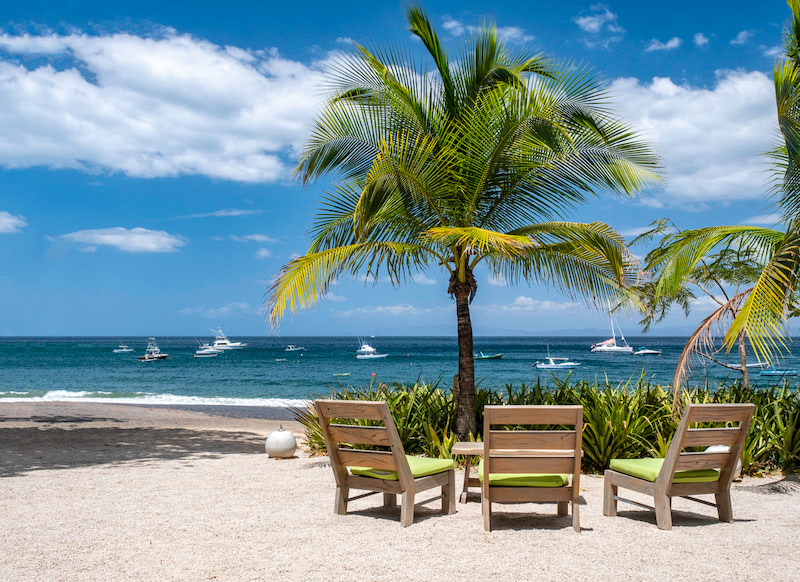 If your dream retirement involves stunning beaches… lush green mountains… a perfect year-round climate… first-rate healthcare… incredible value for money (a couple can live well on $2,109 a month—including rent!)...
Join our Costa Rica experts and expats in June and discover true Pura Vida.
REGISTER NOW, SEATS LIMITED: EARLY BIRD DISCOUNT HERE
---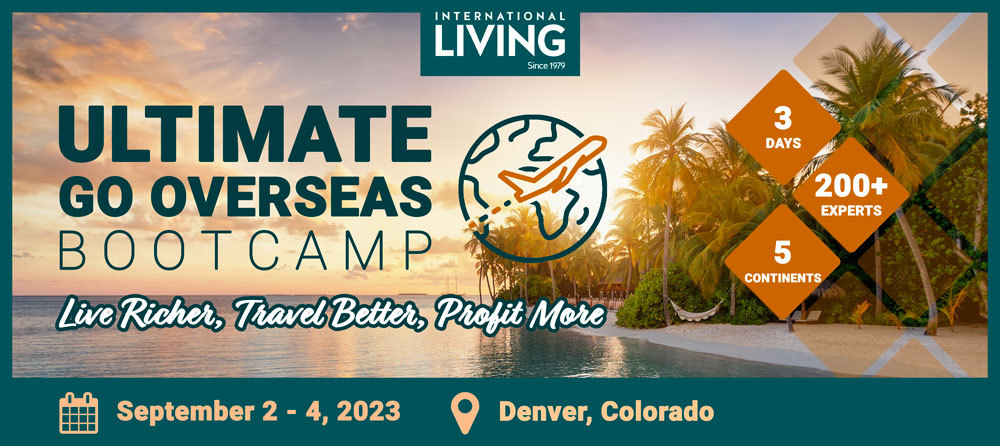 Most Popular Products
Popular Articles You May Also Like