The path was rocky beneath my feet…the narrow track I was hiking is frequented more by feral goats than curious humans. I was at the "top end" of my Greek island home of Syros and although just 6 miles from my home, it seemed like a world away.
This is a remote, rugged, and uninhabited (except for those goats) part of the island. Sage and thyme grow naturally here and their wonderful scent adds to the stark beauty of this place. This rugged remoteness gives it an almost lunar feel.
Are you interested in retiring abroad? Yes | Not Sure Yet
As an avid hiker, this was a part of Syros I'd always wanted to explore. And it didn't disappoint. This northern half of Syros is the most elevated part of the island and offers spectacular views of the nearby islands of Andros, Tinos, and Mykonos to the east and Yaros, Kea, and Kythnos to the west.
Syros is part of the Cyclades group of islands (which includes the more famous islands of Mykonos, Paros, Santorini), located in the Aegean Sea and about 80 miles south of Athens. It's been my home since 2018.
As a young man, I had backpacked around the Greek islands and fell in love with the easygoing lifestyle and the magical Aegean Sea. I had always yearned to return when the time was right. In 2001 I visited Syros on vacation…and all the wonderful memories of my youth came flooding back. During that trip, I started to seriously explore the possibility of buying some land to build a home for my retirement.
Syros was the perfect choice for me. It's centrally located in the middle of the Cyclades islands and has an airport and a hospital, which were important considerations for me. After that vacation I made regular trips back to Syros from my home in Australia and in 2004, I built my house in the small village of Kini and planned to retire there when the time was right. That time came in 2018 when my partner took up a working position in London…and Greece is a lot closer to the U.K. than Australia. My small village is on the west coast. It's a picturesque fishing village famous for its stunning sunsets and two lovely beaches. The bars and tavernas along the shore come to life in the summer months, with the influx of both Greek and international visitors.
The island's main town of Ermoupolis is only about 6 miles away. A pretty town with a beautiful collection of neoclassical buildings, Ermoupolis offers lots of shopping and entertainment options and it's a major port and ferry hub, serving all the Cycladic islands, and beyond. In summer there are lots of cultural activities, including the famous Festival of the Aegean, held over a two-week period every July, and a wonderful outdoor theater that often shows arthouse movies.
One of the great attractions of Greek-island life for me, is swimming in the Aegean Sea. Every day, I make the 20-minute walk from my home to the beach for my daily swim followed by a coffee with friends. (I don't own a car, as it makes for a healthier lifestyle for me. Plus, the public bus system around the island is very good and taxis are always available too.)
There is a strong and growing expat community on the island. I have developed friendships with expats from Britain, France, Austria, Ireland, the U.S., and Norway. We have started a swim group known as Syros International Sea Swimmers (SISS) and swim every Sunday at different locations around the island. We have over 70 members from about 20 different countries. It's a very social group and we usually have lunch somewhere after the weekly swim.
Overall, I've found the cost of living here is far less than what I was spending on daily essentials back home. My average monthly budget is around €1,400 ($1,426). My lower cost of living here means that I have more disposable income for travel throughout Europe. I recently flew to Norway for a few days (my round-trip flight cost me just $189) and many of my expat friends here take regular trips around Europe too, taking advantage of low-cost fares.
For my healthcare needs I have a basic health insurance policy that I pay about €500 a year for, and it's comforting to know that the hospital (though small, it has 30 beds) is available in case of an emergency. And I've found an excellent local dentist who charges 25% of what I was paying back home for a check-up.
The substantially lower cost of living (but not lower standard of living) in Greece has enabled me to escape that tedious treadmill existence of just working to survive.
Island life is special anywhere, but I think the Greek islands have a truly unique appeal…the history, the culture, the hot, dry summers and mild winters, and the mesmerizing Aegean Sea. And for me, Syros is the perfect choice for enjoying that wonderful Greek-island experience.
Get Your Free Report on Europe Here:
Learn more about countries in Europe and other countries from around the world in our daily postcard e-letter.
Simply enter your email address below and we'll also send you a FREE report - All the Charm and Romance of Europe…at a Price You Can Afford.
Related Articles
A Guide to Syros: The Lady of the Cyclades
Four Greek Islands You Can Live On All Year-Round
A Guide to Off-The-Beaten-Track Greek Islands
Upcoming Conferences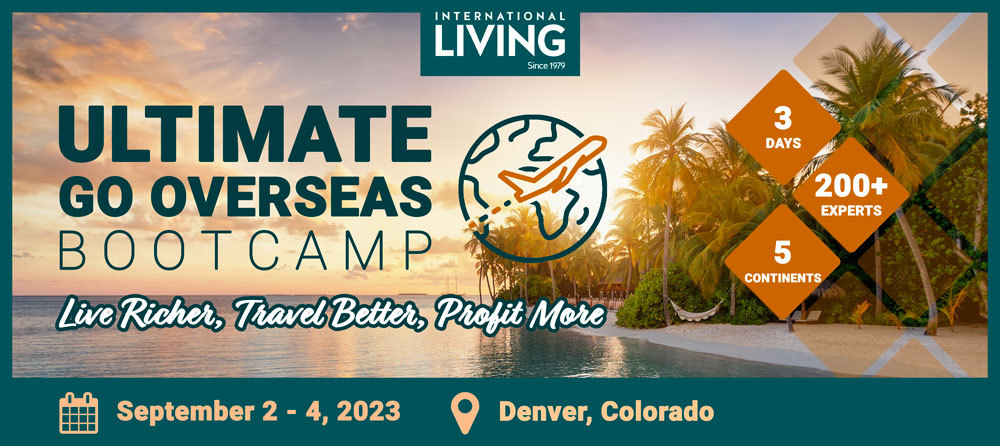 Most Popular Products
Popular Articles You May Also Like