Cambodia cost of living–$525 a month
If you're looking for a place that offers not only unusual adventure, but also great value and comfortable living…then go to Cambodia. "For the most beautiful deserted beaches in Asia—and the lowest prices—the Cambodian coast is hard to beat," reports International Living Asia correspondent Keith Hockton.
Here you can rent a 2,000-square-foot house on a quiet part of the beach, in a secure lot, with free high-speed Internet and all utilities included, for just $150 a month. You'll eat a three-course lunch for $5 and spend all day on a tropical beach without seeing a single soul.
FREE Report – The Best Islands, Beaches and Cities – South East Asia's Top 6 Retirement & Vacation Destinations
Simply provide your email below to receive your free Asia report. You'll also receive a free subscription to our International Living Postcards – a daily e-letter that explores living, traveling and investing in South East Asia and other exciting countries around the world.
Get Your Free Report Here
The French first arrived in Cambodia and neighboring Laos and Vietnam in the 1860's. They called their new possessions Indochina, and made themselves at home in lavish beachfront villas and boulevard-lined towns. During the Second World War they lost control and though they returned to the region, it wasn't for long. By the 1960's they were gone for good, their villas and grand hotels left to decay.
But—as with the rest of the country—the coast of Cambodia is now on the up. Comparisons are being made to Thailand of 40 years ago. But while new hotels are opening every month, among the 70 or so islands offshore you'll still find deserted beaches and small, traditional fishing communities.
For a taste of Southeast Asia under French rule Cambodia is the place. There's more French architecture here than in Laos or Vietnam. The lavish colonial governor's residence in Kep has recently been renovated as a museum and there are plenty of other French mansions awaiting a loving touch.
Sihanoukville is the largest coastal town and its pristine beaches are the best in the country. It's easy to see why this area is so special, yet hard to understand why there is no one around. It's astoundingly beautiful.
There is already an expat community here, too. It's a mix of older Americans who arrived in the 1960's and 1970's for a little R&R and returned to retire here after the civil war, and the 40-something dive generation who came in search of a Shangri-La-like coast. They found what they were looking for.
If you're interested in living by the beach in Cambodia, your cost of living will be very low. Here's an example of a monthly budget if you lived in the town of Sihanoukville.
Rent for a two-bedroom house: $150
Groceries: $50
Utilities: Included in rent
Internet: Included in rent
Phone: $15
Transport: Gas $10

Entertainment: $300 (going out every night)
Total: $525
Cebu, Philippines: Rent for as little as $200 a month
Cambodia is just one highlight in Asia. For another low-cost-of-living option, consider Cebu in the Philippines. There you find the natural drama hundreds of beaches supply, plus all the modern infrastructure of Manila but on a much smaller, friendlier, more manageable scale. Yet you can live well for $1,000 a month.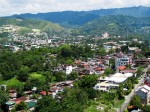 Cebu City, on Cebu Island, is known as the "Queen City of the South." and is, arguably, Asia's best-kept secret. Postcards of the Philippines show Manila's shopping district or the powdery, white sands of Boracay…never Cebu. Chances are, you've never heard of it.
The expats who have discovered Cebu, however, find that it offers the nation's best overall value. In a country where your dollar stretches (and stretches and stretches), that is saying something. Locate Cebu on a map and it looks tiny. But don't let that fool you—this place has hundreds of beaches, in addition to rocky mountains, limestone plateaus, and coastal plains.
As for the cost of living in Cebu, it's really low. Many expats here live well on $1,000 to $2,000 a month…but with very little extra care and planning you can live on half as much.
Rent a two-bedroom, two-level townhome in Cebu for as little as $200 a month, or buy a new condo in the upscale business district for $150,000. If you're happy to be 15 to 30 minutes from the city center, you can buy a local-style apartment for less than $60,000.
Internet and cell-phone service can be as low as $3 a month each (same goes for your water bill). Electricity will run you $40 to $80 a month, depending on air-conditioning usage.
With all the saving going on here, it's no wonder most expats splurge on household help…you can hire a full-time maid for about $55 a month in Cebu. That's not even the amazing part—maids here are more like personal assistants or household managers. They will do the supermarket shopping and run errands—like paying bills or picking up dry cleaning. And in addition to cleaning, washing, ironing, and organizing, they are happy to babysit or sew buttons or pretty much anything else you ask for help with.
When you consider all Cebu has to offer, you start to appreciate why people here are so relaxed. They have access to good, cheap health care and housing. They live in one of the most bio-diverse areas on the planet…and they have one of the region's fastest-growing economies. Life here isn't perfect, but it is blissful.
A great lifestyle for $1,719 a month in Malaysia
IL Asia correspondent, Keith Hockton, lives on the island of Penang, off the west coast of mainland Malaysia.
Like other retired and working expats, he and his wife Lisa love it here. The cost of living is low, Malaysians are friendly and hospitable, and Penang is the country's number-one tourist destination, filled with restaurants, bars, and historic mansions.
Keith says they chose Penang because – as they have a small sail boat – being near the ocean was important to them. The climate is tropical year-round. On the breathtaking jungle trails leading up Penang Hill, large groups of butterflies and monkeys are common. And you'll find plenty of white sandy beaches if you just want to relax. It's also close to the rest of Asia and flights are cheap. Internal flights are even cheaper.
"We live in a spacious 2,100-square-foot apartment with three bedrooms and three bathrooms. We have a carport, a swimming pool, and well-equipped gym. We also have a maid who comes once a week for four hours at a cost of $12," says Keith.
Renting apartments here is remarkably affordable. A 1,000-square-foot apartment with sea views, a pool, tennis and squash courts, and a gym rents for as little as $500 a month. Of course you can pay more, and Keith does, but you can also pay less. For example, friends of Keith and Lisa rent a 1,000-square-foot apartment without the sea views, with the same facilities, for just $300 a month.
Here is Keith and Lisa's monthly budget:
Rent: $1,000
Electricity: $100
Water: $10
Cell Phone: $10
Gas: $4
Internet: $30
TV:  $40
Maid (four hours a week): $12
Transportation: $30 for gas bus trips (all buses have free WiFi for 40 cents)
Health insurance: $33
Dining Out/Entertainment: $450 (and that's eating out five nights a week)
Monthly total: $1,719
Relaxed and happy in Chiang Mai, Thailand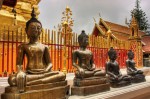 In 2011, Greg Miller pulled up stakes in California and made Chiang Mai his permanent home. His goal was to permanently change his lifestyle, live a calmer existence, eat better, become healthier, do only what he thinks is worthwhile, and live a happier life.
"And while I haven't yet achieved everything on my agenda, I'm headed down the right road", Greg says. "I own a large house in a gated community in Chiang Mai that cost a fraction of my 'regular' California house. I own a couple of small businesses that generate a little income for me, and I am enjoying life with my wife in our home in paradise. Everyday living here is an adventure…"
Thailand is a laid-back country, and Chiang Mai is the most relaxed of Thai cities. It's considered Thailand's second city and is quiet and peaceful, with a distinct Thai flavor. Most expats in Thailand actually live in Bangkok, and that's the city for those on the fast track to success: vibrant and exciting and bubbling with opportunity. If Bangkok is "the City," Chiang Mai might be described as "the Big Village."
For long-term expats, good, affordable housing is important, and a comfortable, one-bedroom condo in a modern building with all the expected amenities (plus some) will run $300 to $600 per month in Chiang Mai. An "over-the-top," luxury two-bedroom condo, with great views and 1,200 to 1,500 square feet, will rent for $1,000 to $1,200 per month.
Many expats in Chiang Mai rent houses with yards full of tropical fruits and flowers. Numerous gated communities, located about six miles outside the city center, offer security, amenities, and a choice of spacious homes. Most are new, with three or four bedrooms, and rent for about $700 to $800 per month fully furnished.
Anyone can live well in Chiang Mai for $1,500 a month. But you can do it cheaper. This is Greg's estimated budget for a single person living in a one-bedroom, modern condo apartment with all the amenities.
Rent: $450
Utilities: $100
Groceries: $150
Entertainment: $100
Transport: $150
Total: $950
"Of course, costs vary depending on what lifestyle you want. For instance, my budget is less. I own my house outright, purchased a decent new car for cash, and don't go out every night. So for me, it is easy to live month-to-month on about $500 per month," Greg reports.
FREE Report – The Best Islands, Beaches and Cities – South East Asia's Top 6 Retirement & Vacation Destinations
Simply provide your email below to receive your free Asia report. You'll also receive a free subscription to our International Living Postcards – a daily e-letter that explores living, traveling and investing in South East Asia and other exciting countries around the world.
Get Your Free Report Here