If you asked 10 non-Europeans where the city of Ljubljana was or what country it was the capital of, the majority probably wouldn't know. This is a common dilemma for Slovenia—a country of barely two million people and with one of the smallest capitals of any European country. But this undiscovered European gem is a mecca of mountains, rivers, lakes, wine, and some of the most amazing, hospitable people I've ever met.
Are you interested in retiring abroad? Yes | Not Sure Yet
As full-time nomads for the past five years, the Eastern Europe and Balkan countries are the ones we enjoy the most. They offer all the benefits of cosmopolitan life, at a more affordable cost, without the hordes of tourists.
In 2019, while on a motorcycle ride from Zagreb, Croatia, to the coastal cities of Pula and Rijeka, we were within 11 miles of the Slovenian border, and I was disappointed that we never got there.
This past summer we made up for this transgression and spent 15 days just outside Ljubljana (pronounced loo-be-ah-nu).  Ljubljana is strategically located almost dead center of the country, which made it easy to peel off for trips in different directions for different reasons. Usually, we stay in the center or Old Town areas of major cities, but our stay was in the small burg of Velike Lasce, about a 30-minute ride south of town. We had transportation since we were midway on an 87-day motorcycle ride through these countries, but even without wheels, there was a bus that ran directly from our lodging into downtown Ljubljana.
Ljubljana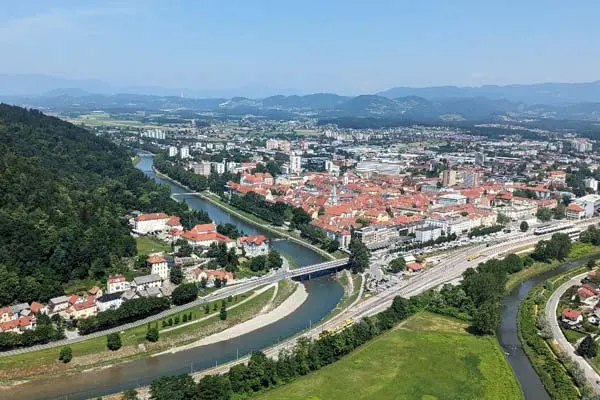 The capital city is one of Europe's smallest, with a population of just under 300,000, greatly reducing the intimidation of most large cities. There are two main attractions here—one natural and one man-made.
The Ljubljanica River bisects the city in two, and more than 20 bridges cross it, so it is a prime draw for visitors who saunter along and cross those bridges, enjoying the numerous restaurants alongside. Two of the bridges especially caught my eye. One was the Dragon Bridge, which is dramatic with four large dragon statues, one in each corner, and the other was the Triple Bridge, which criss-crosses the river three times in just a few dozen yards in a W pattern. Dragons are noteworthy in Slovenia, and we started seeing them everywhere and learned that one is included in the national coat of arms and is symbolic of protection. Much of the dragon's history began in this small country, and inside the nearby Postojna Cave lives the Olm salamander, which can live over a century and is revered for being the incarnation of the ancient dragons.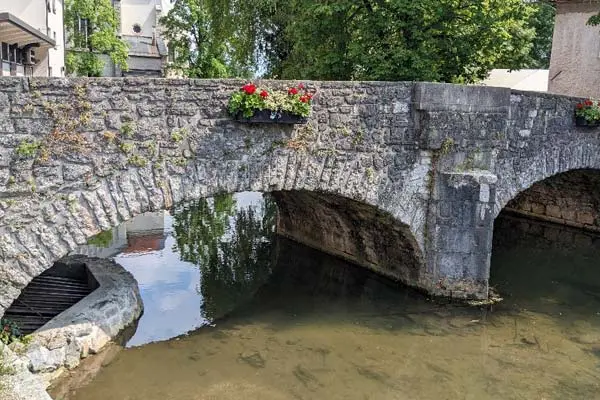 Above the city is the other main draw to Ljubljana, the historic Ljubljana Castle. It was initially built as a medieval fortress almost one thousand years ago and offers terrific views over the entire city. A Funicular Cable Car carries visitors from the castle to the downtown area, and the ride is just over a minute long.
Maribor and Celje
There are only a few big cities in the country, and our first day trip was to the second largest, Maribor, which we were told about and encouraged to visit. This area to the northeast of the capital is the heart of the wine-growing region of the country. Though I'm no wine connoisseur, I was interested in seeing the oldest continually cultivated wine plant in the world, called Old Vine, which grows outside the Stara Trta wine center alongside the river Drava.
Even if I was a wine aficionado, it's unlikely I'd even have been able to sample any of the wine that pours from Old Vine. With an annual production of just 100 bottles measuring 8.5 fl. oz in size, those few bottles are given away by the town fathers and mayor to lucky celebs and luminaries. Old Vine is estimated to be over 400 years old and is the only planting to have its own museum.
Like most European cities, Maribor had a large central area with restaurants and stores all around the perimeter. The two-hour ride from our room was quite tolerable, and along the way, we visited another old town called Celje, which had a beautiful castle I just had to see.
Europe's history is a long and tumultuous affair, rife with wars and bloodshed from petty principalities to mighty kingdoms and empires. The land bears this legacy proudly with a bevy of incredible looking castles spanning the continent. Slovenia is no exception.
Celje Castle was terrific and made us feel like we were stepping back in time five hundred years. The views were magnificent, and the walls and doors were restored, but still had that historical feel to them, and if you plan to visit Maribor from Ljubljana, I suggest you take a break in Celje.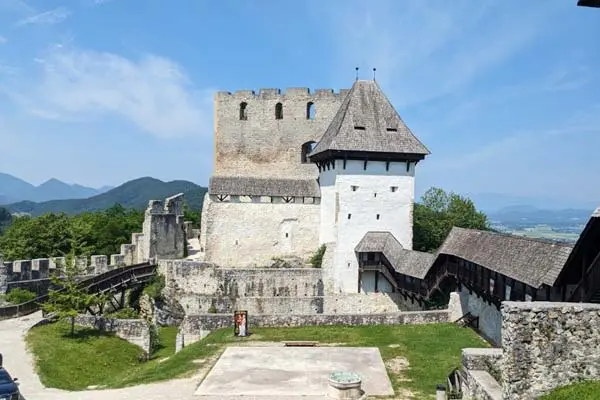 For a country of such few residents, Slovenia actually has more castles per square mile than most any other country, mostly because the Habsburg Dynasty, which ruled for over 500 years, from the 14th century until World War I. Trivia note: Which European country has the most castles? Germany, with more than 25,000.
Ljubljana Castle, is the largest in the nation and was once a military fortress as well as the home of the royal leaders of the time. It was quite beautiful atop the hill overlooking the main downtown square and the river Ljubljanica, but since it was such a popular tourist spot, I felt they went too far in "modernizing" it.
Some castles we have visited are almost in their original condition, which provides a sense of history and "being there," but others are gentrified to the point of losing their historic vibe. One glaring example is in Romania, and that is the castle of Count Dracula, Vlad the Impaler, and the inspiration for the famous film and literary bloodsucker.  Bran Castle is probably the number one tourist spot in central Romania, and it feels like it, too, not unlike a Disney attraction.
Get Your Free Report on Europe Here:
Learn more about countries in Europe and other countries from around the world in our daily postcard e-letter.
Simply enter your email address below and we'll also send you a FREE report - All the Charm and Romance of Europe…at a Price You Can Afford.
Postojna Cave and Predjama Castle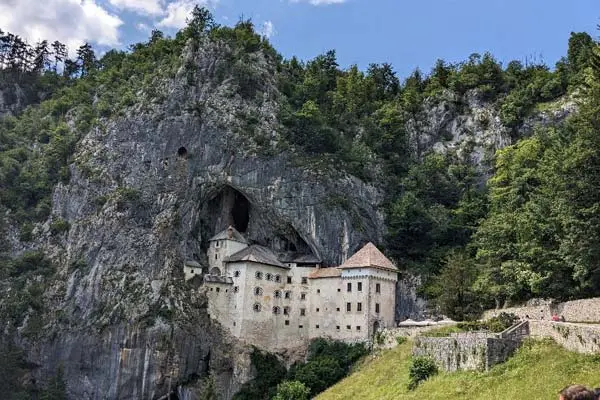 About an hour south of Ljubljana are two major attractions. The Postojna Cave is the largest cave I've ever visited, and the only one where we took a tram to enter! It's about a 20-minute ride and feels like a movie and film set, but when the tram stops and you start walking, the vast cavern will blow your mind. The size is immense with different levels, and there is a large amphitheater so big that they hold live musical events inside! The cave is also the home of the "ohms," which are small sightless salamanders that can live for a century and go for over a decade without food. They are endemic to the Postojna Cave and have been part of the dragon mythology prevalent throughout Slovenia.
Just six miles south of Postojna Cave is another mind-blowing attraction, and that is the Predjama Castle, which is built into the mouth of a cave, and is the largest such structure in the world per Guinness Book of World Records. The castle was built around 1200 AD, and has been modified over the centuries.
Since the cave is only accessible from one side, it afforded protection for the multitude of residents who called it "home." The entrance is halfway up a 400-foot rock face, and today you can tour the inside and see what life would have been like in such a livable subterranean cavern. Surprisingly, neither the Postojna Cave, nor the Predjama Castle are UNESCO sites, nor are Lakes Bled and Bohinj.
Lake Bled and Lake Bohinj
In the northerly direction are three natural attractions that are also must-sees, and they include the Triglav National Park, which is more than 200,000 acres (84,000 hectares) of natural rock and wilderness, and the more accessible Lake Bled and Lake Bohinj. Triglav is named after the Triglav mountains, which are the highest elevation in the country, at 9514 feet, and part of the Julian Alps. It is the only national park in Slovenia and is free to enter.
There are some iconic locations in the world that could almost be called, "postcard shots," and the Church of the Mother of God, also known as the Assumption of Mary Church in the center of Lake Bled, is one of them.
I recall seeing that picture years ago without knowing what or where it was, but Lake Bled is a 358-acre lake which is considered one of the oldest in the world. It was formed by a glacier and is up to 100 feet deep. Lake Bled Castle (the oldest in Slovenia at 1000 years) looks over the lake and stands perched on the edge, again, like something from a postcard. I was able to take one of the hikes to view the lake from high, and the Velika Osojnica path was 15 minutes of intense climbing, but I ended with tremendous joy at the top!
Just 15 minutes from Lake Bled is the Vintgar Gorge, which is strenuous to hike, but also worth it. The journey is one way, about one mile, so you traverse the Radovna River's south side, and every turn brings another panoramic view of some of the blue-green crystalline waters. With mini, and a few maxi waterfalls, the time spent there is worthwhile. As you near the end of the one-way tour, you must hike several miles to return to the parking lot, but the entire walk is worthwhile.
About 45 minutes north of Bled, back towards Triglav, is Lake Bohinj, a popular spot for swimming and fishing, and, like Lake Bled, no gas-driven motors are permitted, so there's a tangible tranquil aura. Lake Bled goes so far as to even forbid electric motors, but Bohinj does offer tours on their electric-powered tour boats. Bohinj is also home to one of my favorite fish meals, the Lake Trout, so make a point of enjoying a good meal while you are there.
Koper and Piran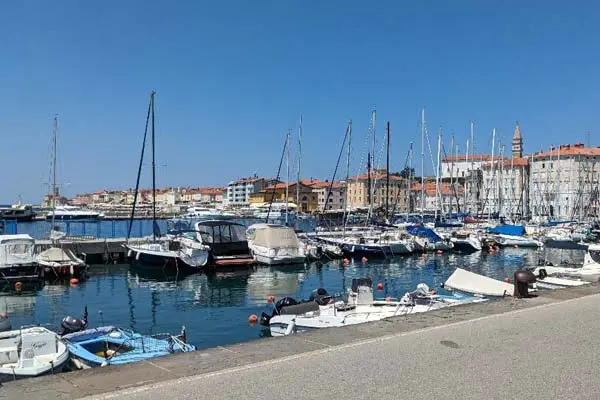 Finally, hitting the fourth compass point, are the southern coastal towns of Koper and Piran. Slovenia was slighted on coastlines when they were created, and there are only 29 miles of coast, but what they have is gorgeous! The entire southern tip of Slovenia is on the Gulf of Venice at the northern end of the Adriatic Sea, and is wedged in between Italy to the west and Croatia to the south, both of which have multitudes more coast. Koper is the primary port for the country, but the city of Piran was the one that captured our hearts.
Imagine entering the coastal city and driving along the waterfront, viewing the blue Adriatic off to the left and historical old buildings to the right. You'll get a good idea of Piran. They call it the Slovene Riviera, and Piran is the diamond that makes it sparkle. There is a town center here as well, and an Old Town, with protective walls along the waterfront. Since this part of the world has had a tumultuous past and been owned by many invading countries, most coastal towns are an architectural mixture of Italy, Turkey, and sometimes Greece, and includes cathedrals, churches, and mosques. Slovenia, as well as most of northern Croatia, was once part of Italy as late as the beginning of World War II, and it's not been that many years since the borders were carved up as we see them today.
Why You Should Consider Slovenia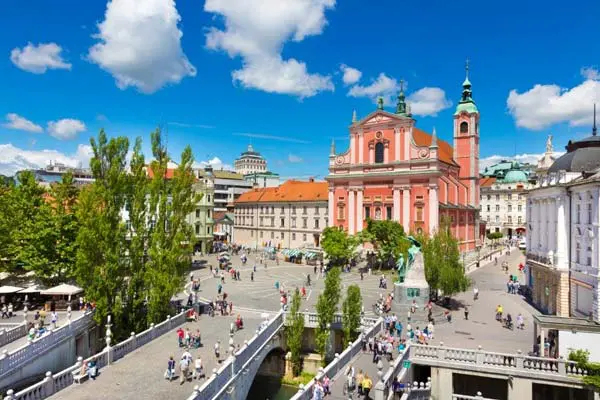 Slovenia is part of the European Union, as well as the Schengen Zone, so driving between the border countries of Italy and Croatia is seamless and can be done in less than one hour, and non-EU passport holders can usually stay for 90 days in any of these countries. The affordability of this region varies on the season, and even though summer is THE time to go, I suggest you try to visit the coastal towns before or after. Rooms in most of these areas described would range from 100 euros and up per night, but in the off-season, it would be considerably less. Since we were outside the prime area, our room averaged about $65 per night for 15 days. The northern Slovenia mountains are popular destinations during winter, and the Julian Alps are great ski areas.
Since COVID, and the return of travel, everyone is looking for the "IT" places to vacation. The traditional countries of Greece, Italy, Spain, and Portugal, never want for tourism dollars, and this year Croatia is outpacing most of them, along with Montenegro, which is being touted as the "Jet-Setter" destination. But Slovenia tends to get overlooked since there is not much beach, and accessibility is more difficult than in other countries. It has mostly been considered an "eastern nation" and grouped in with the Balkans, but it is more European than most of those. It was also part of the former Yugoslavia, but was always more advanced and sophisticated than some of its southern neighbors.
For those concerned about language barriers, it is reassuring to know that English is taught in schools from early on, and German and French are almost as prevalent. Over the two-plus weeks and hundreds of miles we rode in Slovenia, we never felt we were putting anyone out by speaking English. It is also one of the top safest countries in the world and seems to be at peace with the rest of them.
If you are looking for a rare diamond many overlook, add Slovenia to your bucket list.
Editor's Note: Norm Bour has been a full time travel journalist and nomad since leaving the US in 2019 with his wife, then girlfriend, at ages 64 and 65. He just hit country #35 since then, and in total has been to 47 different ones. As a baby boomer, his mission is to encourage, motivate and inspire the "Fifty Plus" crowd to experience life while they are able. Norm and Kathleen live a higher quality life outside the U.S. with much less money, and his blog, www.TravelYounger.com, shares their experiences from the beginning, along with all the lessons learned along the way. He recently wrote Nomadic Life for All Ages, which is available here. 
Get Your Free Report on Europe Here:
Learn more about countries in Europe and other countries from around the world in our daily postcard e-letter.
Simply enter your email address below and we'll also send you a FREE report - All the Charm and Romance of Europe…at a Price You Can Afford.
Related Articles
Europe's Top 5 Affordable Retirement Havens
The Best Towns and Cities to Retire in Europe
Why More and More Americans Are Choosing Europe
Popular Articles You May Also Like