What exactly does it mean to live a healthy lifestyle? There have been mountains of articles and books on the subject, infomercials abound, and ads touting the benefits of this or that food jumping out at us daily. But in the middle of all of the noise and the sometimes contradictory claims, there seems to be three things that everyone can agree are important for a healthy life; a healthy diet, regular exercise, and time spent outdoors breathing fresh air.
Fortunately, we have those things in easy abundance here in Salinas, Ecuador, on the shores of the Pacific Ocean. When we were living in the mid-Atlantic region of the States, those things were not always easy to find, and it could get expensive to live a healthy lifestyle. Let's take these three goals and do a little comparison.
Goal: Time outdoors, fresh air
My wife and I lived both in rural West Virginia and the Eastern Shore of Maryland. Both places have clean air and beautiful places to go enjoy the stunning countryside-weather permitting. That is the first problem. Between wind, rain, cold, and snow, we could not always get out on the days we had available. Another problem was sometimes you still had to get in the car and drive a while to get to the great outdoors.
In Salinas, all we have to do is open the windows for fresh air blowing in off the ocean, or step outside to enjoy the sun and surf. Weather is hardly ever an issue, as we get about the same rainfall as Las Vegas, and temperatures are usually in the 70s or 80s. In three years, our coldest morning has been 64 F, our hottest day 96 F. Back in the States, we could have a bigger temperature swing in the same day!
Goal: Regular exercise
This is an easy goal to achieve in Salinas, partly because we find we do not need a car. One of the reasons we chose Salinas was the infrastructure. We can walk to our bank, restaurants, shopping, and friends. With the great weather, we can walk every morning and evening just to enjoy being outside. Our condo building has a fitness center and pool, so it is easy to slip out for a quick swim or to jump on the elliptical trainer for 10 to 15 minutes.
Things were not that easy back in the U.S. We had a great walking trail by the C&O Canal, but we had to drive to get there. Same thing for any kind of YMCA or gym membership–you pack a bag, change at the gym, exercise, shower, change back, drive home–you may have to put aside as much as two hours just to get 45 minutes of exercise. It is an odd thing, but when you have a car at your disposal you tend to use it, even for short trips. Maybe it is part of the hurry-up lifestyle in the U.S., another big contrast to the mañana lifestyle in Salinas.
Goal: Healthy Diet
Something strange has happened with the food in the U.S. For some reason, the packaged and processed foods that are not good for you are cheap, and the fresh whole foods you should be eating are mostly expensive. I mentioned we lived in rural areas, and we used farmers' markets in season as much as we could. But of course they are seasonal, and they are not cheap. I would spend $60 or more on a typical Saturday buying vegetables and fresh eggs, and still need a trip to the grocery store. We bought our seafood from local shops, and our meat from farms to get them as fresh and unprocessed as possible, but you could never get completely away from steroids and additives.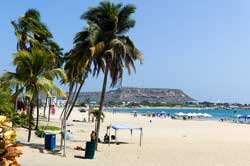 In Salinas, things are the opposite. Here the cheap foods are the fresh, whole foods. Processed foods are imported, and therefore expensive. For example, a bag of pretzels from the Supermaxi (if you can find one) is almost $5 a bag. My wife was laughing at a bag of mini-candy bars she saw in the store the other day that was over $9. For the $14 those two items would have cost me, I could go to our local Mercado and buy a pound of shrimp, a pound of strawberries, a pineapple, two pounds of potatoes, a pound of tomatoes, three green peppers, a pound of rice, half a pound of fresh shelled peas and a handful of cleaned garlic bulbs.
Unlike the farmers' markets where we lived in the States, our fresh produce in Salinas is available year-round. Sure, some fruits are more plentiful at certain times of the year–mangos for instance–but you always have a wide variety of fruits and vegetables to choose from. Although we have most of the common produce you would find in the States, I also enjoy trying new tropical items and working them into our meals.
Similarly, beef, pork, and chicken are available that have been raised on their natural diets, not force-fed corn products, steroids, and antibiotics. If you are a seafood lover, start packing your bags right now. Ecuador has some of the best fishing in the world, and you see it in the seafood markets. A wide variety of fish, shrimp, crabs, oysters, clams, conch, squid, octopus, eel-just about anything that swims or crawls in the sea—can be yours at a fraction of the price you are used to paying.
Living in Salinas has had a big impact on our health. All of the things I've mentioned have another effect as well—a big reduction of stress. Days and nights that are always 12 hours long with none of that Daylight Savings Time nonsense, great weather and lots of opportunity to be outdoors, terrific and healthy foods, they are all part of that mañana lifestyle. My wife and I have both lost weight and feel better than we have in years. I've been able to stop taking medication for Type 2 diabetes, and we are more active than ever, spending time exploring Ecuador and enjoying our new, healthier lifestyle in Salinas.
Get Your Free Ecuador Report Here:
Learn more about Ecuador and other countries in our daily postcard e-letter.
Simply enter your email address below and we'll send you a FREE REPORT – Ecuador: Live Like Royalty on Your Social Security.
This special guide covers real estate, retirement and more in Ecuador and is yours free when you sign up for our postcards below.

Get Your Free Report Here