The rotor blades swung dangerously close to my head as I bent my six-foot-two-inch frame into the helicopter. Moments later, we were lifting into the clear blue sky above Panama City for a real estate scouting trip… my first there in close to three years.
From 12,000 feet, Panama City reminds me of Miami. Gleaming glass high rises scrape at the clouds right on the edge of the Pacific Ocean.
Are you interested in retiring abroad? Yes | Not Sure Yet
Inside these buildings, you'll find corporate headquarters, banks, international law firms, and the plush penthouses of Latin America's wealthy. They bring their money here from Venezuela, Argentina, Brazil, and Colombia. Panama is the safe haven of choice for wealthy Latinos who would, at one time, have favored Miami.
For decades now, Panama has had a good thing going. Since the U.S. officially handed the Panama Canal to the government in 1999, Panama has been booming.
Panama's strategic location for shipping and trade drives its growth—it lies between North and South America, with the Panama Canal connecting the Pacific and Atlantic oceans (5% of all global trade passes through the Canal).
Like Singapore, it has outsized geopolitical power when it comes to international banking and foreign investment. Business-friendly policies have made it attractive to multinational corporations. And its political and economic stability, and close ties to the U.S., make it stand out as a beacon of stability in an often-tumultuous region.
I first came here to invest in real estate in 2004, early in the days of my international global real estate scouting career and long before helicopters became one of the ways I get around.
I had good reasons to go to Panama. Before that, I'd been investing in Ireland, where a decade-long economic boom, driven by multinational investment, had seen the rise of a large, affluent middle-class with a taste for property. In Panama I saw many of the same social and economic conditions at play. And I knew there were profits to be made from a wave of development in Panama City.
I was right. Changes to city zoning had triggered a flurry of construction in prime, central neighborhoods. Once word got out, investors like me jumped in. I bought a pre-construction condo for $147,630. I sold it shortly after completion for $220,000. I made a good profit by getting in at that buying moment—$72,370 in a short time. That window of opportunity was brief, but worth serious upside to anyone who got in before it closed.
Since then, I've returned to Panama almost every year, finding real estate deals for members of my Real Estate Trend Alert (RETA) group as the country booms and as a Path of Progress drives development along the coast from Panama City.
My most recent trip was my first visit since the pandemic. Unlike the Riviera Maya in Mexico and the Algarve in Portugal, which saw rapid recoveries thanks to their thriving and established tourism industries—and which have delivered some extraordinary profits to RETA members over the past two years—Panama's trade and banking-based economy took longer to get back on track.
Prior to the pandemic, Panama's GDP was growing at four times the regional average, propelling it to high-income status (with an average growth rate of 4.6%). But throughout 2020, its economy stalled and sputtered due to the country's strict lockdown and travel measures. Panama began a slow recovery in 2021. And last year, it increased its GDP growth to approximately 6%. Now, it's poised to kick again…
Panama has made extraordinary gains over the past two decades. Today, it has the world's second-largest free-trade zone. It's the biggest recipient of foreign direct investment in Central America. And, it's attracting more and more multinationals, including the likes of Dell, Procter & Gamble, Adidas, Caterpillar, and Nike.
Spend time here and you'll see supercars roaring past, brunches of Eggs Benedict and champagne, sparkling jewelry dripping off necks and wrists, and malls packed with designer fashions.
Get Your Free Real Estate Report Now
Sign up for our free daily Postcard e-letter and get a valuable free report on the The 5 Best Places to Buy Real Estate In 2023.
On my most recent scouting trip, I saw new skyscrapers appearing on the financial district skyline. And new high-end hotels have been opening across the historic Casco Viejo, like the new Sofitel Legend, which charges up to $947 a night.
Across Panama multiple mega-projects are in various stages of completion. In 2021, the biggest convention center in Central America opened in Panama City. A new cruise ship terminal in the city is set to be completed this year. (Large cruise operators like Norwegian, Princess, Royal, and Wind star have already booked itineraries.)
The first condo buyers saw values rise by 55%.
To the south of the city, shipping containers lay stacked at the Port of Balboa, which is undergoing constant expansion. A fourth, six-lane bridge is set to rise across the canal in the same area—a project set to cost $1.5 billion. Also in progress is a new metro line crossing the canal.
Then there's the airport. Last June, Tocumen International Airport, which serves Panama City, opened a new terminal at a cost of $917 million. The airport currently maintains direct connections to 82 destinations, operated by 18 airlines, and that's set to increase.
In 2022, the airport received 15.77 million passengers (a return to pre-pandemic traffic volumes). And this new terminal will heavily increase the operational capacity of Panama's central hub.
All this solidifies Panama's reputation as the "Hub of the Americas." While the strong economic growth has added more folks to the upper-middle-class bracket over the last 10 years.
Panama's financial stability and First World infrastructure have also made it a haven for capital from other Latin American countries, which has helped fuel a series of development booms over the past two decades—including the one I profited from in 2004.
Then, as now, Panama acts as a regional beacon. Whenever there's a political or economic ripple in Latin America, like recent elections in Brazil and Colombia, it pushes people, and money, to Panama. They invest, buy properties, and open dollar-based bank accounts.
Professionals are flooding to Panama to work in its burgeoning service sector. Bankers, lawyers, multinational employees, high-level executives on fat salaries, and the armies of workers needed to run the Panama Canal and the many tertiary services associated with it.
Panama City has seen a surge in real estate demand in recent years from a growing, upwardly mobile population and the wealthy individuals it attracts from all over the world. Yet there's very little room for urban sprawl. On one side, the city is hemmed in by the Pacific Ocean, and on the other, it's constrained by large parcels of protected land and watershed for the Panama Canal.
This shortage of developable land puts huge upward pressure on real estate prices. But thanks to my contacts here, I've been able to find some incredible deals for RETA members—the kind of real estate the well-heeled folks want. You could rent it long-term to young entrepreneurs, older retirees, and executives working for big multinationals. And you could see rapid appreciation as demand continues to rise against supply.
The thing is, you can still find incredible value in Panama City relative to other international hub cities. For example, the average cost per square foot in Singapore—which has lots of similarities to Panama City—is $1,336 per square foot. In Panama City, the square-foot average is $335. That's less than a quarter of the price.
In Panama, I've identified two big opportunities at play… The first is to profit from the big squeeze on real estate in Panama City. But thanks to my contacts and the group-buying power of my Real Estate Trend Alert group, we've been able to get incredible deals on high-end real estate targeted at the multinational and mobile international set.
Back in September 2021, I brought RETA members the opportunity to buy spacious three-bedroom condos in one of the most exclusive gated communities in Panama City, starting at $540,020. Currently, the retail price for similar condos in this Santa Maria community is $736,629.
In June 2019, I brought RETA members a chance to own in the Ocean Reef community, an exclusive enclave built on man-made islands in the Bay of Panama. Members could lock in condos with sweeping ocean views starting at $780,000. The first buyers saw values rise by 55% or more before they even took possession of their luxury homes.
The second big opportunity is to buy ahead of the mammoth Path of Progress sweeping down the country's Pacific Riviera. A Path of Progress is any anything that makes a place easier to get to (new roads, airports, bridges) or more desirable (like a 5-star resort). And this stretch of coast is benefitting from it all. Here we can tap into the same market demand by owning something truly special within a short commute of the city.
For instance, in January 2019, I brought RETA members the chance to own condos in an attractive beachfront community, surrounded by lush gardens and just steps from the sand. The RETA-only price started at $184,300. In October 2022, I saw some resale listings, and one of these condos was listed at $290,000—a $105,700 boost.
And I'm about to bring RETA members a deal within the same master-planned community. It's set next to the nicest beach within an hour's drive of the city. True beachfront anywhere in the world is becoming scarce… but this RETA-only, off-market deal—so close to a world-class capital city—is unheard of.
I like this second play because it hits multiple markets in Panama: the professional class, looking for a place close to the city they can go for a weekend… expats and snowbirds who want true beachfront close to an international hub city. And it taps into Panama's fledgling tourism industry.
Historically, Panama never made a focused effort to attract tourists. Thanks to the strength of its diversified services sector, it never had to. But that changed in 2020, when Panama appointed its firstever minister of tourism and launched a destination marketing organization called PROMTUR, giving it a $301 million budget for a sustainable tourism master plan.
The ill-timed pandemic put Panama's tourism ambitions on ice, but they're set to kick off again, adding another leg to its already diversified economy—and adding a whole new market of renters for savvy real-estate buyers to tap into.
The upcoming, members-only deal I'm bringing to my RETA group will be attractive to multiple markets. And it sits ahead of one of Panama's biggest Paths of Progress, where millions of dollars of development and infrastructure has already poured in.
I believe Panama is poised for its next great real estate boom… and I for one want to make sure I'm ahead of it.
Get Your Free Real Estate Report Now
Sign up for our free daily Postcard e-letter and get a valuable free report on the The 5 Best Places to Buy Real Estate In 2023.
Related Articles
Panama City Real Estate: Cosmopolitan, Chic, & Surprisingly Affordable
Panama Real Estate: Get More Bang for Your Buck
Upcoming Conferences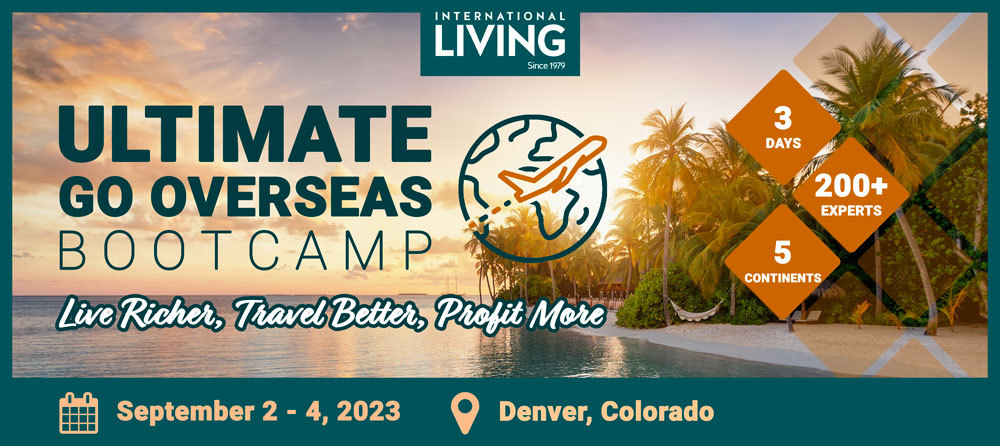 Most Popular Products
Popular Articles You May Also Like