Peru's colorful history has long been a draw for huge numbers of tourists every year.  This is not surprising given that the country is home to so many well-known archeological sites such as Machu Picchu, Choquequirao, and the Nazca Lines.
Visitors are also attracted by the natural wonders of the country; the spectacular Andes, the culturally rich Amazon Basin, and Rainbow Mountain, to namedrop a few. And don't forget the 1,500-mile coastline that stretches from Ecuador in the north to Chile in the south.
With this much diversity comes a huge variety of climates. Peru has 90 different microclimates, including 30 of the 32 world climates, making it one of the most diverse countries in the world. It is not difficult to find the perfect climate for your individual needs.
Apart from its plentiful historical sites and outstanding natural wonders, Peru is probably one of the most inexpensive places to live. Cellphone monthly plans start at less than $10 including unlimited calls and 6GB of data. You will spend pennies on fresh fruits and veggies around the country.
It was only a matter of time before retirees discovered that Peru ticks many of their boxes. Some have decided to stay year-round; others return each year to take advantage of the 183-day tourist visa.
There are regularly scheduled direct flights from the U.S. and Canada to the capital city of Lima. From there, relatively inexpensive flights can be boarded to a large number of smaller airports around the country. A network of inexpensive bus lines also allows you access to almost anywhere you would want to go.
Where you decide to live depends on your lifestyle and budget needs. Some areas are definitely more affordable than others and large urban centers are always going to be more expensive than smaller rural towns.
Here are some examples of places you can live in Peru at various budget levels.
Under $1,500 Per Month—Huanchaco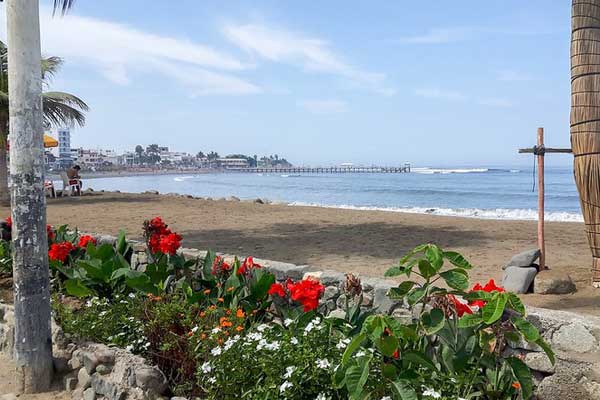 Long known to the surfing world, Huanchaco is located on the north coast of Peru just a few minutes north of the large metropolis of Trujillo (population 878,000). This small beach town is off the very beaten tourist track further south. Only about 5% of the tourists that arrive in Peru make it to the north coast.
You won't find a large number of permanent expats and it is far from being a retiree hot spot! But more people are discovering this small paradise every year. They come for the empty beaches, great surfing, fabulous weather, nearby archaeological sites, and great food. They stay because it is so cheap!
Huanchaco is not a modern town. Fishermen still fish with the same style of reed boats that were used 2,000 years ago. Shopping at the local market is still the major activity of the day. Most residents here grew up on a surfboard and spend a little time every day in the waves. Wet-suited, barefooted, surfboard-carrying pedestrians are the norm.
But a single person can easily live on less than $1,000 per month…and still eat out almost every day. A couple would have money left over on a budget of $1,500.  That would provide you with a two to three-bedroom furnished apartment (possibly with a sea view), national healthcare, cell phone plans, and more food than you can eat.
Other reasons to live in Huanchaco?  Trujillo with all its amenities is only 15 minutes away. There are miles of beautiful beaches extending in both directions from the town center. It never rains! Less than an inch of rainfall per year falls on the area.  You can count the number of rainy days with one hand. And the airport is only a ten-minute drive away.
$2,000 to $2,500 Per Month—The Sacred Valley of the Incas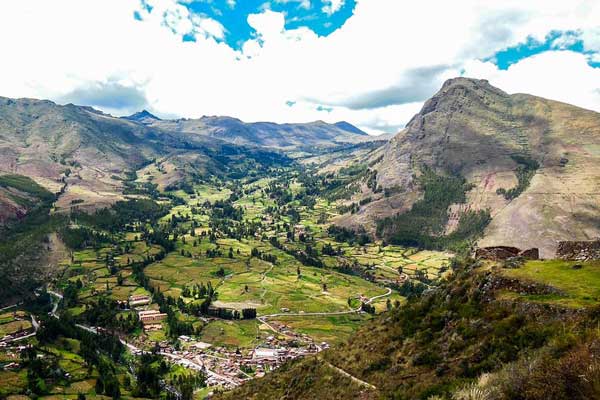 The Sacred Valley of the Incas is generally considered to stretch for over 60 miles from the base of the mountain beneath the citadel of Machu Picchu to the small village of Pisac. The valley was formed by the Urubamba River that still winds its way along the narrow valley floor (just over a half-mile wide on average), bordered by mountains soaring to over 19,000 feet in elevation.
Machu Picchu is on many people's bucket lists and most spend some time in the Sacred Valley as they navigate their way to this mountaintop citadel by foot, bus, and/or rail. Some decide to stay long-term after falling in love with the scenery and the local culture.
Urubamba is the largest town in the valley and is home to Ceramicas Seminario, an internationally known ceramics studio that produces contemporary ceramics with a style based on ancient Peruvian cultures. The area is rich with archaeological sites, mostly Inca-related, and you will find at least one in each of the small towns that are scattered along the valley.
Most of the items you need on a daily basis are available at the large local market and smaller shops around town. For everything else, Cusco with all its amenities is less than an hour away by car or taxi. Throughout the valley, there is no shortage of hiking trails, many passing through ancient Inca ruins.
Not without controversy, Peru's newest airport is currently being built outside Urubamba. This will provide easy access to national and international destinations.
Many expats prefer Pisac, a tiny village that dates back to the 1570s. It is well known for its large weekly traditional craft markets, funky coffee shops and restaurants, and laidback lifestyle. The ruins of a large Inca complex on a mountain ridge overlooking the town provide hours of hiking opportunities.
A $2,000 to $2,500 budget would provide a great lifestyle in this part of the world. Although living in one of the small towns might be more convenient, there are also many beautiful rural properties available in the valley.
$2,500+—Barranco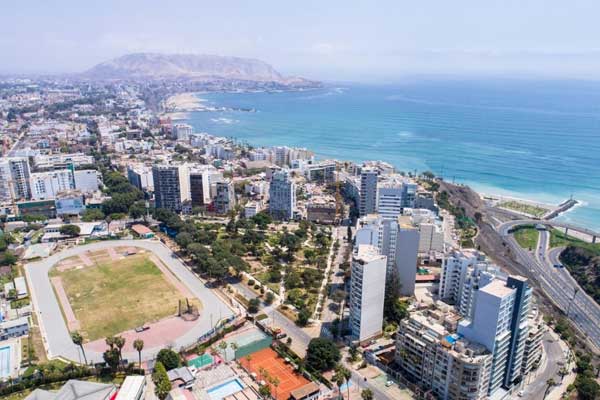 As one of Lima's more upscale districts, Barranco has been popular with expats from around the world for years. It is considered to be the city's most romantic and bohemian district and is home to many of Peru's leading artists, musicians, and photographers.
Perched on a cliff overlooking the beach below, Barranco (Spanish for ravine) is named after a large ravine, which is the focal point of the district. Here you will find a large variety of restaurants, nightclubs, and bars that cater to locals and a large annual influx of tourists.
As one of the major cultural centers of the city, there is no shortage of stunning murals, outdoor sculptures, and flower-filled parks. Barranco is also home to two of the city's well-known art galleries; the MAC, Lima's contemporary art museum, and the Museo Pedro de Osma, which hosts one of the best collections of colonial art.
Although it is possible to find less expensive rentals, expect to pay between $1,500 to $2,500 for a modern, 1200 square foot, two-bedroom condo. But in Barranco, the sky's the limit! A recent search of modern waterfront condos brought up prices of $1 million to $2 million. For those with a love of historical architecture, you can still find sales and rentals of well-kept  "casonas" in the colonial and Republican-style that date back to the 19th century and earlier.
Related Articles
Three Places to Live in Peru; Two to Avoid
An Overview of Traditions and Culture in Peru
Popular Articles You May Also Like