Belize is remarkable in that you can see the whole country in a single trip—the region is about the size of New Jersey, with one country road-like highway system connecting all the major towns. There is also a wonderful regional jet system that can get you from place to place even faster—if you can stomach a four- to 12-person plane!
On your first trip, I definitely recommend checking out Ambergris Caye, Caye Caulker, and Placencia, with a trip out to Cayo if you have a few extra days. Check out Corozal as well, if you have the time, but this is better for a second trip as it is a place expats tend to choose after more time in—and a greater understanding of—Belize.
Note: If you are considering Corozal, I would add this in after you return to Belize Airport (BZE) from Ambergris Caye. You can drive up there or take a shuttle, which takes about two hours, and then drive to Cayo after that (two more hours), and continue on with the itinerary. I highly recommend you do Corozal with an agent (like Macarena Rose) who can show you the many hard-to-find but great expat communities about seven miles from the town center. I don't recommend navigating this by yourself for your first trip as you may miss a lot—Corozal tends to look very gritty and disappointing for a first-time visitor until you know where to go.
Days 1-4: Ambergris Caye (With a Day Trip to Caye Caulker)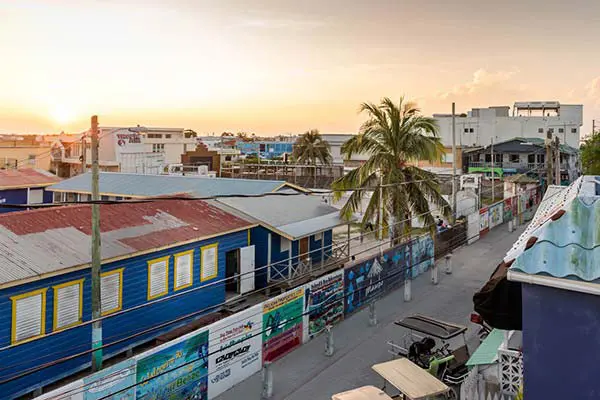 You will fly into Philip Goldson International Airport (BZE), the one and only international airport, where you can take the water taxi (San Pedro Express or Ocean Ferry) or the puddle jumper (Tropic Air or Maya Island Air) to San Pedro, Ambergris Caye. You can book either of these modes online, as they both have easy-to-navigate websites. I recommend you spend at least four nights in Ambergris Caye. If you have limited time, I recommend that you splurge on the fastest transportation between places (puddle jumper, not driving) to save about a day's travel—well worth it.
On one of your days in Ambergris, you can take the same ferry over to Caye Caulker—only a 20-minute boat ride—where you can spend a whole day (this should be enough time to see if it appeals to you). You can spend time at the Lazy Lizard/the Split, and I recommend taking the free little boat over to Northside Beach Club (previously Koko King) on the north side of the Split, as this is becoming a popular place for expats as well. There is a lot being built on North Caye, and you can walk around on a sandy path and see what's around—Blu Zen is a very popular spot for brand-new, gorgeous condos. Have dinner at Hibisca, and watch the sunset on the leeward side at Iguana Reef Inn.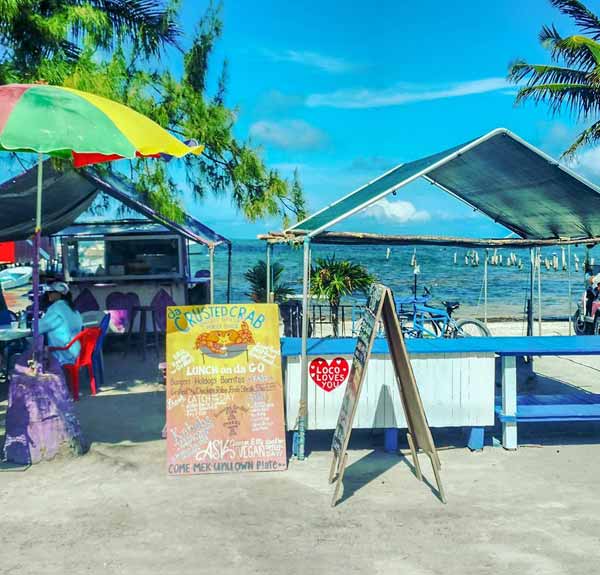 Back on Ambergris, I suggest you stay right in town where you have access to everything on foot and where you can meet a lot of expats. SunBreeze Hotel, Ramon's, The Palapa House, Blue Tang Inn, and Caye Casa are all nice accommodation options within walking distance of everything in town. Go to Palapa Bar, Sandbar, Sandy Toes, Nauti Crab, and Ugly Duck right by there (lots of expats), and make time to visit north and south of town, a short bike or golf cart ride away. You can even stay at Seven Seas Resort, run by the old owners of the popular bar Crazy Canucks, who now own the attached restaurant Nauti Crab—this is expat heaven, with a bit of a party atmosphere if you are up for it. I recommend you do the half-day snorkel at Hol Chan Marine Reserve, and rent a golf cart for a day to see Secret Beach, as this area is exploding in popularity with many expats moving there.
Check out the vast number of different condo complex options north of the bridge, such as Mara Laguna and Tres Cocos, and walk by "millionaire's row"—a gorgeous stretch of beach homes starting by Crocs Sunset Sports Bar, which is across the street from the beach, and going all the way north as far as you can go. Also, don't miss yoga over the water north of the bridge at Ak'bol. Marbucks is a great place for breakfast, Truck Stop is a non-stop food truck party, Coco Locos is a great place to meet expats, and there are a number of other popular bars and hangouts in the more low-key, north-of-the-bridge area. You can have a romantic dinner on the roof at Rain, and north of the bridge is also the way to Secret Beach.
Extend the Trip: Cayo
(Add a trip to Cayo if you have time for a 10-day itinerary. Cayo would fall on days 4-6, followed by 3-4 nights in Placencia.)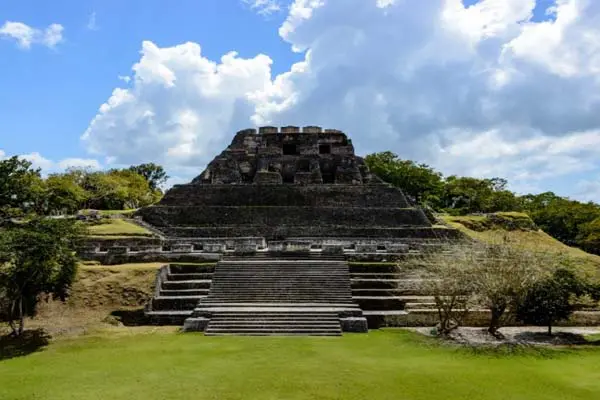 If you think Cayo/San Ignacio is for you, it is more challenging, but well worth the effort to check it out. After Ambergris, you can ferry back to Belize City and take a two-hour shuttle to Cayo. You can then shuttle from Cayo to Placencia. This would be instead of the direct puddle jumper flights, but shuttles are easy to book online. The most well-known shuttles are William Shuttle Service, Belize Shuttle Service, Roam Belize, and Discounted Belize Shuttle Service.
In Cayo, unless you want a romantic jungle resort stay, you can find great, low-cost options like Midas near the town center. Ka'ana is another luxury resort close to town, and I highly recommend San Ignacio Resort Hotel as well. If you are adventurous, make sure you do the ATM cave tour, go cave tubing, and see the Xunantunich Mayan Ruins.
Days 4-7: Placencia (With a Trip to Maya Beach)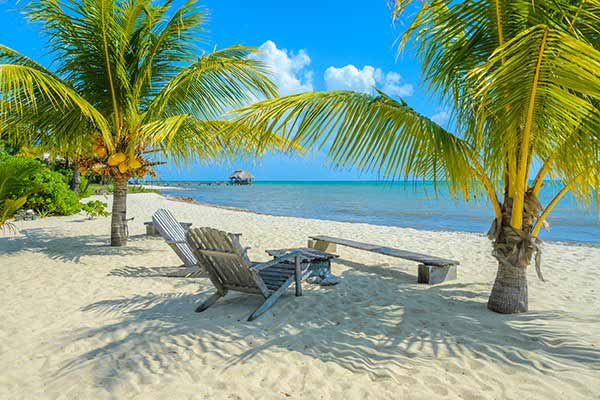 If you know Cayo is not for you, you can take the puddle jumper to Placencia from San Pedro. This trip takes about two hours as it has a stop at the municipal airport, and is usually around $160 per person each way. (Note that you can also rent a car from Belize City. I highly recommend this if you are a seasoned driver outside the U.S. as you'll have greater flexibility.) You will land right outside the village of Placencia if you take the puddle jumper, and I recommend you stay in the village at first. Belizean Nirvana is very nice, Brisa Oceano is highly recommended, or The Ellysian is even more high-end. You can also opt for Ranguana Lodge for a more rustic but budget-friendly place. On one of the days there, rent a golf cart and drive up to Maya Beach. It is going to take you some time but it is a 16-mile peninsula and worth seeing all of it.
Development is happening all over the peninsula, slowly. The only area I would point out is the drive through Seine Bight as you go from Placencia to Maya Beach. This is not a tourist area—this is a Garifuna village and can be a bit hard on the eyes. Although this is a section of the peninsula where you will see signs of poverty, the villagers are very welcoming and are used to tourists. (It is a popular place to stop, so don't hesitate to stop anywhere.)
Maya Beach is north of the peninsula and is very popular with expats. Whereas Placencia village is a mix of locals, tourists, and expats, and is the heart of the peninsula, Maya Beach is smaller and more low-key. There you'll find mostly expat homes and guesthouses with a few restaurants—you definitely need to check it out.
If you have extra time, I also recommend a stop, or at least a drive through, the Hopkins and Sittee River area—the shuttle driver can add this stop to the journey as it is on the way down to Placencia. Many expats choose Hopkins, but most tourists need a bit of experience in Belize before choosing this for a first itinerary—it is a more rustic and much smaller village than even Placencia.
Related Articles
Travel in Belize Simple and Straightforward
Five Places to Live in Belize; Two to Avoid
Is Belize A Safe Place To Live?
Popular Articles You May Also Like