We are perched on a cliff high above the beach drinking a watermelon juice at Single Fin. It's a prime place for sundowners or to spend the day gawking at the surfers' skills below. This bar is famous for their Sunday Session, a "see and be seen" night with the area's most fashionable people and DJs from all over the world playing until 1 a.m.
At the southwestern part of the Bukit Peninsula—one hour from expat hotspot Seminyak—Uluwatu is where sheer cliffs surrender to the rhythmic pounding of big surf. What is so special about Uluwatu is that every beach in the area has different wave breaks so you can really get your surf on and hone your skills. Even if you're not a surfer, the staggering beauty of the area will still win your heart.
Everything here is a bit spread out so you will need wheels; it's the best way to find your very own beach paradise. Be prepared to get lost in the back alleyways to find pretty much anything…especially a place to live. Uluwatu is a like a treasure map, as you get deeper off the main road you find hidden temples, beaches, cafés, and potential homes just waiting to be explored.
Only one main road weaves through the area, so getting off it and discovering the secret tidbits here could take a lifetime. It's long and winding and lined with international cafés and local warungs (restaurants), hotels, and surf shops. Drive 10 minutes north and you'll reach Nirmala, the area's supermarket. It's a casual place that caters to surfers and those with a pioneering spirit.
If you're looking to stay in the area there's rentals to be had at reasonable prices. I popped into Aloha Surf Shop where the expat owner, Tommy Wellman, told me he rents a two-bedroom apartment only 10 minutes from the beach for just $358 per month. It's small and basic but has all the essentials. He found it by driving around the neighborhood, looking for "for rent" signs.
Although it is only a 45-minute drive north to the international airport, the throngs of tourists haven't appeared yet, just hordes of surfers. Don't get me wrong; there are buses of tourists on Eat Pray Love tours that come to check out Padang Padang beach—where part of the movie was filmed—and to check out Uluwatu Temple, but they're in and out in a day.
A lot of the beaches here are challenging to reach; hundreds of stairs, through a cave, between cliffs…but that's also what keeps the tourists at bay. My favorite is Bingin Beach. It took me some time to find it, but I followed the maze of stairs, passed homes and cafés, and finally reached the beach. Don't forget to pack your reef walkers because there's a lot of coral and rocks to navigate around on some of the beaches. It's an adventure just getting there, but you will be rewarded by white sand and cobalt blue waves.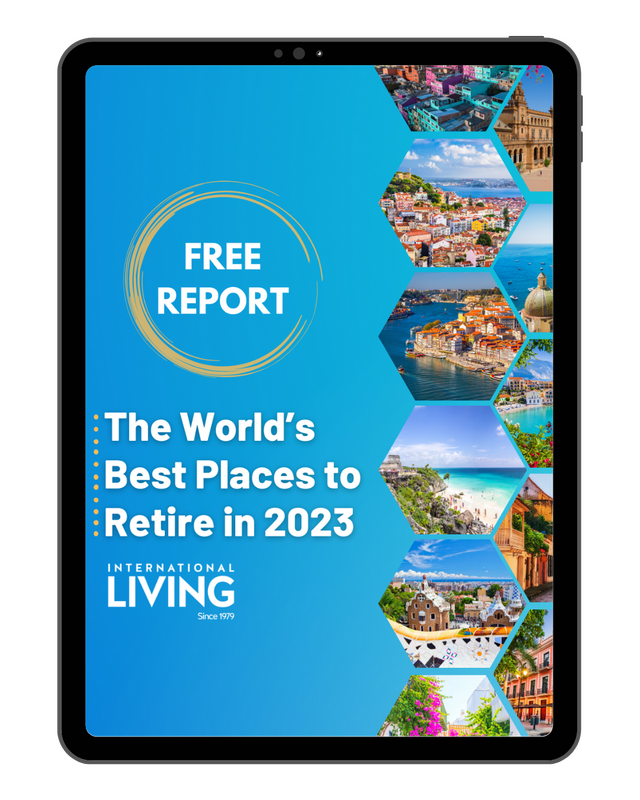 Get Your Free Report on the World's Best Places to Retire:
Learn more about the best places in the world to retire in our daily postcard e-letter.
Simply enter your email address below to sign up for our free daily postcards and we'll also send you a FREE report on The World's Top 10 Retirement Havens, plus access to over 10 more free reports. Our gift to you, on our favorite destinations.
Related Articles
Bali, Indonesia: Everything You Need to Know