All roads lead to Rome, but I was driving in the wrong direction. The hot and dusty chaos of the Italian capital disappeared from my rear view mirror.
Heading eastward, I was entering a different kind of Italy. Green, mountainous, traditional, and laidback. An Italy still somewhat undiscovered by the masses who take to the Amalfi Coast, the Lake region, or the major Renaissance cities each year. I was entering the region of Abruzzo.
I'm told Abruzzo is where expats go when they want to avoid large expat communities. Indeed, high up in the mountains, you can hide from just about anybody.
Abruzzo is home to three national parks, one regional park, and 38 protected nature reserves, which cover one third of its territory. It's called "the green lung of Italy." The mountains here are home to wolves, golden eagles, and brown bears.
The region stretches from the Central Apennines in the west to the Adriatic Sea in the east. So, even from its mountain villages, you're never much more than an hour from heavenly Adriatic beaches.
I visited Abruzzo on request of my boss, international real estate scout, Ronan McMahon. Ronan had tasked me with finding the best bargain real estate in Italy. He wanted me to get off the beaten track. Get a little lost. Find the diamonds in the rough that everyone else has missed.
The Flat, Mountain City of Sulmona
The Abruzzo town of Sulmona is just an hour and 40 minutes from Rome, but a world away from city noise and pace. This is traditional Italy, where life's daily rituals are dictated by the gentle chimes of church bells.
In the morning you can take an espresso at Bar Centrale. It's the best spot in town to people-watch, and right across from an imposing gothic church. Even after two days, I can see myself forming a pleasant routine here. I pick out my grocer and bakery. I can get fish and vegetables from the market twice a week, dine at Lacansa da Gino, and in the evenings meet friends for a gelato at La Rotonda.
And, of course, come lunchtime each day, I'd disappear home for two hours, like the rest of the town, for a carefully prepared meal and a snooze.
Sulmona is old but livable. You have pharmacies, supermarkets, and bakeries, all in easy reach. The historic center is remarkably clean, despite a lack of visible trashcans, and feels extremely safe—you'll see kids playing unsupervised until dusk.
Abruzzo is called 'the green lung of Italy'.
The town is located in the Valle Peligna, a plateau once occupied by a lake that disappeared in prehistoric times. This means that even though it's in the mountains, it's flat and easy to get around.
Because of the high altitude, it's cooler than the coast, or indeed Rome, but it's still in the high 80s F into late September. Winters get snow, but it very rarely causes any access issues.
And you can own on the large town square, Piazza Garibaldi, with inspiring views of the Apennine mountains beyond, for very little.
This is a special place to live. During the Middle Ages, while ruled by Neopolitan kings, it was the cultural, economic, and social center of the region. To this day, the square holds a jousting festival each summer. And every Wednesday and Saturday, there's a large open-air market.
Right on the piazza, I found a large two-bedroom apartment at about 1,400 square feet, which offers three balconies overlooking the square.
It has the best views in town. Prime Airbnb location—though I wouldn't expect high occupancy in a third-tier Italian city. (I paid about $80 a night for a one-bedroom apartment without any view.)
There's a 13th-century aqueduct built by the German emperor Frederick II right in front. Beyond that you have stunning views of the mountains. And it's just steps from where George Clooney shot an iconic scene in the film The American in 2010.
The apartment is listed for €120,000 ($139,245).
Abruzzo is not a place to live if you don't at least plan to learn Italian. Like most of southern Italy, you'll find few English speakers, and the expat scene here is dispersed. The few that are here are mainly from the U.K., the U.S., and Scandinavia.
A move-in-ready apartment at just $76,225.
A British broker I spoke to told me that Abruzzo's declining population is one of the biggest factors in the real estate market. In Abruzzo, the population decline is worse than the national average. The young continue to leave in droves, with mountain towns and villages hit hardest. Then, when elder relations die, their children who have already moved away sell the property.
One property the broker pointed me to was at the edge of the historic center, a three-bedroom apartment that looks in pretty good shape. It offers a balcony, as well as a cellar and a terrace with a wood oven and comes move-in ready at just €65,000 ($76,225).
The Borgo Beauty of Scanno
From Sulmona I drove to Scanno, a little borgo (village) about an hour into the Sagittario Valley, an area encircled by the Majella mountains, a massif in the central Apennines.
On his grand tour of Italy, the poet Edward Lear said that Scanno had the most beautiful women in Italy. That was over 100 years ago. Today, most of the young have left. And, while those still here were surely great beauties in their day, the real head turner now is the village itself.
Scanno holds the distinction of being one of "the most beautiful villages in Italy" (I Borghi più belli d'Italia), an official designation from the national tourism council. Like a fine wine, it has only improved with age. Surrounded by lush green hills, her medieval streets twist and turn under ancient arches and up narrow steps. Despite being small, you could stroll for hours here without setting foot in the same place twice.
A few minutes' drive from the village, a heart-shaped lake with teal blue water opens into view. It's the largest natural lake in Abruzzo. Local legend has it that it was created from a feud between a witch and a sorcerer—the lake marking the spot where the witch finally fell.
Today, there's an artificial beach where you can rent a boat, swim, or just chill with a glass of wine at the lake bar.
In winter, you can take a ski lift up the Godi Pass, and enjoy about three miles of slopes.
Scanno was not the semi-abandoned medieval village I was expecting. There were buses of Italian tourists arriving. Surrounding the lake and the village, cranes were hoisting materials into new alpinestyle apartments. There were pharmacies, tourist shops, shoe stores, and the ultimate signifier that the old borgo was still economically kicking: a bank.
Yet, despite all this, peppered along every street throughout the historic center were Vendesi signs ("for sale" in Italian). The thing is, in Italy, even in bustling towns and villages you can do well on the right historic property. Generally speaking, the locals don't want them. They want something new and shiny, often a featureless concrete structure where they can park their car out front.
Pair that with a tumbling birthrate and aging population and you have yourself a feast of bargain historic homes.
A two-bedroom townhouse for $67,302.
For instance, I got in touch with a broker contact who has a two-bedroom townhouse, available in the historic heart of Scanno for €58,000 ($67,302). The house is spread out over three levels and pretty much an empty shell to work with. It could make a nice little bolthole for the right buyer. A mountain retreat for someone with a place on the coast or in a city.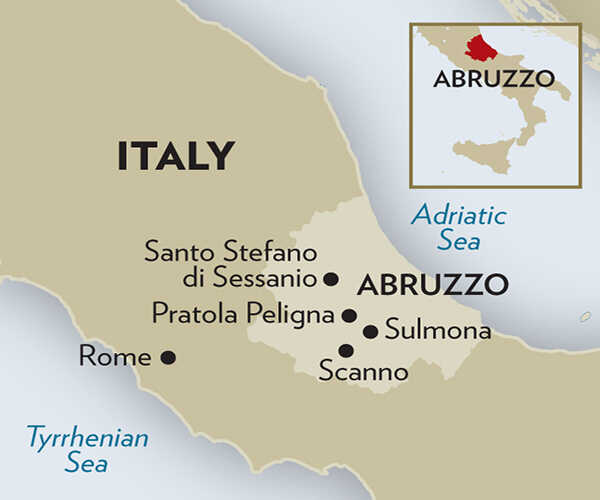 Get Paid to Live in Santo Stefano di Sessanio
Driving to northern Abruzzo, and high above the winter snowline, I took a road that twists and turns in Z shapes up the mountain slopes of Gran Sasso National Park. My destination was a medieval hilltop village named Santo Stefano di Sessanio.
Under the rule of the Medici banking family in the 16th century, Santo Stefano was once a thriving economic hub for the agricultural industry in the area. Today, its visual splendor is still impressive, with its darkened archways, cobbled streets, Medici square, and a wonderful watchtower. However, the fortune of the town has not kept up.
In fact, there are now only 115 residents in Sanato Stefano, and around half of them are pensioners. That's why, last year, to combat the population decline, the town council decided to pay people to settle here.
The offer hands new residents a monthly payment for three years, up to a maximum of €8,000 ($9,500) per year, and includes a one-off contribution of up to €20,000 ($24,000) to help get an entrepreneurial business off the ground.
I was intrigued enough to make the journey. And turning a bend to see the village watchtower glowing in golden evening sunlight was one of the biggest thrills of the trip. However, Sanato Stefano, as expected, is exceptionally quiet. Most of the people I saw were Italian day trippers, or folks staying at the plush Sextantio, "distributed" hotel—where each suite occupied a different restored medieval home.
With a small business to keep you occupied and a modest allowance courtesy of the council, I can see the appeal of living in the literal shadow of history. Especially when you can enjoy Aperol Spritzes at a medieval tavern as the sun sinks into the mountains.
The deadline for the Sanato Stefano grant has now passed, but there may be an extension if the first round proves a success (see: Tinyurl.com/cj2v32ns).
Related Articles
Move to Italy and Enjoy La Dolce Vita (the Sweet Life)
An Insider's Guide: Best Things to Do in Tuscany
Best Things to Do in Arezzo, Tuscany
Popular Articles You May Also Like