As I came over the last hill on the road from Tilaran, a small town about 10 minutes from the shore of Lake Arenal, I could see what makes Arenal so special. The stunning lake vistas opened up before me…
Most of the land here is forest, pasture, or farm—split by rivers, streams, and rocky waterfalls…natural and unspoiled. And it has that small-town feel, where strangers say "Buenas tardes" as you walk through town or wave if you drive by. Where proud homeowners sit on the porches of tidy homes that dot the lakeshore, offering great views of the water, with gardens full of hydrangeas, bromeliads, ginger, and other vivid blooms.
In the village of Nuevo Arenal (the expat hub for the northern side of the lake) new restaurants had opened up. And there were certainly plenty of "gringo" faces when I stocked up at the grocery store, stopped for a coffee and loaf of bread at the bakery, and had lunch (a tasty Greek salad for $8.50) at Moya's Place, a popular eatery. Despite these new developments, the tranquil, bucolic character of the place was intact.
There's a lot to like about Arenal and in my book, it's an ideal spot to live. This was confirmed to me as I traveled along the shore of this 33-square-mile lake (it's about 18 miles from end to end) along the curving, narrow two-lane road that is the area's main artery (with not much traffic, by the way).
The expat community here, though growing, is still very close-knit. Local watering hole Karacters Bar and Grill, in downtown Nuevo Arenal, is a gathering spot any hour of the day, as is the traditional Costa Rican restaurant Tinajas, which also serves plenty of international fare. This open-air restaurant is down a rough dirt road and then up a somewhat steep hill outside of town. But the pay-off is a clear view of the lake through the onsite garden where they grow many of their ingredients.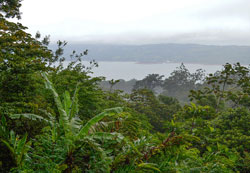 With warm weather year-round, Arenal has an eternal spring-like climate. Most days with highs in the 80s, lows dipping to the 70s so no air conditioning needed.
The countryside is rich with wildlife. Toucans flew by the home I was staying in almost daily—they favored a specific tree down the hill. The lakeshore itself is virtually undeveloped, with setback from the shore for construction required by law. There are no large resorts here, no tall condo towers and the construction is appropriate and blends in with the scenery.
It's still affordable here too. Cost of living remains some of the lowest in the country, on par with the epicenter of expat life on a budget in the country, the Central Valley.
Farmers' markets and produce stands offer fresh fruit and vegetables—you'll spend about $30 to $40 a week to fill the fridge. And because Arenal is a rural region, and still very agricultural, you can also get fresh milk and dairy products from your neighbors.
Real estate is affordable as well, to rent or buy. You'll get a two-bedroom home in a private development with a lake-view from the expansive porch (this is a must-have if you live in Arenal) is listed at $179,000. Renting a fully furnished, two-bedroom home with a lake-view costs $1,000 a month.

Get Your Free Costa Rica Report Here:
Learn more about Costa Rica and other countries in our daily postcard e-letter. Simply enter your email address below and we'll send you a FREE REPORT – Costa Rica: The Land of Pura Vida
This special guide covers real estate, retirement and more in Costa Rica and is yours free when you sign up for our IL postcards below.
Related Articles
Life is Good at $2000 a Month in Costa Rica
Caribbean or Pacific: Choose Your Paradise in Costa Rica