I feel like I'm sitting in a picture-perfect postcard. My feet are nuzzled into the soft pale sand. I'm staring into the endless rhythm of the curacao-blue soft waves with a refreshing cucumber margarita in hand. It's been a hectic few days, and this afternoon pause is just what the doctor ordered.
I'm in the beach town of Playa del Carmen and have been eating out at restaurants where the food is as stunning as the location. I've been sampling citrusy mezcal drinks and eating my weight in guacamole —all with a view of the Caribbean and one question running through my head: "Could I live here?"
After nine years living in Penang, Malaysia, my husband, Mark, and I moved to Mexico because it was time for us to be closer to our families. It's always been a country we loved, and we knew we wanted a town on the ocean, but with nearly 6,000 miles of coastline choosing a spot is a daunting task.
We're no strangers to Mexican beach towns. We've been living on the Pacific Coast, in vivacious Puerto Vallarta, for the last six months. There we get to watch the sun set into the sapphire-blue Bay of Banderas. And if the timing is right, spy a humpback whale showing off its best Herculean dive.
But we wanted to check out one of Mexico's other popular beach towns, Playa del Carmen, over on the Caribbean Sea. So, we took a trip across the country to see how Playa stacks up, do a bit of comparing and contrasting with Puerto Vallarta, and decide if this is a place we might consider living next.
The Vibe
On Mexico's Pacific Coast, Puerto Vallarta offers an Old World feel, but with all the modern amenities you could need. Multimillion- dollar properties line the cobblestone streets, a contrast of old and new. It's a beach destination that has held on to its charm and traditions.
The city revolves around the goldensand beaches, which extend, uninterrupted, for miles along the coast. The malecón (boardwalk) runs along it and is buzzing from sunrise to well into the wee hours of the night.
Massive cruise ships come in daily and hundreds of shops cater to them. But even with all that hubbub and tourism, the streets give way to tiny tortillerias and taco stalls that has made the same recipe for generations. It's a chaotic blend of old and new, adding to its authentic appeal.
Playa del Carmen, on the country's east coast, is just over an hour south of Cancún Airport. The beaches in Playa are narrower than in Puerto Vallarta, with incredibly calm, bath-like water.
A beach town that's retained its charm and traditions.
In Playa, the city revolves more around Quinta Avenida (5th Avenue) than the beach. Fifth is the main tourist drag that runs for more than a mile. It's a wide pedestrian promenade lined with high-end restaurants, cafés, and shopping malls. The town has a commercial feel, with 5th Avenue as the center of attention.
It also feels very European. Maybe it's because of the influx of Europeans who have settled and opened businesses there. When you walk down the street, more people speak English and foreign languages than Spanish. It's the opposite in Vallarta.
Playa del Carmen feels upscale, polished and new. Unlike the beaches in Vallarta— which are packed wall to wall with restaurants and bars—in Playa there are only a few, and they are spread out.
The Winner: Puerto Vallarta for its traditional Mexican feel, beachy vibe, and modern amenities.
Get Your Free Mexico Report Here:
Learn more about Mexico and other countries in our daily postcard e-letter. Simply enter your email address below and we'll send you a free special report - Why Millions of Americans Are Moving to Mexico.
This special guide covers real estate, retirement and more in Mexico and is yours free when you sign up for our postcards below.
Rentals
When it comes to housing, you can spend as little or as much as you're comfortable with—in either location.
In both beach towns, you can find rentals from $300 to $3,000…and up. Personally, a $300 rental in Vallarta is not a place I could comfortably live. I know of a place, in the middle of the jungle, a 25-minute walk to the beach, up 100-plus stairs to get there, and it doesn't have air conditioning. Personally, not for me, but the woman who lives there loves it.
So, it's probably better to focus on your comfort level, needs, and wants. I found some one-bedroom yearly rentals, with the amenities essential to us, for between $800 and $1,200 a month (depending on proximity to the beach).
The same terms apply to Playa del Carmen. A small yearly rental with one bedroom and one bathroom would be in the $1,000 to $1,500 range. A great place to look for Puerto Vallarta rentals is Facebook Marketplace and the Facebook group called "Puerto Vallarta – Affordable Yearly Rentals." This group has tons of affordable apartments throughout PV, but they get snapped up quickly.
On Facebook Marketplace, I found a rustic studio, partially furnished, available in Vallarta's Romantic Zone for $680. You'd have to spruce it up, but that wouldn't be hard. Pay attention to the furniture sales on Marketplace, too.
I had my eye on a condo with two small bedrooms, two bathrooms, and a balcony. It's a modern second-floor unit with a small swimming pool, about a 20-minute walk to the beach, and costs $828.
In Playa del Carmen, Facebook Marketplace is key as well. When I checked, there was a small two-bedroom, two-bathroom place, in an older building, walking distance to 5th Avenue, with a small pool. It was at the top of my budget at $1,286 but I thought it could be worth checking out and negotiating.
In both places, it'll cost more for short-term rentals and even more for the snowbird season of November to March.
Like everywhere, the closer you get to the beach, the more expensive properties are. Want a gym and a pool? You are going to pay more for that too. A small two-bedroom, two-bathroom condo with all the amenities in a good location in Playa del Carmen will start around $1,800 a month.
The Winner: It's a tie. In both places, it's easier to find expensive luxury spots than simple and affordable rentals. It'll take some digging to find your perfect spot but be patient and search daily and you'll find something.
The Food Scene
Puerto Vallarta is a known foodie destination. You can find every cuisine your palate desires. The street food in Vallarta is second to none, with taco stalls lining the streets in every neighborhood.
One of my favorite taco stalls sells el pastor tacos (pork slow roasted on a pineapple topped spit). The taco man slices the crispy bits off and adds it to a homemade tortilla then pops a slice of pineapple on top. Then it gets sprinkled with a handful of cilantro and onions and your pick from about seven homemade salsas from mild to burn your esophagus hot. It's about $1 per taco.
There aren't a lot of chain or big-box restaurants. Instead, most places are independently owned. Some restaurants are in people's homes. Like Dona Chela (see: facebook. com/cenaduriadchela). Get the chicken empanadas, they are huge and delicious and come with lettuce and a few salsas. You know you're eating a down-home local dinner when you can see the abuelita (granny) cooking in the kitchen.
Playa also has every cuisine under the sun but far fewer taco stalls and little joints. The restaurants in Playa del Carmen, especially along 5th Avenue, are epic, with interiors you'd find in a high-end Manhattan restaurant. Check out Sonora Prime (see: sonoraprime.com.mx). As you enter, you'll notice the high wooden-branch ceiling with deep green jungle plants hanging everywhere and the massive glowing bar full of every spirit imaginable.
The Winner: Puerto Vallarta for its sheer variety, the street tacos, and authentic options.
Activities
Both Puerto Vallarta and Playa del Carmen have plenty of activities, especially outdoor activities, to keep you busy.
In PV, you can zipline over the jungle, ATV in it, ride horses into the sunset, beach hop, go hiking in the Sierra Madre Mountains, and skydive over them.
Besides the mountains, you can do almost all those things in Playa too. But Playa is surrounded by ruins and cenotes. And they up the ante for outdoor activities.
An hour south of Playa are the famous Tulum ruins. And 30 minutes inland from Tulum, you'll find the Coba ruins. Both were large Maya cities in their heyday. Tulum is stately, perched on top of a cliff, 39 feet above the turquoise sea. Coba is the largest of the sites in the area and much of it is still swallowed by the jungle. Unlike at other ruins, you can actually climb the 136-foot-tall pyramid.
Cenotes are natural sinkholes caused by collapsing limestone that exposes the most brilliant cerulean water I've ever seen. It's crystal clear, full of fish and usually surrounded by jungle. The Mayans used them as a water source and thought they were sacred. Today they are a tourist attraction and one of my favorite things to do while on the Yucatán Peninsula. About 10,000 cenotes dot the area, so there are plenty to choose from.
The Winner: While both towns have numerous adrenaline-filled options, the cenotes win the activity award for Playa del Carmen.
Conclusion
Both Playa del Carmen and Puerto Vallarta are extraordinary in their own ways. However, Puerto Vallarta does edge out Playa del Carmen for us. The traditional charm PV exudes reminds me daily that I am indeed in Mexico. I didn't feel that in Playa. For now, we'll be staying in Puerto Vallarta, where you'll find me at the beach, taking in the stunning sunsets.
COST OF LIVING IN BEACH-TOWN MEXICO
When we go anywhere new, I keep detailed records on the cost of living. I use an app called Spending Tracker (you'll find it in the Apple and Android app stores) to track every receipt and dollar spent. After six months in Vallarta, we had spent around $2,500 a month. And we weren't really watching our budget. However, I got a great deal on rent through a friend. So, assuming we were paying market-rate rent, we would spend closer to $3,000 a month, total.
Additionally, Puerto Vallarta is a popular vacation destination for Mexicans, which keeps some of the prices down. So many tourists in Playa del Carmen are foreigners with deeper pockets, and the prices reflect that.
Since we were only in Playa del Carmen for a short recon trip, I don't have personal cost of living records like I do from Puerto Vallarta. However, I spoke to a selection of expats based there, and their cost of living was much higher than ours. They reported rents between $1,800 and $2,000, and monthly costs closer to $5,000, total. They, too, felt like they were splurging and felt no need to budget tightly. But I am certain we could live in Playa del Carmen for around $3,500 a month.
Get Your Free Mexico Report Here:
Learn more about Mexico and other countries in our daily postcard e-letter. Simply enter your email address below and we'll send you a free special report - Why Millions of Americans Are Moving to Mexico.
This special guide covers real estate, retirement and more in Mexico and is yours free when you sign up for our postcards below.
Related Articles
12 Best Destinations to Retire on Mexico's Caribbean Coast
Is it Safe to Travel in Mexico?
Upcoming Conferences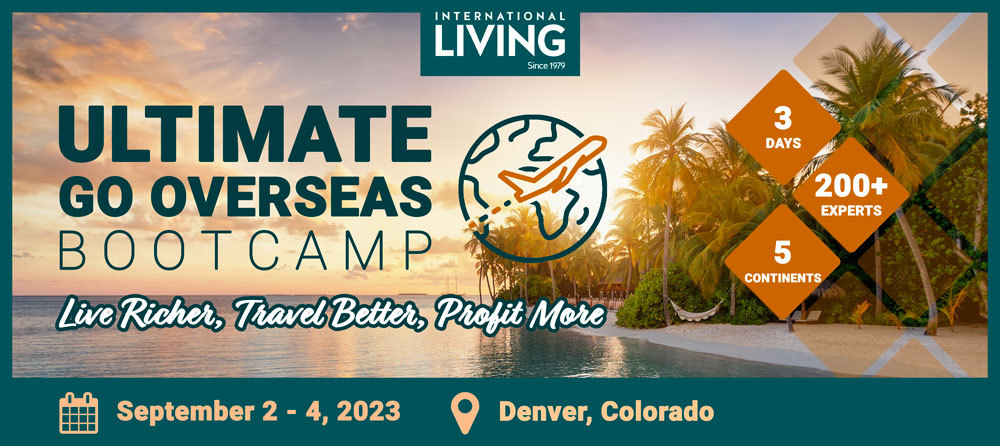 Most Popular Products
Popular Articles You May Also Like