A lot of retirees dream of lounging on beaches, sitting on lawn chairs soaking up the sun, watching sunsets, and listening to Jimmy Buffet belting out "Margaritaville." Unfortunately, in the U.S. now, even in Florida, inflated housing prices and a high cost of living have turned most of those dreams into an unlikelihood.
However, there's no reason to give up that dream because Ecuador has 1,390 miles of beaches with real estate priced at some of the lowest in the world. There's great diversity in the types of beach living Ecuador offers depending on your lifestyle, preference of climate, and the type of "vibe" you're after. Because not every beach town is the same, here are some expat favorites along the Pacific coast. We'll start out at Salinas and travel up the coast until you reach the "aha" moment you're looking for.
The average temperature on the coast ranges from the mid-70s F to 80 F, due to the Humboldt Current, which lowers temperatures so it doesn't get so hot that your flip flops melt into the sidewalks. However, rain and humidity differ by location. The rule of thumb is the further north you go, the sunnier the weather and the whiter the beaches. Each place is different in what it offers in terms of amenities and ambiance.
The entire coastal drive is approximately six hours by car from Salinas to Manta. There are buses that run up the coast to these towns for cheaper travel, or low-cost taxis can drive you. Here's a rundown of some expat-favorite beaches, as well as what to expect when you visit.
Salinas (2 hours from Guayaquil)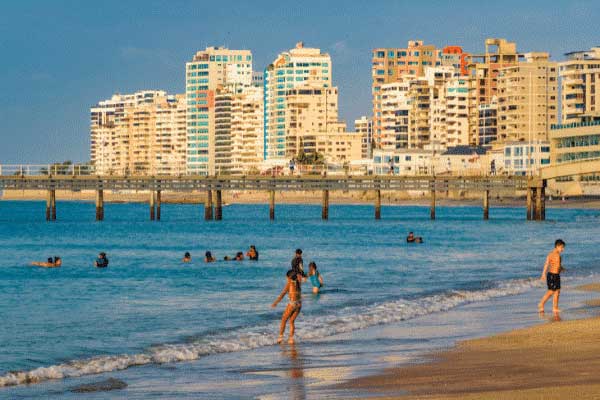 Salinas (population 50,000) is a relatively small town, which swells to 100,000 during Ecuadorian holidays as it's a favorite getaway to enjoy lazing on the beach, water sports, game fishing, whale watching, jet skiing, parasailing, and surfing. It's no wonder that it's the go-to place for expats who want to enjoy temperatures averaging 77 F year-round. Salinas has a hot, arid climate and the weather closely resembles a subtropical climate.
Modern condos line the 1.6 miles of white-to-gray-sand beaches in Salinas. There's a vibrant expat community so you'll be able to find like-minded friends, which is just one of the reasons expats move to Salinas. Because it's typically 10 degrees warmer on the coast than the Andes, it's a popular place for expats who want warmer weather and beachfront living.
For those who want to dip their toes in the warm waters of the Pacific Ocean for a month or two to try out beach living, accommodation is not hard to find in Salinas as there are lots of condo rentals lining the beach. Many rentals can be found on Airbnb starting at $600 a month for ocean views but inland the prices drop significantly. If this is your beach escape and you want to put down permanent roots in Salinas, a two-bedroom, two-bathroom condo with ocean views starts at $200,000 depending on your location and, again, prices drop significantly for inland accommodation.
The beach is divided in half by a jetty on a crescent-shaped bay with a malecon (boardwalk), loaded with street vendors hawking everything from shrimp on a stick to jet ski rides.
To the north is San Lorenzo Beach, Salinas' main and most crowded beach which sits on the malecon. Opposite the beach are dozens of restaurants and bars where you can grab a seafood dinner with fish or shrimp fresh off the boat for $6 at a trendy restaurant. The water is generally calmer than other beaches in the area, due to its sheltered crescent shape, making it ideal for swimming.
To the west of San Lorenzo Beach is Chipipe Beach which is quieter but with lots of hotels and restaurants nearby without the bustling crowds. It's better suited for families or for those not looking to party nonstop, but is still close enough for you to join the lively nightlife.
La Chocolatera is at the westernmost point of the Salinas beaches and has three main attractions: La Fae Beach, where a boarded walkway leads you to a seal colony; El Morro (or little hill), with a lighthouse and incredible views of Salinas; and La Chocolatera, whose tempestuous waves break on the dark rocks, which makes it look like a giant bowl of frothy chocolate being stirred, hence its name.
Amenities are at your fingertips, as Salinas has access to hospitals, high-speed fiber-optic internet, large grocery stores, and plenty of tiendas where you can pick up organic vegetables.  If you need to get to mega malls, first-rate hospitals, or the José Joaquín de Olmedo International Airport, Guayaquil (population 2.6 million), the largest city in Ecuador, is nearby with all the conveniences of the U.S.
Salinas also has a lively expat community and it's easy to find other expats by logging onto Salinas Expat Facebook or by heading to the malecon off San Lorenzo Beach.
If you just want to have an extended vacation, Salinas is one of the world's least expensive beach resorts. A private single room in a boutique hotel just one block off the malecon goes for $30 a night.
If you want to be nearer to the beach, Chescos Hostel & Hotel is located on San Lorenzo Beach on the Salinas' malecon. Rooms start at $35 and you'll be within a two-minute walk of a wide variety of restaurants, bars, and a supermarket.
For more unique experience try Hostería Ecológica El Faro, which is located east of the malecon away from the crowds on one of the finest beaches in Salinas. What makes it a standout is its lush botanical garden and onsite zoo filled with turtles, parrots, lemurs, and monkeys. Each room at Hostería Ecoloógica has a view of the garden and offers a free daily American breakfast and private beach area for swimming, starting at $100 a day.
Montañita (1 hour 30 minutes from Salinas)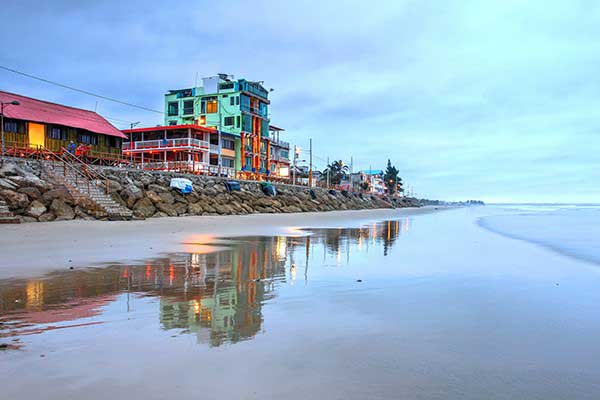 Montañita (population 1,000) is a beachfront bohemian village where surfing, hair braiding, jewelry-making, and artisan shopping is set against a backdrop of nonstop partying. Going barefoot without a shirt is the dress code and what happens in Montañita stays in Montañita, but without the glitz of Vegas. It's ideal for the kind of laid-back person who, regardless of age, wants to drink beers all day, ride bicycles around town, and try out their surfing skills. Some expats go there to enjoy the laid-back vibe and end up staying, and, although the expat community is small, there are long-haulers and an expat presence there year-round.
There's a steady stream of backpackers who come to Montañita to surf, as well as many cosmopolitan tourists hailing from around the world who just want to kick back and raise a little hell. Because of this, there are plenty of cheap digs in town for those who want to walk out their door and be in the heart of the party on Cocktail Street, as well as upscale resorts within walking distance of town for those who want to enjoy the vibe but want a place with modern amenities far enough away from town to get a good night's sleep.
For those wanting an upscale experience, Montañita Estates is a brand-new tropical boutique hotel sitting on a hilltop just a one-minute walk to Montañita's bars, restaurants, and the beach. The main attraction is their tropical oasis which has two beautiful pools and Jacuzzis, tucked into poolside gardens. There's a yoga studio and fitness center on site as well as Brawa Restaurant, a poolside bar and lounge. Prices start at $75.
Hotel Olympus is located in the heart of Montañita on the famous Cocktail Street a few meters from the beach. Rooms are not fancy or big but if you want to be in the heart of funky town and party all night, this may suit your needs. Prices start at $35.
Get Your Free Ecuador Report Here:
Learn more about Ecuador and other countries in our daily postcard e-letter. Simply enter your email address below and we'll send you a FREE REPORT - Ecuador: Live Well on Your Social Security.
This special guide covers real estate, retirement and more in Ecuador and is yours free when you sign up for our postcards below.
Olon (16 minutes from Montañita)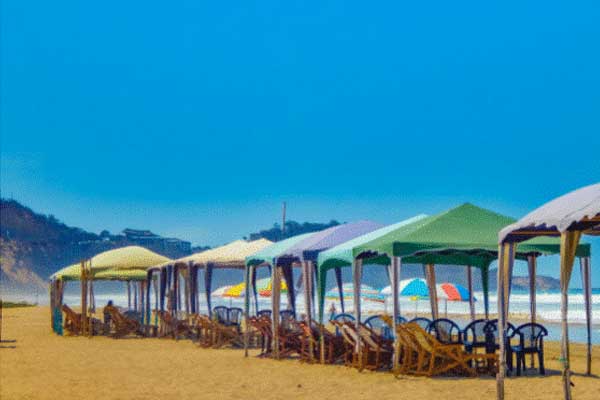 Olon (population 25,000) is a village for expats who want to live in a tranquilo beachfront community far from the maddening world. Because of its scenic beaches, Olon attracts tourists who are interested in renting modern condos lining the beach. The village is a bit rustic, but the main drag through town boasts a variety of restaurants and shops. Sometimes you'll need to travel to Libertador Bolivar, a 25-minute taxi ride, to shop at larger grocers.
The town has a small, close-knit expat community who have come to Olon to stay. There's a community garden where you can grow your own vegetables or nearby tiendas for buying organic vegetables. Restaurants on the main drag serve Indian, Italian, Thai, and Chinese food. Favorite hangouts include Roadhouse, which features Italian food with outdoor tables to enjoy the view of downtown, the Olon Brewery, where you can commune with other expats over beers, or the Pink Iguana, which serves Indian food as spicy as you can manage.
Olon has an internet café, coffee shops, a coworking space for remote workers, tattoo shops, and souvenir shops. It's more affordable than Salinas. You can take surfing lessons or just lay on the beach under a canopy and watch surfers or the occasional whale—which breach during their migration north in the winter months (June to October).
Temperatures in Olon average 77 F but the tropical climate can make it rainy and humid. But like everywhere in Ecuador, you usually get sunshine on most days. This is a good place if you want to live in a small village with a community of tight-knit expats. The beach is the main draw here as it's one of the prettiest spots on the coast.
Accommodation options are varied. You can go on the cheap and rent a one-bedroom, one-bathroom rustic apartment for $325 just 100 feet from the shore or live upscale for $700 for a two-bedroom, two-bathroom condo with an ocean view.
Puerto López (1 hour from Olon)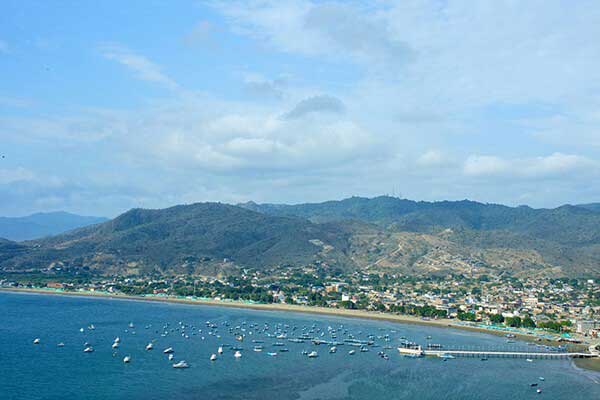 Puerto López (population 16,000) is a small fishing village set on the Pacific coast situated on an arched bay. The town features a vibrant waterfront area which is lined with many beachfront restaurants serving fresh fish right off the boat from their hauls of amberjack, dolphin, wahoo, marlin, and tuna. There are tiki bars that line the beach serving exotic drinks or giant pilsners for just a $1. There are some nightclubs, but most of the enjoyment takes place during the day when you can sit out under large umbrellas, or go on ecotours.
There isn't a large expat community here but there's plenty of action and lots of adventures which may draw you in. Puerto Lopez is a tourist town mainly from mid-June to October when you can go on a whale watching tour to where Humpback whales breach close enough to splash water on you.
You can also hop a boat to Isla de la Plata, 30 miles offshore, which was a pirate hideout dubbed "the Island of the Silver." But the main attraction is a boat tour to "The Poor Man's Galapagos" where you can spot blue- and red-footed booby, nazca booby, frigatebirds, albatross, pelicans, and other seabirds that nest in colonies, without the high costs. Snorkeling is popular as the island is surrounded by a coral reef, and on the way to the island you'll spot pods of dolphins.
For nature lovers, just north of Puerto Lopez is Los Frailes, which is part of the National Park of Machalilla. There is a two-hour hike in this area that goes first to Playita Negra, a black-sand beach, then to La Tortuguita beach, to a lookout point over the Pacific coast.
Also north of Puerto Lopez is the Indigenous village and archaeological site of Agua Blanca. For $5 you can hike around the site which ends at a sulfur lagoon, where guests can swim and cover themselves in mud from the bottom of the lagoon. There is also a lookout point and two small restaurants.
For history lovers, visit the Salango community, whose ancestral roots date back about 5,000 years, which is located near Machalilla National Park. Not only will you discover the ancient heritage of the Indigenous, but the island of Salango is home to beautiful species of seabirds like blue-footed boobies, frigates, and pelicans among others. There's also a marine sanctuary, where you can spot schools of tropical fish and coral reefs while snorkeling or skin diving.
But the beaches aren't the only reason expats head to Puerto Lopez. Because ecotourism is big in this area, there are several relaxing resorts which combine sun with guilty pleasures.
Hosteria Mandala is devoid of the usual distractions such as pools and television, instead this hotel is centered in a vast botanical garden with hundreds of different types of plants, trees, and flowers where iguanas, white bats, and hummingbirds home. The beach cabins/rooms have access to terraces with hammocks with views of the botanical gardens. Rooms start at $45.
For those wanting a more upscale, private oceanside retreat, Hosteria Ecologica El Faro features an on-site zoo with turtles, parrots, lemurs, and monkeys. There's a free daily American breakfast and a private beach for swimming. Rooms start at $100 for 2 people and they'll organize off-site tours for you.
Manta ( 1 hour 50 minutes from Puerto Lopez)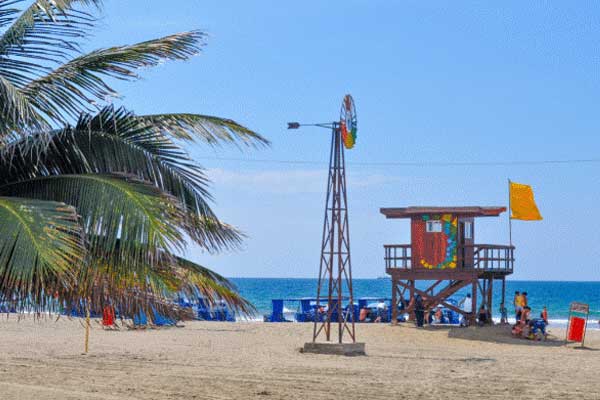 One of the fastest growing expat communities is in Manta (population 220,000), due to its good amenities and wide stretches of packed-sand beaches you can easily walk barefoot on. It is now attracting more international travelers, younger expats, and Ecuadorians who come for work. Because it is further up the beach, Manta has a desert microclimate and is warmer and has a low level of humidity, with temperatures in the 70s F and 80s F.
Manta is Ecuador's third largest and fastest-growing city and the busiest and largest commercial fishing port in Ecuador, and you'll find all the services and facilities you'd expect. Because of the seaport and the many fish-processing plants located here, Manta has a bit of an industrial feel. There is a well-organized expat community, but bargain properties are harder to find, snapped up by Ecuadorians who rent to the growing number of workers flocking into the city to build a new oil processing facility near there.
Oceanfront condos line the coast, offering panoramic views of the ocean and stunning sunsets.  Playa el Murcielago's beach is a favored expat beach because the water is relatively still with no crashing waves, making it easy to swim in. Bright-blue canopies line the beach and vendors on bicycles stroll the beach hawking ice cream or souvenirs.
In recent years the city has been upgraded with modern, paved streets lined with colorful flowers. There are city buses so you don't need a car. Because Manta is more industrial, there are lots of modern amenities including several malls like Mall del Pacifica, which has a Mega Maxi grocery store and U.S.-like stores for shopping. To reduce traffic, one of the preferred means of travel is by bicycle and there are plenty of bike lanes running through the city.
Because this is a major port where Ecuadorians flock to work, the city has a variety of great amenities. There's a variety of restaurants downtown offering all types of different cuisines. Manta has fast and affordable high-speed fiber-optic internet, and lots of accommodation with wide price ranges. Rent for a two-bedroom, two-bathroom condo, with an excellent view of Playa Murcielago, averages $700 per month.  Purchase prices for most of the condominiums normally run from $200,000 to $300,000 for oceanfront views.
There is a new IESS hospital, as well as a private hospital and a free-for-all hospital under construction. Manta also boasts good veterinary clinics offering a full range of services.
The Eloy Alaro International Airport has flights directly to Quito and is planning to open flights to Panama and Miami in the near future.
Manta is quickly becoming a hot spot for retirees and a has a good expat community. Because of the influx of tourism and foreigners adopting this as their home, it continues to transform into a beachfront mecca for those wanting more amenities and warmer, dryer weather.
Get Your Free Ecuador Report Here:
Learn more about Ecuador and other countries in our daily postcard e-letter. Simply enter your email address below and we'll send you a FREE REPORT - Ecuador: Live Well on Your Social Security.
This special guide covers real estate, retirement and more in Ecuador and is yours free when you sign up for our postcards below.
Related Articles
Move to Ecuador for Its Wealth of Charms
An Overview of Traditions and Culture in Ecuador
Ecuador Coastal Itinerary: Driving the E15, Ecuador's "Ruta del Sol"
Popular Articles You May Also Like