What's the weather like where you are right now? And what do the upcoming months have in store for you weather-wise?
Are cold northerly winds, deadly ice, and heavy, wet snow part of the forecast? (And that's not to mention the darkness.)
I used to dread winter in the U.S.—when the sun didn't show itself until well after breakfast and then slipped away again before the afternoon rush hour traffic even thought about getting started.
So a few years ago, I did something about that. In 2001, my husband and I moved to Ecuador. We haven't shoveled snow since and the only heavy coats we own now are for winter trips back to the States.
I'd be lying if I said that we moved to Ecuador just because of the perfect weather. But for us, it is a huge part of Ecuador's appeal. Tucked in a valley in the Andes Mountains, the little village of Cotacachi where we now live offers up spectacular scenery and what, to us, is the world's best climate.
Daytime temperatures rarely rise above 80 degrees and nighttime lows hardly ever drop below 40. Humidity is low and because we are at a high-mountain elevation, we don't have mosquitoes. And yes, we have a rainy season, which I love. It rarely rains all day, and the fog curls about you as you walk to dinner or to hear some local music in the evening.
And the trusty sun? It shows its face at 6 a.m. and bids us buenas noches at 6 p.m.—every day of the year! (You can thank our location on the equator for that.)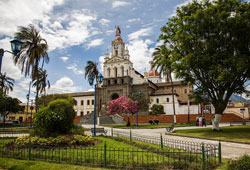 And the warmth of Ecuador extends far beyond the weather. From the moment we first stepped off the plane for our scouting visit back in August 2001, we were wrapped in the warm embrace of the locals. Ecuadorians are friendly, hospitable, and will go out of their way to help you.
So what were our other reasons for moving to Ecuador? The stunning scenery, as I said before, is a pretty big draw.
As is the low cost of living. Again thanks to our temperate climate, we don't need heat or air conditioning for our home. Our total monthly expenditure for electricity and propane for hot water never amounts to more than $30. (Food costs here are very low, too, and rent or buying property is affordable. That's why, all in, a couple could live well here for $1,600 to $2,000 a month, including rent.)
But mostly, we wanted to have a late-life adventure in a place that ticks all those boxes. Ecuador is incredibly scenic, even more incredibly affordable, the people (like the climate) are warm and ultra-agreeable…and because we could never ever even possibly freeze to death in the winter or suffer heat stroke in the summer, we can be outside in the sunshine nearly every day enjoying it all…
Get Your Free Ecuador Report Here:
Learn more about Ecuador and other countries in our daily postcard e-letter.
Simply enter your email address below and we'll send you a FREE REPORT – Ecuador: Live Like Royalty on Your Social Security.
This special guide covers real estate, retirement and more in Ecuador and is yours free when you sign up for our postcards below.
Get Your Free Report Here