San Diego-native Tom Richter, 57, was already living in paradise when he decided to move to Phnom Penh, Cambodia. A corporate sales executive, he'd decided that moving to Central America was his best option for an early and affordable retirement. So he'd moved to a house in the Costa Rican countryside, where he could enjoy retirement on a Social Security pension.

Costa Rica has plenty to offer retirees. But for Tom, you just can't beat having family close by. And so he left Costa Rica behind for a new life in Phnom Penh, where his son runs a travel agency. Since his arrival, Tom has fallen for this historic and welcoming city, where his $1,000-a-month Social Security check more than covers him for everything he needs…including a central apartment with a balcony, great food, and regular adventures throughout Southeast Asia.
"I came to Cambodia to be closer to my son, who had built up a new life for himself here with a thriving business," he says. "But then I discovered that Cambodia was just as interesting a country as Costa Rica. There is a real freedom to be found here. For example, I needed to hire a lawyer to guide me through the whole relocation process in Costa Rica. But in Cambodia, all I had to do was make a quick application through an agent, and was able to get a one year visa residence within a few days. And the local people are very friendly to foreigners.
"Cambodia is very safe, and even the country's visa system is welcoming toward visitors from First World countries." Tom came to love Phnom Penh while visiting its key sights during his first few weeks in the city.
"Phnom Penh has hundreds of years of history that can be discovered by visiting the main landmarks. The Royal Palace allows visitors to join a special tour each day where you can see so many cultural highlights, including the Silver Pagoda (a royal tower with a spectacular silver floor, home to Cambodia's Emerald Buddha) and the Throne Hall, where many national ceremonies take place." Tom was also inspired by the city's mix of colonial villas and traditional and modern Khmer architecture, which makes the city an attractive place to live.
"The street layout was developed during the French colonial period, so Phnom Penh has a very Parisian feel, with big, open, tree-lined boulevards connected to each other," he says. "This is unique compared to other cities in Asia. And it makes city-wide travel and orientation easier for expats and visitors.
"What I like most is that there is a very local vibe that comes from people in Phnom Penh. Apart from being extremely friendly and happy to meet foreigners, it is just really cool to be able to go to the street corner in the morning to grab a fresh coconut and a newspaper, while shooting the breeze with some of the tuk-tuk drivers who speak good English." And when not kicking back and enjoying local life, Tom has plenty of time (and money) to explore other countries in Southeast Asia.
"Cambodia is my new home, but I love traveling and exploring the other countries in the region. There are plenty of reliable, low-cost airlines like AirAsia or Jetstar, which let me book flights in advance for as little as $20 per trip. By booking months ahead of time, I get the best promotional prices on flights as well as hotels. I've been to Thailand, Indonesia, Malaysia, and Vietnam in the last 12 months alone."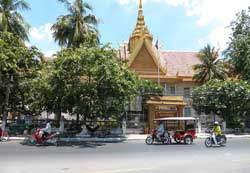 When not traveling, Tom sticks to a lifestyle routine that helps him keep fit. But he still enjoys the culinary treats that Phnom Penh has to offer.
"Nearly every day I get up and go to my local gym to work out. It only costs me $50 per month, but I use it at least five times per week. After that, I usually go out for lunch with my son or with expat friends, where we explore new restaurants or just go to our favorite places to eat."
Dining out at local restaurants is both an affordable and delicious alternative to eating Western foods. And it did not take Tom long to figure out where the best places are to eat.
"In Cambodia, it's easy: You just follow the crowds! If a restaurant is busy and filled with locals, they're doing something well. If you eat out every night locally, you could budget for around $150 per month, as you will spend only $3 to $4 per meal at most for rice and a meat or fish dish."
Tom lives on a basic U.S. Social Security pension. He has found that his money goes a lot further in Cambodia than it ever did back in the States. "My check from Social Security comes to just over $1,000 per month. But in Phnom Penh that's a sizable amount, considering the average local salary is around $150 to $200 per month."
His main expense is rent, which comes to $250 per month for a one-bedroom, one-bathroom apartment with a balcony in the center of the city. Utilities average around $80 to $100 a month, including water, electricity, garbage, cooking gas, and drinking water. About $200 a month is enough to keep his fridge filled with food, fresh fruit, and vegetables. Tom doesn't drink alcohol, but he does socialize at various expat bars and restaurants. Here his friends enjoy draft beer for 50 to 75 cents a glass and mixed drinks for $2 to $3 each, including top-shelf spirits.
One of the first things he did after arriving in Cambodia was arrange for an international driving license for $200. With this, he can drive a small motorbike around town. Gasoline and maintenance cost less than $50 a month. And despite having paid $1,000 for his Yamaha FZ, the bike has retained most of its value, in case he wants to sell it later on.
To get a phone number, it's simple to set up a local SIM card, as long as you have a copy of your passport and address. The cost of local and international calls has dropped a lot in recent years; some operators charge less than five cents a minute for local calls and from seven cents a minute for international calls. In total, Tom spends just $10 a month to cover the cost of his calls and internet.
He uses VoIP services like Skype or Messenger to chat for free with family and friends back home, which saves him a lot of money.
After being divorced for more than a decade, Tom didn't expect to find love again. But after living in Phnom Penh for 18 months, Cupid's arrow struck when he met Monique, a French expat. They met through friends, and as Tom puts it, "We just fell in love with each other from the first meeting. At the moment, I am just enjoying sharing the company of an amazing woman, and it feels great to love someone who loves me back.
"Never in my wildest dreams did I imagine I would be spending my retirement in a tropical country like Cambodia, with such a relaxed lifestyle, or that I would have a good woman by my side, as well as having my son nearby. This country has made me feel 15 years younger, compared with living in the States. I made the right decision coming here, and I know it."
Visas and Healthcare in Cambodia
The Cambodian visa system is one of the simplest and least bureaucratic in the world. A one-month standard visa can be obtained on arrival at the airport for just $25 and two passport photos. This visa can then be extended at the Immigration office or through a travel agent.
For $285 and a simple application form, you can automatically apply for and be granted a one-year extension for your visa. This visa also allows you to make unlimited entries through Cambodian immigration and border control, so you can use the country as a base for other adventures across Southeast Asia.
Phnom Penh has several new, international-standard hospitals. These include Royal Phnom Penh Hospital (part of the Bangkok Hospital network), as well as several highly regarded clinics like SOS International and Naga clinic.
When Tom urgently needed a refill of a medicine, he was able to call his doctor, who arranged to have the medicine delivered directly to Tom's apartment. On another occasion, he went in to have a suspected cancerous growth looked at. His doctor arranged an immediate surgery to remove it there and then—there was no waiting period. Tom paid all these expenses directly. And they cost less than 5% of what they would have in the U.S.
"Everything from basic healthcare checkups to extensive surgery and comprehensive dental treatments are available in Phnom Penh, at very inexpensive prices," says Tom.
"A lot of people like to go to International SOS for their vaccinations, as it has a cold chain of storage for all its vaccines, so it can guarantee the quality of its stock."
The Royal Phnom Penh Hospital is considered the best hospital in the country. It covers all areas of treatment, offers the highest-caliber accident and emergency room, and only employs Western-educated doctors. Annual health check-ups cost just $250 to $400 for a full day of tests and consultations.
Get Your Southeast Asia Report Here:
Learn more about Southeast Asia and other countries in our daily postcard e-letter.
Simply enter your email address below to sign up for IL's free daily postcards and we'll also send you a Free Asia Report – The Best Islands, Beaches and Cities: Southeast Asia's Top 6 Retirement & Vacation Destinations.
Get Your Free Report Here