What's a great way to plan your travel itinerary through Spain? In my experience, you can't go wrong by focusing your attention on the cities and regions that boast the most jaw-dropping Moorish attractions.
The Moors have left an indelible mark on modern Spain, with many of their most impressive mosques, fortresses, and palaces still around today. Spain's food, architecture and language have been wonderfully enriched by Moorish culture.
The Moors made their way to Spain from North Africa in 711 AD, ruling different parts of the country for more than seven centuries. Today, you can still find hidden parts of Spain that'll make you feel you've stumbled into a Moroccan marketplace, complete with artisan crafts, colorful fabrics, and tiny cafes where you can enjoy spicy clay-pot cooking and sip sweet, minty tea from a glass.
Tidy rows of orange trees, narrow, twisting alleyways that maximize shade, heat-reflecting whitewashed buildings and cool, inviting courtyards are all part of the Moorish look that permeates so many parts of this nation, especially in the southern Andalusia region. Granada, Cordoba, and Seville are renowned Moorish hotspots, but lots of other Spanish cities have their share of must-see Moorish sites too.
By planning your next Spanish travel adventure around epic Moorish attractions, you'll end up visiting some of the most breathtaking parts of the country—and gain a greater appreciation of a unique and vibrant culture in the process. So to help you get started, here are some of my all-time favorite Moorish sites in sunny Spain:
Alcazar of Seville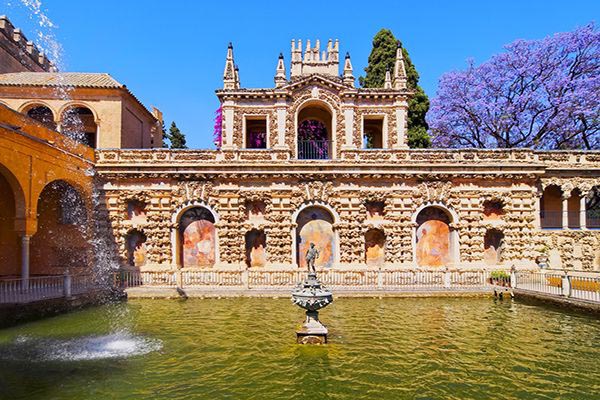 The ornate interiors, tile decorations, and spectacular facades of this royal palace incorporate a range of architectural styles, from Gothic and Romanesque to Renaissance and Baroque, with Islamic designs and patterns widely used during its numerous renovations.
The Spanish royal family still occupies the palace's upper levels whenever they visit Seville. The grand buildings, fragrant gardens, courtyards, and reflection pools are so picturesque that they served as a film set for Lawrence of Arabia in 1962, and more recently featured in the fifth season of Game of Thrones.
Even the names of palace features are enchanting: Poet's Garden, Grotesque Gallery, Admiral's Room, and Maiden's Courtyard. Give yourself two to three hours to explore the entire Alcazar thoroughly. Entry cost is about $13, with children free.
Another classic Seville attraction is the Giralda, in the city center. Originally built as a minaret for the city's Great Mosque, it's now a UNESCO-registered, 342-foot-tall cathedral bell tower. The walk to the top is along a series of ramps instead of stairs. Seville's cathedral is the largest Gothic cathedral on earth.
The Alhambra (Granada)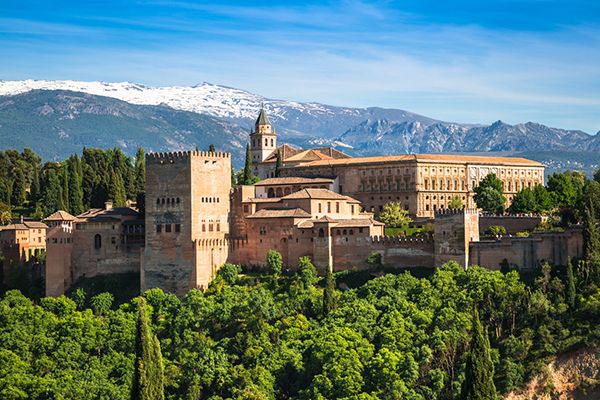 Of all Spain's fairy-tale-like Moorish sites, none has a setting more spectacular than the Alhambra fortress, backed by the snowy peaks of the Sierra Nevada. It started out as a walled citadel in 889 AD and was later transformed into a grand Islamic palace and then the royal court of King Ferdinand and Queen Isabella. It's considered by many to be the highest achievement of Moorish art in the country, with mosaics, carvings, and ancient script adorning the walls and courtyards.
The Alhambra's centerpiece is the Palacios Nazaries complex, a collection of palaces, patios, corridors, high walls, towers, and elegant rectangular pools decorated with carved wood, stucco and intricate tiling. The visual grandeur is no less eye-popping at The Generalife, a 14-century sultan's estate filled with shaded pathways, tinkling fountains, ancient trees, and flower-filled patios.
You can walk to the fortress from the center of Granada in about 15 minutes—the last section is the steepest. Alternatively, take the C3 bus that leaves every 10 minutes from Plaza Nueva and get off at the 'Generalife' station. Cost for a day visit, which includes the Gardens, Alcazaba, and Generalife, costs around $8.40 and is well worth it.
Mosque of Cristo de la Luz (Toledo)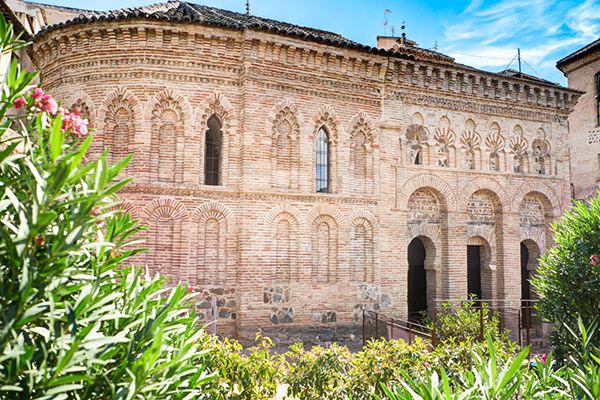 The ancient city of Toledo in central Spain is a 35 minute, $12 train trip from Madrid, and is well known for its fusion of Christian, Jewish, and Arab architecture. This small, beautiful mosque is one of the few in the country that's still in virtually the same condition as when it was first built (in the year 999). Around 1085, it was converted into a Christian church.
Made of small stones and brick, its façade has been constructed to resemble the Mosque-Cathedral in Cordoba. Inside, horseshoe-shaped arches are supported by decoratively carved columns; the highest arch is 30 feet above the floor. Entry fee is $2 to $3.
The Mosque-Cathedral of Cordoba
For more than three centuries, the Great Mosque of Cordoba was this city's hub of Islamic life and was renowned throughout Spain for its size and beauty. Its red and white arches, symmetrical rows of Roman columns and stylish use of ornamental gold, silver, ivory, brass, and copper make it one of the most influential Moorish architectural achievements.
Built in 784, it became a Catholic church in 1286. It features 856 columns made of marble, onyx, jasper, porphyry, and granite. An entrance patio lined with orange trees leads to an expansive interior protected by sturdy stone walls and weighty gold doors. The interior mosaics are carefully crafted and the entire structure feels grandly serene.
Entry is around $11.30 and there's no need to buy tickets in advance. Audio guides are rented near the ticket office and provide all the information you'll want to know about this revered site.
The Aljaferia (Zaragoza)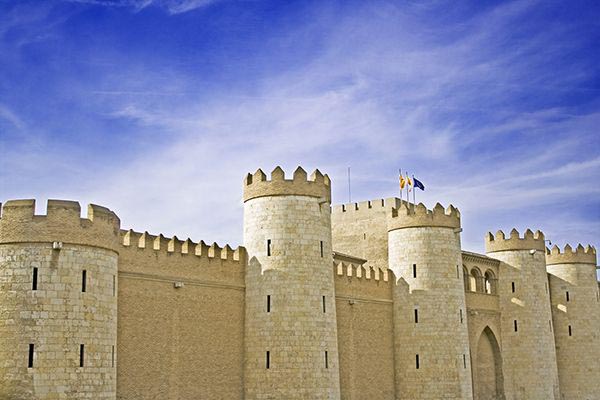 Although Andalusia is where you'll find the majority of Spain's most iconic Moorish wonders, many well-preserved attractions survive in other areas too. One of the most notable is the Aljaferia, an 11-century palace located in Zaragoza, the bustling capital of north-eastern Spain's Aragon region.
Like many Moorish constructions, it eventually fell into the hands of Catholic monarchs who made their own alterations and additions. These days, it functions as the headquarters of Aragon's regional parliament. The sheer grandeur of the site highlights just how rich and powerful the Moors were and how important this place was to their culture.
Must-sees include the ancient, five-level Troubadour Tower, Taifal Palace, Mudejar Palace, Palace of the Catholic Monarchs, Throne Room, Golden Hall, San Martin Chapel, and the Courtyard of Santa Isabel. Entry is around $5.60 but if you visit on a Sunday, it's free.
The Alcazaba (Malaga)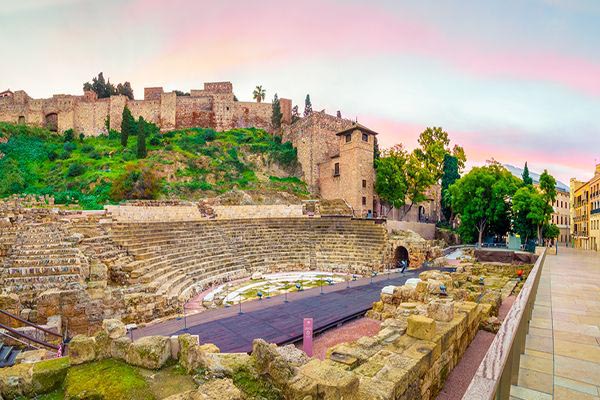 Malaga, on the Costa del Sol, is probably more famous for its high-rise resorts, yellow-sand beaches, and sun-seeking retirees than its historical architecture, but it's got plenty to offer including a superb Renaissance cathedral and the Alcazaba, a massive hilltop citadel positioned on a lush, green hill overlooking one of the city's most popular squares.
Originally built in 1063, it has been remodeled and refined over the centuries and is connected to the Gibralfaro Castle by a steep, walled passageway. If you're after some healthy exercise, make your way up to the castle for a superb panoramic view of Malaga and its shimmering port.
Tickets to the castle and the Alcazaba cost around $4, with free entry on Sundays. There's an easy-to-use ticket machine just inside the front entrance.
Off the Beaten Track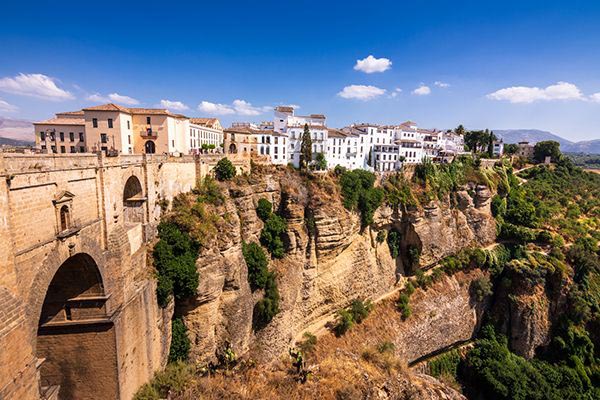 While Spain's more famous Moorish attractions get the bulk of visitor attention, there are hidden pockets of Moorish beauty to be discovered in out-of-the-way spots too. For example, the mountaintop city of Ronda, about an hour's drive inland from Marbella, boasts several spectacular Moorish sites.
Ronda's Old Moorish Town is connected to the 15th-century New Town by the Puento Nuevo, a stylish stone bridge offering brilliant views of the deep El Tajo gorge. If you're lucky enough to visit during springtime, you'll see the entire valley covered in wildflowers.
The city's Arabic baths are the best preserved in Spain and date from the 13th century. You'll find them in the San Miguel Quarter—entry is $4.25. Also worth exploring is the Mondragon Palace, where there's a municipal museum and some truly beautiful, tranquil gardens. The palace was originally built in 1314.
The gates and walls surrounding Ronda date from the Moorish era, and there's a second palace at La Mina, where a 231-step staircase has been painstakingly cut out of the rock. In Moorish times, this led to the only water source for the city, and the steps also provided an access point for Christian troops to force their way into the city in 1485.
When you've had your fill of Moorish sightseeing in Ronda, check out the bullring and the river pools at the Cat's cave (about 20 minutes' drive from town), or make your way to one of the city's high viewpoints (miradors) overlooking the picture-perfect valley.
The Takeaway
If you look hard enough, you can find little-known Moorish hotspots in just about every corner of Spain. The Moors legacy is evident from Vigo to Valencia and out on the Balearic islands. There's even a stunning medieval castle on the Rock of Gibraltar that housed the area's prison until 2010… and don't miss the magnificent Moorish Baths in the basement of the Gibraltar Museum.
Get Your Free Spain Report Here:
Learn more about Spain and other countries in our free daily postcard e-letter. Simply enter your email address below and we'll also send you a FREE REPORT - Live the Good Life in Sunny, Affordable Spain.
This report covers real estate, retirement and more in Spain and is yours free when you sign up for our IL postcards below.
Related Articles
Tarragona, Spain: Seaside Charm and Roman Culture on the Mediterranean
10 Things to do in Llafranc, Spain
Escaping the Cold of Toronto for the Warmth of Jávea, Spain