Imagine making the decision to leave your teaching job in a Canadian high school and get on a plane to Mexico. That's what Nadia McLean did, and she never regretted her decision. A Canadian by birth, Nadia began her teaching career in 2000 and worked for 22 years before deciding to move to Mexico.
Life as a high school teacher can be grueling at times. Her life in Mexico has been a complete contrast and has helped her learn to get in touch with her creative side and even learn the art of doing nothing. She was eager to experience the Mexican culture and live a new adventure. Why Mexico City? Well, she initially went there to perform with her music group, and after meeting her now-husband the rest is history. While her partner was a large factor in her decision to live in Mexico, it was the natural landscapes and food that made her fall in love with the country.
Embracing a New Lifestyle
Canadians live a busy and often stressful lifestyle with little work-life balance. We often have a long list of things to do and never enough time to finish them. Canada is also an expensive country to live in. Toronto is among Canada's most pricy cities to live in and is quickly climbing the list of most expensive cities in the world.
In Mexico, people are a lot more relaxed, things take longer, and the weather is always great. Mexicans tend to have more patience and don't stress so much about things. "In Mexico, I have a better quality of life and time to do the things I love," Nadia says. As a bonus, it's less expensive to live there.
When I asked her what Mexico City was like, she said "It's fantastic!" The city has something for everyone. It's a hub for finance, business, culture, and tourism. The largest metropolitan in North America, Mexico City's architecture is probably its best asset. The area has a rich history and there are many beautiful sites to visit. For example, the Catedral Metropolitana de Mexico is perfectly located in the historic center of the city. Not far from Mexico City is Teotihuacan, the site of ancient ruins dating back to before Spanish colonization. There are endless interesting things for residents to do.
Nadia loves to visit some of Mexico City's best neighborhoods. "I do enjoy just going around some of the awesome neighborhoods… world-famous cuisine, great music and nightlife, it's pretty awesome." She and her husband enjoy an active social life and appreciate eating out and seeing live shows at a restaurant or bar. And, Mexico has scores of options to choose from.
One of her favorite Mexican national holidays to celebrate is Dia de Muertos (Day of the Dead). On November 1, Mexicans celebrate their lost loved ones and keep their memory alive, a tradition Nadia says is beautiful. There are also festivals year-round.
Like any other urban center, getting around in Mexico City means having to deal with traffic. Taxis and public transportation are the best options unless you know the city very well. Signage is not always the clearest, although if you get lost, people are very helpful in offering directions. Even so, those directions aren't always accurate.
Get Your Free Mexico Report Here:
Learn more about Mexico and other countries in our daily postcard e-letter. Simply enter your email address below and we'll send you a free special report - Why Millions of Americans Are Moving to Mexico.
This special guide covers real estate, retirement and more in Mexico and is yours free when you sign up for our postcards below.
The Cost of Living
Living in Mexico is less expensive than in Canada, but for locals who earn lower salaries, it balances out. Nadia says, "the average house cleaner makes around $20 a day. In Canada, the same service would cost you $200 for four hours of work." Rent is cheaper depending on the area you live in. Mexico City is a little more expensive than the smaller neighboring towns. Nadia still owns property in Canada which she hopes will help finance her life in Mexico in the long term.
In terms of the cost of food, a nice dinner will run you around $27 per person. Everyday items from the grocery store like eggs will cost around 30 cents, and a six-pack of beer will run you less than 1$ per beer. Meat is nearly the same price as in Canada. A kilogram of beef will cost about $36.
Locally grown fruits and vegetables are cheap and accessible year-round. This is especially true if you go to the farmers' market and avoid larger chain supermarkets. There, you can barter and get lower prices. Nadia says that "depending on your bargaining skills, you can get some pretty good deals on things." On average, everything is about 25% to 40% less expensive in Mexico, although the cost of living has been going up in the last 5 to 10 years.
As for the healthcare system, it's quite good, says Nadia. It's publicly funded; however, every person pays a small amount for visits to doctors. As a legal resident or citizen, you can go to any doctor, pharmacy, or clinic to access what you need. You will pay around $1 to $2.50, and the balance is paid by the federal government.
A Typical Day
Nadia loves to sing and play music. Her husband happens to be a professional musician, and together they formed a band. Because there is an amazing nightlife and a lot of value is placed on music and art, they can play regular shows in clubs and restaurants around the country. But that's not all. Nadia says, "I took up relaxing, reading books, enjoying time to take it easy and do nothing." Her lifestyle completely changed when she left Canada.
On a typical day, she exercises and goes for a run before 8 a.m. She then takes some time to relax and drink her coffee. She does her shopping early in the morning when the stores are less busy. In the afternoon, they have a siesta and spend time in the hammock. When the sun goes down, they love to watch the sunset from the roof of their home or on the beach. Sometimes, they perform a show at night. Afterward, they like to go out for tacos or tlayudas; some of the most popular, inexpensive, and easy-to-find Mexican street foods.
Nadia's Advice
If Nadia could offer advice to anyone considering a move to Mexico, it would be to make sure you have a basic knowledge of Spanish. If you don't, she recommends you start learning before you move there. "Many Mexicans do speak English, but it's very much appreciated when you try to immerse yourself in the culture. Mexicans in my experience have always been very patient and helpful when I was learning the language."
Living in a Spanish-speaking country makes it easier to pick up the language quickly. She also suggests making a list of things you want to do and see, not just locally but everywhere in Mexico. There are many towns in the country with rich histories worth experiencing. Tlaxco, near Mexico City, is one of her favorites. As a country, Mexico has desert, mountains, coastal areas, and even jungle. Nadia says the country is "diverse and amazing. From the north to the south everything is quite different." All of these regions are worth visiting regardless of where you end up living.
Like any big city, you should be aware of your surroundings and where you are in the city. Some neighborhoods are safer than others. Nadia has a pragmatic view of this. "As a woman, I wouldn't go walking around certain areas alone at night, but I also wouldn't do that in Toronto (Canada). I have never felt at risk, but I don't put myself in dangerous situations."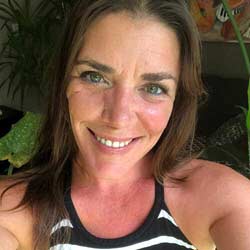 Nadia McLean grew up in Sudbury, Canada. Her lifelong love of travel took her to Italy when she graduated university, where she taught English while soaking up the culture and enjoying la bella vita (the good life). After a traumatic experience in 2006, Nadia's perspective of life shifted and she vowed to take more chances. Now, she embodies the phrase "you only live once." In her spare time, Nadia enjoys the culinary arts and glass blowing for fun.
Get Your Free Mexico Report Here:
Learn more about Mexico and other countries in our daily postcard e-letter. Simply enter your email address below and we'll send you a free special report - Why Millions of Americans Are Moving to Mexico.
This special guide covers real estate, retirement and more in Mexico and is yours free when you sign up for our postcards below.
Related Articles
The Best Places to Live in Mexico as a U.S. Expat
5 Places to Live in Mexico…and 3 to Avoid
Can You Live in Mexico For Under $1,500 Per Month?
Popular Articles You May Also Like