When it seems you're ready to give up on your dream, one email can change everything. That's what happened to Dave and Lesley Buckerfield, two Canadian B&B owners who now call Mexico home.
Dave and Lesley own Sin Duda Villas, a beachside B&B (and winner of a TripAdvisor Travelers' Choice Award) in a small Mexican beach town called Xcalak. Only eight miles north of the border with Belize, Xcalak (pronounced "ish-ka-lak") is at the far southern tip of the Yucatán peninsula. This is the same strip of Caribbean coast where you'll find the spring break metropolis of Cancún, resort-rich Playa del Carmen, and trendy Tulum. It was also one of Mexico's first regions to reopen after the coronavirus lockdown.
In Xcalak, though, you won't find any mega-resorts, high-end shopping, or fast food chains. It's a quiet village of 400 residents with miles of undeveloped beaches backed by thick jungle. Stretching along Xcalak's coast is the second-largest barrier reef in the world, part of which is designated as the Xcalak Reef National Marine Park. The protected waters along the reef abound with underwater life, making Xcalak both a world-class fly-fishing destination and a snorkeler's paradise.
Beach life was always in the back of Dave and Lesley's minds, especially during their time living in Canada's Northwest Territories. For 36 years they lived in a town called Hay River, known as the "Hub of the North." The name could just as easily have referred to Dave and Lesley's home, which "always seemed to be the social gathering spot for our friends and for our kids' friends," says Lesley. "We loved to entertain and have our family and friends around us."
We wanted an income and something to do.
Avid travelers, Dave and Lesley loved snorkeling and scuba diving—something they couldn't do in northern Canada, where temperatures get as low as -40 F. Their dream was to live on a beach, and they decided running a B&B would be the perfect way to stay busy and social. "We wanted a small income and something to do," Lesley says. "We love people. We liked to entertain. It just made sense."
In 2006, they took the first steps towards making their dream come true when they visited the Bahamas and fell in love with Galloway Beach on Long Island. "It was beautiful," says Dave. "So laidback, so friendly. It had Canadian banks, and English was spoken everywhere." It seemed ideal, and they bought a beachfront property with visions of building a B&B and moving to the Bahamas. New to the hospitality business, they knew they'd need help, and turned to their good friends for advice—the owners of a B&B called Sin Duda Villas in Xcalak.
Eager as they were to start building their property, construction didn't get off to a smooth start in the Bahamas. For years, Dave and Lesley traveled between Hay River and Galloway Beach, pushing for progress. But after five years all they had to show for their efforts was an empty lot. "It was an exercise in frustration, and we spent thousands of dollars on permits and surveys and such," says Lesley. "It was very stressful and was getting to the point where we were ready to give up."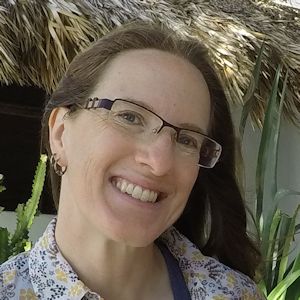 It was when they were considering abandoning hope of ever owning their beachfront B&B that an email arrived from the owners of Sin Duda and "the universe fell into place all at once." Running the B&B was getting tiring, and they were getting older, the owners said. They knew about Dave and Lesley's frustrations in the Bahamas and suggested an alternative—how would they feel about taking over Sin Duda Villas and moving their dream to Mexico?
It was exactly what Dave and Lesley had been waiting for. "Within a week, Dave was on a plane to Mexico to meet with lawyers and go over the books and numbers."
Five years later, B&B life in Xcalak is still agreeable. Dave and Lesley's typical day includes preparing for guests to depart or arrive, tidying up the beach, snorkeling, and hosting a margarita happy hour as the sun sets over the jungle.
Ask Dave and Lesley what they love most about living in Xcalak, and you won't get just one answer. "The beach. The snorkeling. The small, friendly town. The wonderful joy and humor of the Mexican people. The kind neighbors," they take turns in replying. It also doesn't hurt that their living expenses in Mexico are much lower. In Mexico, their seven-room B&B costs less than $500 per month to run, while in Canada, their heating and utilities came to $1,000. Property tax on three beachfront lots in Mexico is $150 a year—a tenth of the $1,500 they were paying for a single lot in Canada.
But it's not just daily snorkeling trips, year-round warm weather, and the low cost of living that makes owning a B&B on a beach in Mexico worthwhile; it's the people who stay with them at Sin Duda Villas. "Each guest has an interesting story to tell and they make this new job of ours a joy," says Lesley. "Reading the online comments that our guests write about Sin Duda never ceases to surprise us with how nice they are and how complimentary they are to both the hotel and to us."
For two people who thrive on friendship, it's no wonder that their friends gave them the chance they needed to make their beach dream possible.
Get Your Free Mexico Report Here:
Learn more about Mexico and other countries in our daily postcard e-letter. Simply enter your email address below and we'll send you a free special report - Why Millions of Americans Are Moving to Mexico.
This special guide covers real estate, retirement and more in Mexico and is yours free when you sign up for our postcards below.
Related Articles
Top 10 Reasons to Move to Mexico
Xcalak, Mexico: The Yucatan Peninsula's Most Secluded Beach
Is It Safe to Travel in Mexico?