If you don't have thousands of dollars to pour into a Galapagos cruise, consider Isla de la Plata (Silver Island), affectionately termed the Poor Man's Galapagos. The island supposedly derives its name from the centuries-old buried treasure of Sir Francis Drake, but my husband, Mark, and I haven't found it—yet.
Isla de la Plata is about 25 miles—an hour's boat ride—from Puerto Lopez in the Machalilla National Park and contains some of the same flora and fauna found on the Galapagos…except the price tag is far less. In fact, the total cost for the day's "cruise" is only $25 to $35 per person.
Myself and Mark first discovered Isla de la Plata while we were vacationing in Puerto Lopez at Hosteria Mandala, run by an Italian-Swiss couple. When we stay there, we always ask for the Galapagos Suite, which includes a huge balcony draped in bougainvillea that overlooks the Pacific Ocean.
All the cabins at the Mandala are tucked away in a botanical garden where iguanas hide in the trees and exotic flowers line the well-manicured walking paths. It's an oasis of tranquility. The restaurant on the premises is for guests only and the private beach is yours to enjoy—complete with colorful hammocks, cabanas, and breathtaking sunsets.
Day trips to Isla de la Plata can be arranged with one of the many tour-boat operators in Puerto Lopez. Excursions leave at 8:30 a.m. and return at 5:30 p.m. and include snacks, drinks, lunch, and snorkeling in Drake's Bay, where sea turtles and colorful fish are your companions for the afternoon. And if you book a trip during whale season (June to September), you can marvel at the humpback whales breaching the water and blowing off some "steam."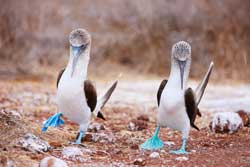 Once you're on the island, there are two main hiking trails, which are led by naturalist guides. An added perk to making the trip in July is it's mating season on the island—especially for the frigate birds with their red throats that balloon up to attract attention and the blue-footed boobies with their Tiffany-colored webbed feet that perform an unforgettable mating dance.
The island is much like the Galapagos with its rugged shoreline of volcanic rock and sweeping vistas of the turquoise-blue waters. The lower trail allows you to see more of the island's ocean life close up—like the playful sea lions—and the upper trail is a bit more strenuous with breathtaking panoramic views.
All the tours on the island are conducted by professional guides and the trails are well marked and easy to follow. There are restrooms and a changing station on the island for your convenience, but no overnight accommodations. Our group enjoyed lunch on the boat after our long hike and then snorkeling in the emerald-blue waters of Drake's Bay where we swam alongside sea turtles and tropical fish.
Isla de la Plata can be reached from various spots along the Ecuadorian coastline, but we prefer the sleepy fishing village of Puerto Lopez, which is only a three- to four-hour bus ride from Guayaquil.
Some of the most magical moments we've had in Ecuador have taken place along the Ruta del Sol (Ecuador's coastline) and Isla de la Plata. If you don't have the time or money to do a cruise to the Galapagos, then Isla de la Plata is a treasure you can't afford to miss.
Image: ©iStock.com/Kseniya Ragozina
Get Your Free Ecuador Report Here:
Learn more about Ecuador and other countries in our daily postcard e-letter.
Simply enter your email address below and we'll send you a FREE REPORT – Ecuador: Live Like Royalty on Your Social Security.
This special guide covers real estate, retirement and more in Ecuador and is yours free when you sign up for our postcards below.

Get Your Free Report Here