Just a few months after getting settled into life in Guayaquil, Ecuador, back in 2013, I discovered one of my new favorite pastimes—going on viaje (a short vacation). Guayaquil is a fantastic city to live in if you're looking for a base for weekend excursions. In the last three years, I've never had trouble finding the perfect spot for a trip.
Since Ecuador is known for its rich biodiversity, finding an interesting destination is as easy as throwing a dart at a map. But from Guayaquil, the beaches are definitely the most convenient and relaxing destination.
As a native Pennsylvanian, I was used to driving eight or more hours just to get to the closest beach, and with those frigid North American winters, that was only an option for me about three months out of the year. But here in sunny Guayaquil, I'm never more than a stone's throw from the tranquil waters of the Pacific.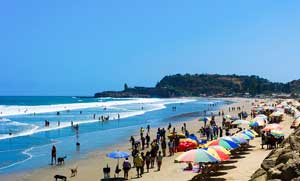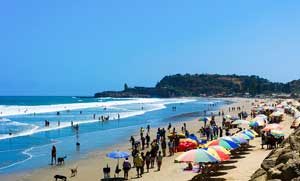 Although some of my friends take their cars to the beach, I find the easiest thing to do is catch a cab down to the bus terminal and take the first bus out. No matter which beach I want to visit, it seems like there's always a bus heading in the direction I want to go within a few minutes of my arrival, and a ticket almost never costs more than $3.
It's hard to say which beach is my favorite, because the truth is that each one has its own personality.
When I'm feeling like a party, Montañita is always a hub of activity, and it's got excitement for every age group…as long as you like dancing. By day, it seems like a little, indie beach town, teeming with artisans, diners with a fusion of American and Ecuadorian cuisine, and friendly beachgoers.
By night, the speakers are turned up and anyone who's not enjoying a cocktail down by the seashore is dancing the night away in one of the many discotecas.
More often than not, when I head to the beach I'm looking for a retreat from the bustle of the city, so I prefer the serenity that Playas offers. Just a couple hours from Guayaquil, it's not only the closest beach to me, but one of the most relaxing ones. There's always plenty of room for everyone to spread out their towels and soak in the sun or go for a dip in the temperate waters of the Pacific.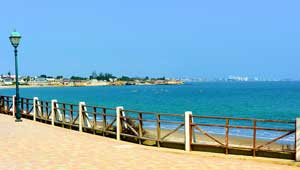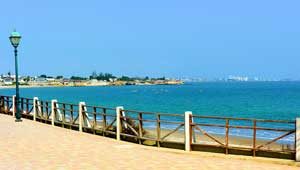 Those are just two of the countless beaches that line Ecuador's Pacific coast. The others are just as diverse as Ecuador's rich culture. Manabi is known across the country for its delicious seafood; Esmeraldas, in the north, is famous for its well-preserved Afro-Ecuadorian culture; Isla de la Plata is jokingly referred to as "the poor man's Galapagos" for its abundant marine life and low costs; and Salinas is rapidly becoming one of the most popular resort cities in all of Ecuador. But that's far from exhaustive—Olón, Ballenita, Manta…the list goes on.
The other great thing about these beaches is the price. I can get an entire weekend at the beach with my girlfriend, Sofia, for what one night in a Virginia Beach hotel room back home would cost. An air-conditioned hotel room with a private bathroom and hot water, $15 a night; a freshly caught seafood dinner for two, $20; sunglasses from the friendly beach vendor, $4; the chance to be with the woman I love on a beach in Ecuador miles away from the worries of life? Well, that's priceless.
Get Your Free Ecuador Report Here:
Learn more about Ecuador and other countries in our daily postcard e-letter. Simply enter your email address below and we'll send you a FREE REPORT - Ecuador: Live Well on Your Social Security.
This special guide covers real estate, retirement and more in Ecuador and is yours free when you sign up for our postcards below.
Related Articles
Upcoming Conferences
Make 2023 Your Best Year Yet. Discover Panama with International Living

Panama has it all: beaches, mountains, a world-class capital city, top-notch, low-cost healthcare and the "World's Best Retirement Program" that makes the already low cost of living even more affordable.
Join us for International Living's Fast Track Panama Conference to see all that Panama offers. There's no better place to be and no better way to make 2023 your best year.
Most Popular Products