If you're looking for a small town with lots to offer, Cotacachi is the place to be. Just ask any of the several hundred expats in town and they'll tell you all about the great benefits of life in this little mountain village.
The first wave of expats ventured to Cotacachi in the early 2000s and got a boost a few years later when the popular television show House Hunters International featured one of the large adobe homes built during this era. These homes, costing around $150,000, started sprouting up in gated subdivisions within a short 10-minute taxi ride into town. Soon the migration of expats grew to around 700 and remains near that number to this day.
Cotacachi has a population of approximately 9,000 with 45 indigenous communities making up the surrounding countryside. The town is in a valley located between two volcanos—Imbabura and Cotacachi—so when you look out your window, you'll be straddling two magnificent mountain views while enjoying spring-like weather year-round because of its proximity to the equator.
Unlike many other Ecuadorian expat locations, 50% of the population is indigenous. The indigenous people in Cotacachi are beyond nice, stopping to greet you in their local Quechua language. In fact, if you need directions, can't find a specific item in town, or just have a general question about life here, simply ask any random person on the street. Chances are high that you'll be greeted kindly, given detailed information, and told to have a great day.
There's a quiet solitude people enjoy in this small town, but because it is a small expat community, the people here know each other and truly have each other's backs. For those wanting social interaction, there are a plethora of cafes offering Starbucks-esque settings and quaint restaurants serving American favorites. There are lots of activities to choose from like volunteering, dancing to the live music of La Banda, playing cards, learning Spanish, or playing pickle ball. But expats here do not blend—our fair skin and height (the indigenous stand around five feet) can make us targets as we stand out.
John McNally has lived in Ecuador for nearly six years and has never felt unsafe, in danger, or threatened in anyway. "The few crimes here of which we are aware, are usually petty thefts of opportunity. Physical violence towards "gringos" is practically non-existent."
He adds, "The local police are very cooperative and have actually set up special processes specifically to help "gringos" when the situation arises (translators, counselors to help us understand the law and how it is applied in specific instances, advice on home/personal security, etc.)."
Beverley Scherberger notes that Cotacachi is safe enough in town. However, she doesn't suggest wandering around alone after dark especially on the outskirts of villages surrounding town after dark but instead to use taxis, which are plentiful and cost less than $3 to get anywhere in town.
"If people use their heads and are aware of their surroundings, don't wear or carry obviously expensive jewelry, cameras, etc., keep their purses, wallets, or backpacks close, don't carry large sums of money, and are aware of the people around them when going into or leaving the bank, they should be okay. I never, ever leave my backpack unattended and do not hang it on the back of my chair in a restaurant."
Because Beverly lives alone in one of the large adobe homes just outside the city limits, she takes extra precautions. "I have heavy-duty bars on all doors and windows, have a hard-wired alarm system, and the doors are always locked, even when I'm at home."
"I've lived here for nearly six years in my house. I've never been afraid living here alone, but I use my head when considering what I want to do and when I should do it."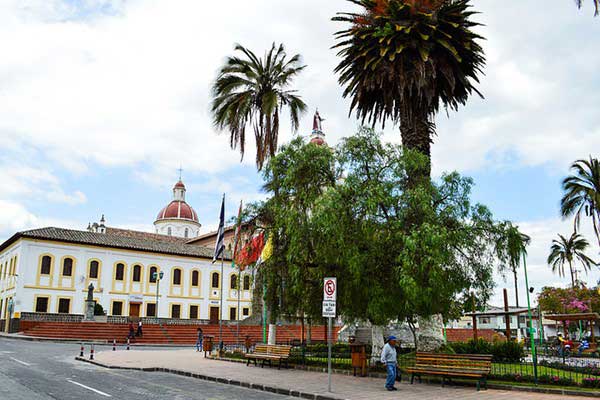 Jo Merriam agrees that one of the reasons she likes Cotacachi so much is because she feels so safe. "I walk home alone or with a girlfriend at night from concerts or other events, as does everyone else, and there's nothing to worry about," she says. "I've always lived in small towns, and Cotacachi is by far the safest place I've ever lived. There are no gangs here."
The expats in Cotacachi know it's important to be a part of their adopted culture and have created many social programs to give back to this humble community. I like to call it the Indigenous Mayberry. Cotacachi may be a step back in time, but I like its awkward naivety and overt friendliness, but to me, it's a soft place to land for those who want to live quietly among the indigenous.
Related Articles
Real Estate in Cotacachi, Ecuador
A Comfortable Life on $750 a Month in Cotacachi, Ecuador