From medieval villages where castles stood proud to quaint mountain hideaways where no tourists were found. The ravishing Douro where terraced vineyards surround Roman ruins, baroque churches, and cute cobbled towns. There were so many special delights to see, and although it was challenging here's our favorite three.
Village of Castelo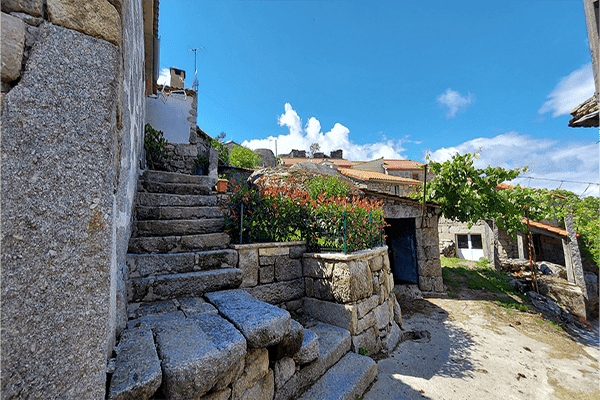 Sometimes the best adventures begin while getting lost and that is exactly how we came upon our first favorite spot. In search of a castle, we followed the signs that took us up a steep, rugged mountain road. While the castle was nothing more than the ruins of a tower, what we found instead was a gem. As Clyde pulled the car over, looking for a safe spot to turn around, we suddenly realized that we were in the middle of a tiny village and decided to get out and have a look.
The welcome committee consisted of three dogs who came out to greet us, barking loudly to alert the town folk of the strangers in the hood. A few elderly men peeked around the corner at us and then continued with what they were doing. We greeted them in Portuguese, "Bom dia," and in typical Portuguese fashion, they responded with the same. A mid-sized, golden-haired dog approached me from the side and nuzzled my leg, asking for a cuddle. As soon as I began to pet him we became friends, and he proceeded to follow us through the village.
This magical little mountain village was a picturesque collage of tiny homes constructed from granite. Aptly called Castelo for the ruined castle that loomed over it, the villagers who lived here were farmers who lived off the land as their ancestors probably did for generations. Some of the homes were built into rock or had large boulders as neighbors, while others were decorated with colorful potted plants and flowers. A handful of teeny buildings on cement posts caught my eye. The sides were covered with wooden slats and a rustic, wooden door protected whatever was inside. I asked a man in Portuguese what they were used for but, as he explained rapidly, soon I was lost in translation. Upon later research I found out these are used to store grains.
Planted crops and a few chickens nearby provided food for the town folk since there were no grocery stores in sight. Surrounding this mystical place were panoramic vistas of the valley below and suddenly we realized just why these people lived here. Because we were invading their personal space, we did ask permission before taking photos and they all happily obliged.
Alto Douro Wine Region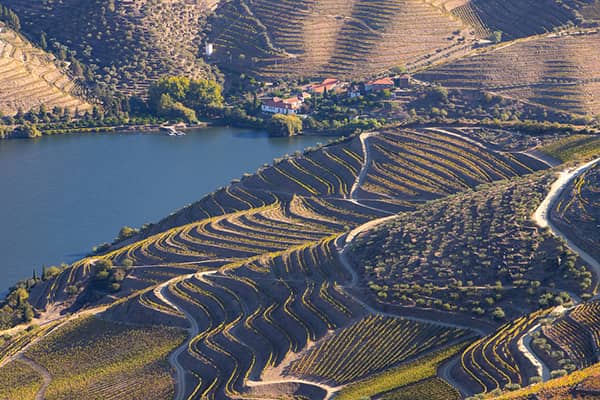 Our second favorite stop was the world-famous Douro Wine Region, but not the one in Porto that most tourists visit.
Nestled in the center of the country, far from the tourist crowds of Porto, here was the Alto Douro Wine Region. Composed of over 64,000 acres, this area in northwest Portugal was declared by UNESCO to be a World Heritage Site because of its cultural landscape.
Sumptuous layers of terraced vineyards climbed high above the Douro River, and I could almost taste the sweetness of grapes in the air. Framing some of the rows were groves of orange trees while hand-crafted walls built from flat, schist rock supported the vines.
Landowners in the Alto Douro have been producing wine here for the past 2,000 years. Historically, it was here that the wine was produced before being stored in barrels and then shipped to Vila Nova de Gaia, near Porto, where it was allowed to age. Among the vineyards are stately mansions owned by the wine-making families who proudly display their family names on nearby signs for all to see.
Although I had always heard how impressive the Douro area was, I never imagined that it could be this stunning.
Montemor-O-Novo, Castle and Village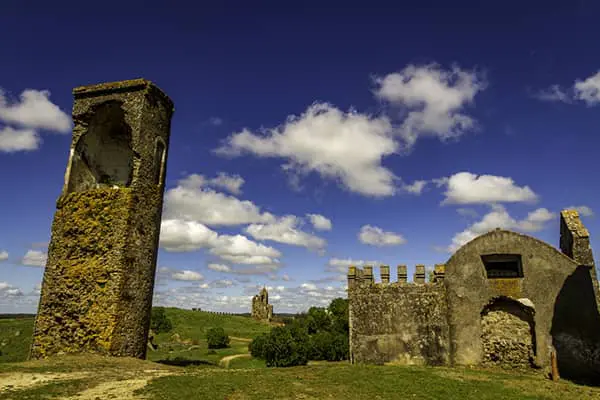 Situated among the extensive plains of the Alentejo region, our third favorite stop was the medieval village of Montemor-O-Novo. As we passed through the grand portal we were encompassed by the expansive wall. Our jaws dropped open as we looked around this impressive village that once was full of life. My mind wandered as I envisioned how it would have been. Perhaps, I would have been dressed in a long, red gown embellished with gold-lame trim that covered the petticoat below, which fell gently over my high-buttoned boots. The golden locks of my hair were perfectly coiffed and donned with decorated ribbons.
Back to reality, I gazed out over the impressive, ruined village that offered us a 1.5-kilometer path through it. Besides a castle and wall, the area included a palace where nobility stayed while traveling through the area. Several churches, a synagogue, villas, and even a prison dominated much of the landscape. Outside the wall, the vistas opened to a vast plateau of plains and rolling hills that seemed to meet the gray sky above.
Portugal is a compact country that offers visitors and those who live here so much. Vibrant city life, medieval villages, cobbled town centers, and warm, welcoming people. Travel opens our hearts and minds and the more I explore Portugal, the more I come to love and appreciate all that it has to offer.
Learn more about Terry Coles' road trip on the Estrada Nacional 2 below:
Get Your Free Portugal Report Here:
Romance, culture and adventure awaits in Portugal. Learn more about Portugal and other European countries in our daily postcard e-letter. Simply enter your email address below and we'll send you a FREE REPORT - Explore the Old World in Laidback Portugal.
This special guide covers real estate, retirement and more in Portugal and is yours free when you sign up for our IL postcards below.

LIVE EVENT:
Online Portugal Seminar March 15
In "Europe's Answer to California," You Can Enjoy a Wealthy Lifestyle on $2,800 a Month (or Less)
Excellent Healthcare... Warm, Sunny Skies... Good-Value Property... and Your Path to an EU Passport
Related Articles
The Best Places to Live in Portugal From $1,600 a Month
Portugal Itinerary: How to Spend 7 Days in Portugal
Is Portugal a Safe Place to Live?
Upcoming Conferences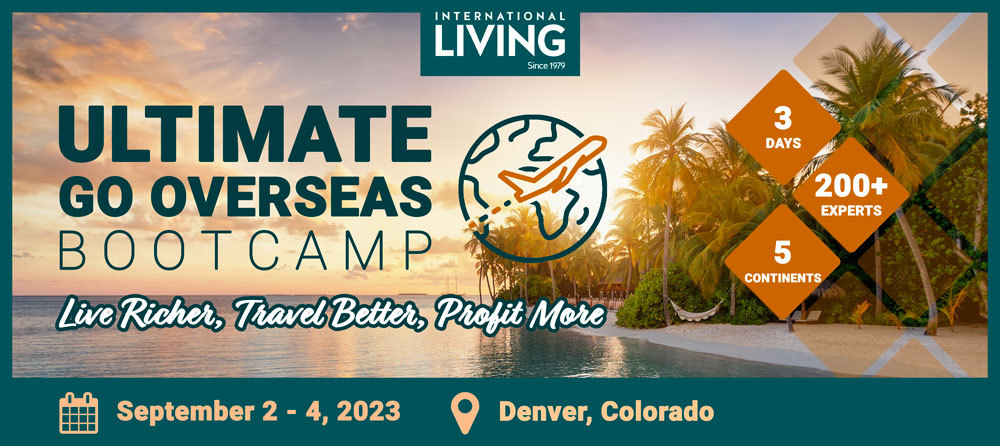 Most Popular Products
Popular Articles You May Also Like