What attracted me to my husband, Kim, was the fact that he loves adventure as much as I do. We've lived in eight cities in Florida and four states from Florida to Washington. Not to mention living and traveling aboard our boat for seven years, during which time we lived in Trinidad and Venezuela.
I thought we finally found our cozy little retirement home when we bought our last house in Florida…but my husband still wasn't ready to settle down, even though we were now retired. He began investigating living overseas and said he wasn't ready to stop discovering the world or having adventures because we were retired.
After a couple years of looking at various countries and making a list of pros and cons, he talked me into visiting Ecuador. We traveled around the entire country. Kim fell in love with it and decided it was where he wanted to live for the rest of his life. It took him two years to convince me that a move to Ecuador was a good idea before I finally agreed to sell everything and move here with just the suitcases that we carried.
Now, after living in Ecuador for a year-and-a-half, I'm thrilled each day to be here. I'm enjoying our new life more than I ever thought possible.
I have more friends than I've had anywhere we've lived. We have the time to pursue our individual interests, which for my husband is photography, and I write with no shortage of inspiration.
But one of the best things we've achieved by moving here is that we can afford to travel and continue to enjoy new adventures together on a whole new continent. I never thought retirement would be so much fun.
We chose to live in Cotacachi, in the Andes of north Ecuador, and I've not regretted it for a moment. Life in Cotacachi is stress-free for us and the small-town charm has melted our hearts. The weather is comfortable, around 70 F most days. We walk or take the bus or taxi wherever we go and have both lost weight and feel better for it.
We rent a furnished third-floor apartment with fantastic views of two volcanoes and our little town. Our rent is $450 a month and includes water, garbage collection, electric, gas, cable television, and internet. Our monthly budget runs around $1,800.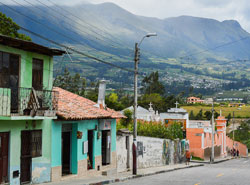 On a typical day, I am greeted by warm, welcoming sunlight when I open the curtain. From my apartment in the fertile, emerald valley, the sky is painted in pastel colors as the sun peeks shyly and quickly rises from behind Imbabura Volcano. On occasion, Cotacachi Volcano reveals a snow-capped peak and sunshine exposes planted green fields graduating up her steep mountainsides.
Every morning, as if seeing it for the first time, I take a deep breath and try to drink in all the natural beauty. We are surrounded by towering mountains and I feel renewed and inspired daily. Following a gentle nocturnal rain, the air is cool and clean with the light scent of eucalyptus. Tiny jade hummingbirds jet past on their way to an all-you-can-eat breakfast of nectar in a guayaba tree. A morning ensemble of birds sing from a flowering tree nearby.
After a morning romp with my dog, we walk to the mercado for produce and a couple of delicious baguettes from the corner panaderia (bakery). We save our one dollar coins all week for the mercado on Sunday where $10 buys a great deal of fruits and vegetables. For $1, I can buy a half-dozen tomatoes, or two medium pineapples, four avocados, a month's supply of potatoes, or a pound of strawberries.
On our walk into town, shopkeepers sweeping the sidewalks bid us good morning. Laughing, neatly dressed children smile and practice speaking English with us. An elderly Quichua man stops to shake hands. We meet some friends and make plans to have lunch together.
Our evening ritual finds us on the roof-top of our building awaiting the sunset. Neighbors appear on their roofs to chat and give thanks for another day in this wondrous place. Church bells toll and clouds become a kaleidoscope of colors and shapes. Cotton ball clouds balance on volcanic peeks and warm blankets of fluffy clouds cover the valley for the night.
We've been captivated by this place and wouldn't want to live anywhere else in the world.
Get Your Free Ecuador Report Here
Learn more about Ecuador and other countries in our daily postcard e-letter.
Simply enter your email address below and we'll send you a FREE REPORT – Ecuador: Live Like Royalty on Your Social Security.
This special guide covers real estate, retirement and more in Ecuador and is yours free when you sign up for our postcards below.
Get Your Free Report Here