Affordable Apartments in Uruguay's Capital, Montevideo
Half of Uruguay's population lives in or near Montevideo. It's a city with several shopping malls, more than 1,000 places to eat, and two impressive live-performance theaters.
Montevideo is where you find the country's top hospitals. And it's easy to get around by bus and taxi. For outdoor activities, expats enjoy the city's many parks and plazas, its sandy riverfront beaches, and the "Rambla," a waterfront promenade.
An up-and-coming community to know about is the southern part of Montevideo's Cordón neighborhood. Over the last five years it's attracted an upscale mix of specialty shops, unique watering holes, and cafés offering interesting cuisine. It's become one of the trendiest places in the city—often referred to as Cordón Soho.
I spotted a 613-square-foot, two-bedroom, one-bathroom apartment for rent in the heart of Cordón Soho.
It's on the eleventh floor of a 12-story building constructed in 2015. A sliding glass door leads to a small terrace. The flooring in the living space is large porcelain tiles, with laminate flooring in the bedrooms. It comes with a designated garage space. The monthly rent is $655, plus $125 per month for gastos comunes, for a total of $780.
Side note: What are gastos comunes?
In addition to rent in Uruguay, most tenants pay gastos comunes (common expenses), which are collected for the building's upkeep and operation costs—similar to HOA fees in the U.S.
Side note: Why many expats new to Montevideo start out in a short-term rental.
Most long-term apartment leases in Montevideo require a large deposit, often equal to several months' rent. (It's held by a third-party bank. So, it's safe.) And most Montevideo apartments come bare bones with no appliances.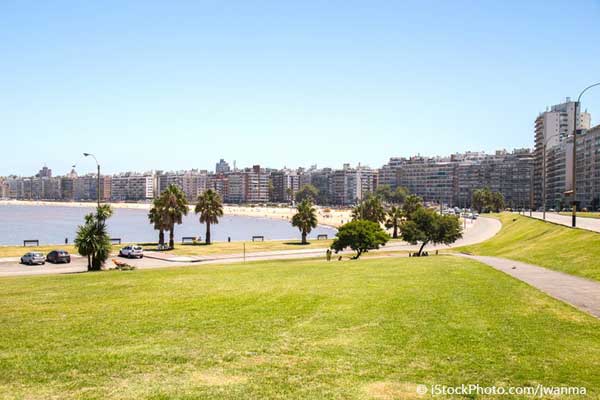 Since it's a big outlay to move into a place (rent, deposit, and appliances), many new expats in Montevideo start out with a month-to-month arrangement in a short-term, furnished rental, such as an Airbnb. That way, they can take their time finding the right place to rent long-term.
Affordable Apartments in Punta del Este
Eighty miles east of Montevideo is Punta del Este, a beach resort and university city.
Most apartments in Punta del Este are second homes and vacation properties. With that said, the year-round population is solid and growing.
The heart of Punta del Este is the Peninsula. It's where you find Punta del Este's main street, the Artisan's Plaza, the fashion district, the marina, and many landmark restaurants and night spots.
In contrast to Montevideo, most rentals in Punta del Este come furnished. Also, many apartments in Punta del Este are in buildings that provide hotel-like services. Basic services often include WiFi, porters, and daily housekeeping for your apartment.
In higher-end apartment buildings you'll also find indoor and outdoor swimming pools, staffed gyms, and beach clubs.
The cost for these services are included in the gastos comunes, which in Punta del Este often run between $600 to $1,800 per month.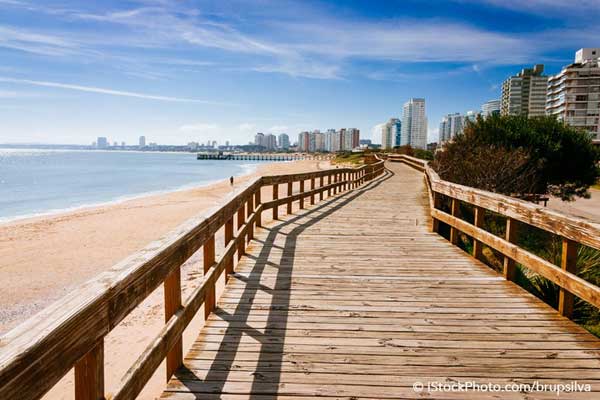 However, it's a big market. And if you look around, you can often find a deal.
For example, a 645-square-foot, two-bedroom, one-bathroom apartment on the Punta del Este Peninsula is on the market for $845 a month. And in the case of this apartment, the gastos comunes and a garage space are included in the rent.
This remodeled, water-view apartment is near shopping and four blocks from the beach. It's a tastefully furnished place and the cozy kitchen includes a granite countertop. Building services include a 24-hour porter service and daily housekeeping for your apartment.
Affordable Apartments in Maldonado
Maldonado is a growing middle-class city, next to Punta del Este. In Maldonado's centro, you can walk to neighborhood markets, shops, and cafés. Regular bus services run to most medical facilities, the Punta del Este shopping mall, and beaches. It's an easy place to live without a car.
While some apartments in Maldonado come furnished, most do not. Also, most apartments in Maldonado don't offer the hotel-like services you find in Punta del Este so gastos comunes are usually much less.
Here's an example…
A clean and bright 688-square-foot, two-bedroom, one-bathroom apartment in Maldonado's centro. Sliding glass doors lead to a long terrace and off the modern kitchen with stainless steel appliances is a laundry-area balcony. The monthly rent is $475, plus gastos comunes of $125, for a total of $600 per month.
Related Articles
Why Expats Are Moving to Uruguay
Three Places to Live in Uruguay; Two to Avoid
Popular Articles You May Also Like