A growing number of expats choose Uruguay as a place to live. And as you look at Uruguay more closely, it's no surprise why. It's a stable country that offers some very attractive lifestyle options.
In this post, we'll look at three Uruguayan cities many expats find attractive. Each city includes:
A range of quality housing options
Sand beaches
Modern gyms, tennis, and golf
Interesting dining choices
And world-class wineries in the nearby countryside.
After that, we'll look at two cities nice for a visit, but best to avoid as places to live.
Are you interested in retiring abroad? Yes | Not Sure Yet
Three Places to Live in Uruguay
1. Montevideo Metro Area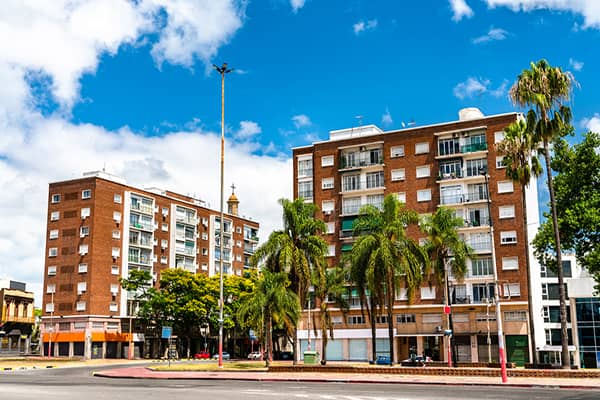 Montevideo is Uruguay's capital, largest city, and cultural center. It sits on the Río de la Plata, a large body of water adjoining the Atlantic Ocean. Half of Uruguay's population of 3.5 million lives in and near Montevideo.
While it's an urban center, Montevideo doesn't feel like a concrete jungle, thanks to its tree-lined streets, plazas, and large parks.
For shopping, you find neighborhood markets, large U.S.-style supermarkets, and five modern shopping malls. You also find neighborhood street markets (called ferias) that sell fresh produce, cheeses, and fish.
Montevideo is also where you find Uruguay's top hospitals and medical specialists.
Most expats in Montevideo live in apartments and get around by bus and taxi. In addition to apartments in newer buildings, you can also find places in neoclassical, Art deco, and Early Modern apartment buildings.
A smaller number of expats live in modern single-family homes on the east side of Montevideo and in private communities east of the city limits. Most expats in these areas own a car.
You find several sandy river beaches that fill with sunbathers in the summer. Volleyball and bocce ball are popular Montevideo beach sports.
Also, along the coast of Montevideo is a 13-mile promenade where you can walk, run, or ride your bike. Other exercises and recreational opportunities include modern gyms, tennis clubs, and the city's 18-hole golf course.
For food and drink, choose from more than 1,000 restaurants, cafes, and bars. Typical local dining includes a good cut of meat, or locally-caught fish, or a pasta dish (such as squash-filled ravioli) with a salad.
You also find dedicated Italian restaurants, French restaurants, and a wide range of other specialties including Peruvian food, Armenian food, and Chinese food.
Locally-made craft beer and fine wines are both big in Montevideo. The most popular wine variety is Tannat (a full-bodied red that pairs well with steak).
Many Montevideo expats make group trips to countryside wineries. One of the most famous Montevideo-area wineries is Bodega Bouza. Besides a Tannat, Bouza makes a Merlot, Tempranillo, Pinot noir, Riesling, Chardonnay, and an exceptional Albariño.
Concerning culture, you find a dozen museums and many galleries in Montevideo. Live performance events include locally-produced symphony and ballet productions.
For help making the transition and getting settled in Montevideo, you find English-speaking real estate agents, relocation specialists, attorneys, doctors, and dentists.
If you're an expat looking for a South American city that offers a high quality of life, consider Montevideo.
2. Punta del Este and the Adjoining City of Maldonado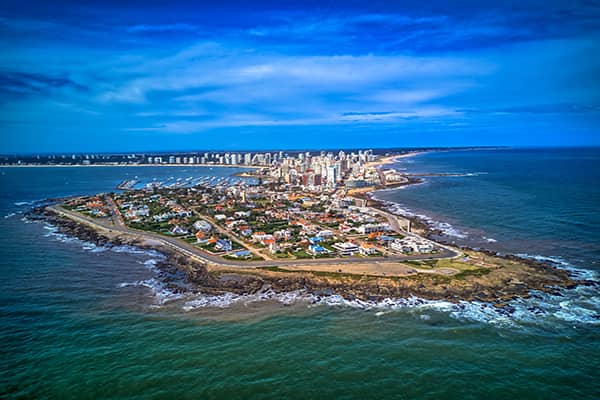 Eighty miles east of Montevideo is Punta del Este (population 25,000).
The city of Punta del Este includes six square miles on the mainland and the Punta del Este Peninsula. The Peninsula is about 16 blocks long and averages four blocks in width.
On the mainland, you find a variety of residential communities and long sandy beaches. The Peninsula is where you find the city's main street, Gorlero. It's also where you find the Punta del Este marina, with nearby landmark restaurants and clubs.
Punta del Este is a beach resort city that receives 100s of thousands of vacationers each January and February (Uruguay is in the Southern Hemisphere, so seasons are opposite.)
To prepare for the summer high season, city workers in Punta del Este plant flowers along main roadways. Then, when summer arrives, they clean the beaches every day.
Adjoining Punta del Este is the middle-class city of Maldonado (population 70,000). Many Maldonado residents work in resort-related industries.
With six universities, education is also a significant industry in Punta del Este and Maldonado.
For shopping, you find large well-stocked supermarkets, a mall with a multiplex, and a variety of specialty shops. Medical services include reputable private hospitals and clinics.
Regarding housing, you find a wide range of options. Homes in Maldonado's Centro include clean newer apartments. Home choices in Punta del Este include impressive apartment towers with amenities and services similar to a high-end hotel.
Single-family homes in Punta del Este and Maldonado include cozy cottage-like homes with thatch roofs, cubist minimalist homes, and large estates in a wide range of architectural styles.
The Punta del Este Peninsula is the official dividing point where the Río de la Plata ends and the Atlantic Ocean begins.
On the east side of the Peninsula are the Brava Beaches (brave or wild beaches), which face the Atlantic Ocean. This is where you find the best surfing waves and beach fishing.
On the west side of the Peninsula are the Mansa Beaches (calm beaches) facing the Río de la Plata. This is the best side for swimming, boating, and jet skiing.
Besides water sports, you also find bowling, tennis, three golf courses, and horseback-riding schools and clubs in Punta del Este.
When it comes to food, Punta del Este is famous for its many steak houses and fine Mediterranean cuisine.  With that said, you still find plenty of casual places to grab a bite. For example, you find more than 50 places in the Punta del Este area that serve pizza.
In the countryside near Punta del Este and Maldonado, you find three quality wineries: Viña Edén, Alto de la Ballena, and Bodega Garzón,
The World's Best Vineyards is a respected academy of wine and travel experts. They rank Bodega Garzón as the second-best winery in the world. Garzón makes Tannat, Cabernet Sauvignon, Cabernet Franc, Merlot, Petit Verdot, Pinot noir, Sauvignon blanc, and an Albariño.
A growing number of newcomers (from other South American countries and from all over the world) are coming to live in Punta del Este or in next-door Maldonado.
To serve the incoming residents, you find a dozen private high schools, several with bilingual programs. You also find a growing number of English-speaking real estate agents, attorneys, and dentists.
Do you like the idea of living in a beach resort/college town with a growing international crowd? If so, consider Punta del Este or Maldonado.
3. Colonia del Sacramento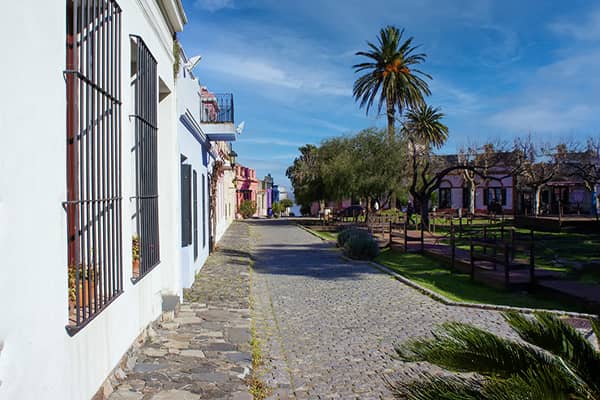 One hundred twelve miles northwest of Montevideo is Colonia del Sacramento (population 27,000), which fronts the Río de la Plata.
Colonia del Sacramento is known for its Barrío Histórico (Historic Neighborhood). It's where the city was founded in 1680, and is now a UNESCO World Heritage.
It's also known for its ferry terminal, with high-speed ferry service across the Río de la Plata to Buenos Aires, Argentina. The crossing time is one hour 15 minutes.
Many Uruguayans go to Buenos Aires on the ferry to shop, dine, and see a show. Many Argentines take the ferry to reach their Uruguayan vacation property.
Also, in Colonia del Sacramento you find a free-trade zone commercial park (with a free-trade port just 61 miles away). With the ferry, it's convenient for companies headquartered in Buenos Aires to operate a free-trade zone production facility across the river in Uruguay.
With all the international activity, you find more housing, dining, and recreation choices in Colonia del Sacramento than what is typical for a Uruguayan city its size.
Home choices include restored colonial properties, basic low-cost apartments, posh newer apartments with water views, and executive-style single-family homes.
You find several gyms in Colonia del Sacramento. Recreational opportunities include nearby golf and tennis. The best sand beaches are on either side of Colonia del Sacramento's centro area.
For dining out, steak, lamb, and pasta dishes paired with local wines are most popular. Just outside of town you find Bodega Caluva, which makes Tannat, Merlot, Cabernet Sauvignon, Chardonnay, Pinot Grigio, and a Cabernet Franc.
If you like the idea of a smaller city, but with the housing, dining, and recreational options of a larger city—and, that's just a hop skip and a jump from Buenos Aires—consider Colonia del Sacramento.
Two Places to Avoid in Uruguay
1. Paysandú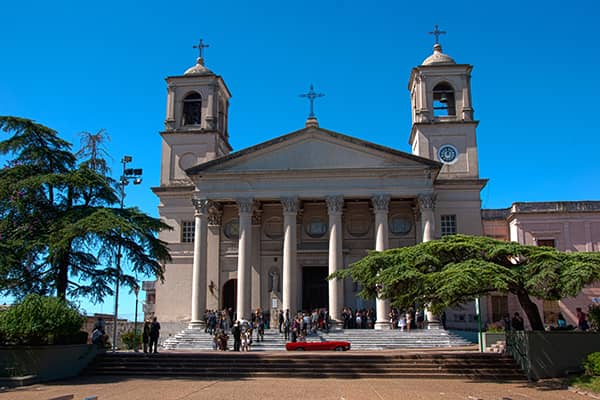 The Uruguay River forms Uruguay's western border with Argentina. It is a beautiful region with several cities and towns that could make good places to live.
Among them is Salto (population 105,000). It's the second-largest city in Uruguay set in a hot spring region. Another is Carmelo (population 18,000), an old-time resort city in a wine region often referred to as Uruguay's Tuscany.
However, one city along the Uruguay River to avoid as a place to live is Paysandú.
Paysandú (population 77,000) offers plenty of shopping, sandy river beaches, a marina, a golf club, and a nearby winery. Eight miles south of town is La Pulpería, one of the best restaurants in all of Uruguay. And just a 40-mile drive north of town is a hot spring park.
So, with all that going for the place, why wouldn't a retired expat want to live here?
Because more than anything, Paysandú is an industrial center. The commerce here includes meatpacking, leather tanning, and wool trading. Food production includes sugar, vegetable oils, and beer brewing. A State enterprise runs a large alcohol plant and a Portland cement plant, here. Also, textiles are made in Paysandú.
Paysandú is all about industrial enterprises and the businesses and services that support them. If you're a retired expat who's not involved in such ventures, you may feel out of step, here.
And with just a little looking, you'll find alternatives places that can provide a better fit.
But if you're up for commercial activity, Paysandú might be a good match. You could live in a bustling industrial center, with plenty of shopping and recreational opportunities to provide a good life.
2. Chuy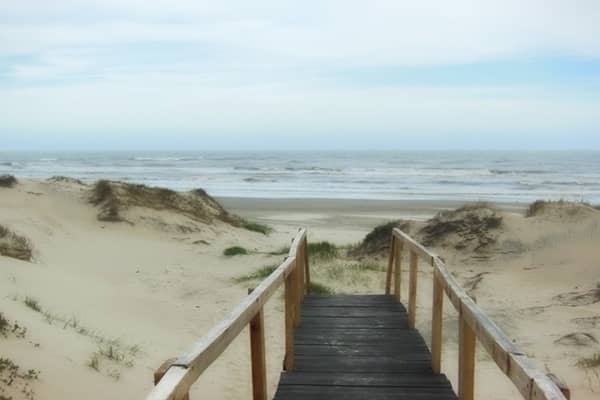 Uruguay's Department of Rocha is a mostly-rural region with hills, lagoons, and more than 100 miles of Atlantic-coast beaches.
It's popular with expats who appreciate living close to nature. Some choose Rocha coastal towns like La Paloma and Punta del Diablo. Others buy land, where they can keep horses and chickens and/or grow some of their own food.
In the very east of Rocha, on the border with Brazil, is the city of Chuy (population 10,000). Chuy shares an open border with the city of Chuí, Brazil.
The result is a stand-out shopping opportunity where you can get the best bargains of two countries in one place.
Groups of shoppers as far away as Montevideo charter buses to make the 200-mile journey to shop in Chuy/Chuí. And groups within Brazil do the same.
Besides a good shopping destination, Chuy is close to two national parks (One is five miles away. The other is 22 miles away). And it's not far from Chuy to sandy beaches with good surfing waves.
And since it's a regional center, Chuy offers several hospitals to choose from.
So why would an expat avoid Chuy as a place to live?
The issue of living in Chuy is similar to Paysandú. While Paysandú is all about industry, Chuy is all about cross-border trade.
If you're a retired expat, you may not share the commercial drive that imbues the city of Chuy.
Most locals are focused on selling. And the people you see on the street are just in town for a few hours. So, while it's a great place for a shopping trip, you might feel a little disconnected living here.
But on the other hand, if you're an expat interested in cross-border commerce, Chuy—a city that receives shoppers by the busload—could be an ideal place to live.
Related Articles
Discover Your Ideal Retirement in Uruguay
Why Expats Are Moving to Uruguay
Upcoming Conferences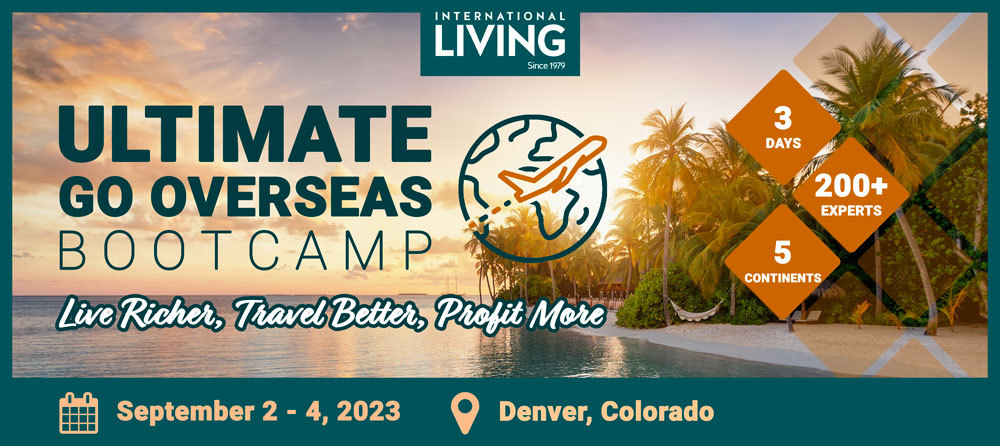 Most Popular Products
Popular Articles You May Also Like