Costa Rica has a lot going for it: lower cost of living, top notch medical care for a fraction of the cost of the U.S., bargain real estate, warm weather year-round, natural beauty, tremendous biodiversity, modern conveniences…the list goes on.
It's enough to make you fall in love with this small Central American country. But what will make the transition from your old life to the new one in Costa Rica easier and keep you in your new home long-term is the relationships you form with locals and fellow expats. These friendships make you feel part of a community…keep you active socially…and ensure you're plugged in to what's going on.
Ticos, as Costa Ricans call themselves, are warm and friendly…welcoming to newcomers. And it's easy to make friends with expats because you're in the same boat, so to speak. You've all made the decision to move out of your home country to Costa Rica and are having the same experiences. Plus, expats who have come before you are tremendous resources. Need a reliable car mechanic? Don't know where to get a new pool filter? Craving roasted red peppers but can't find them in the local stores? Not sure where or how to pay your first water bill? Ask your new expat friends and you'll get the answer.
Whether you prefer the beach communities of the Pacific coast or the small towns and villages in the mountains of the Central Valley, networking with local expats is invaluable. When you come down for your scouting trip, it's important that you speak with expats on the ground. Don't be shy. Expats are a friendly group…happy to help and chat about their lives. And here are five of the many places around the country where you can find expats.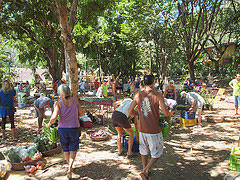 1. Saturday Morning Farmers' Market, Montezuma, Nicoya Peninsula
If you're in Montezuma, a small town on the Pacific on the tip of the Nicoya Peninsula, on a Saturday morning, be sure to head to the organic farmers' market. It's in the park in the middle of town. You can't miss it. Not only do local residents (expats and Costa Ricans) bring in organic produce, prepared foods, and handicrafts for sale…it's also a weekly gathering place for the community and the ideal time to meet a lot of expats.
2. The Restaurant Scene, Ojochal, Southern Zone
The Southern Zone is known for lush tropical jungle, soaring tree-covered mountains, and virtually-deserted wild beaches. But you still have plenty of modern services and creature comforts, including some of the most unique restaurants in Costa Rica. Many of them are in the small jungle village of Ojochal, which is just to the east of the coastal highway. Several restaurants can be found among the towering tropical hardwoods and lush foliage. And each will be filled with expats, especially on weekend evenings. Citrus is Indonesian. Exotica is Asian-European fusion. Azul is Mediterranean. There's a cuisine to suit everybody. And don't miss sunset happy hour at the El Castillo hotel (site of Azul), located on a ridge just outside of town. It has a commanding view of the Pacific.
3. Kay's Gringo Postres, Atenas, Central Valley
Kay's Gringo Postres is a long-time expat hangout in the small Central Valley town of Atenas. It's a restaurant and bakery specializing in American comfort food like burgers and chili (with plenty of international favorites in the menu as well)…but has gone far beyond that and become a community center for local expats. People linger long over coffee…there's a lending library…and it's a meeting place for clubs and groups. It came under new management last year but is still going strong. There is always somebody hanging out at Kay's but Sunday brunch is an ideal expat meeting time.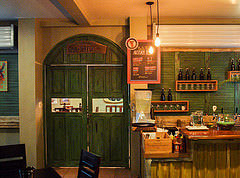 4. Karacters Bar and Grill, Nuevo Arenal, Lake Arenal
This restaurant has had many names (and owners) over the years. But it always remains a perennial favorite of local expats. Open from morning to night, it offers a place to meet friends for a beer or over a meal of American favorites. Happy hour is prime time for meeting expats. It's located on the main street of Nuevo Arenal, a village on the northern shore of the lake and the epicenter of expat life in this area. The 33-square-mile Lake Arenal is pristine, and the surrounding countryside unspoiled.
5. Jaco Taco, Jaco, Central Pacific
This small Tex-Mex restaurant is a great place to network with expats at lunch and dinner. It's located at the north end of Avenida Pastor Diaz, the main street of Jaco filled with shop, boutiques, restaurants, and more that makes the town such a fun and walkable community. This restaurant is famous for its fish tacos and "make-your-own" taco fixings bar. They also play NFL games from the U.S. during football season.

Get Your Free Costa Rica Report Here:
Learn more about Costa Rica and other countries in our daily postcard e-letter. Simply enter your email address below and we'll send you a FREE REPORT – Costa Rica: The Land of Pura Vida
This special guide covers real estate, retirement and more in Costa Rica and is yours free when you sign up for our IL postcards below.
Related Articles
The Truth About the Cost of Living in the Orosi Valley, Costa Rica
3 Unique Towns for Beachside Living on Costa Rica's Pacific Coast
Keeping Fit and Making Friends in Costa Rica's Southern Zone