"What about the golf scene?" To an avid golfer this eclipses even healthcare as a need-to-know.
While golf can prove to be a prohibitively expensive pastime in North America, in the right places overseas, you can play a round for a lot less than back home.
You can find a course on just about any continent. Indeed, Apollo 14 astronaut Alan Shepard played golf on the moon in 1971, so you're not even limited to the planet if you're desperate for a round.
We've chosen three places to consider: one close to home and well established, one a little farther afield but more affordable. The third location is a little more unexpected, but might, for the right person, be the best of them all. Read on for our take on three of the best golfing options for your overseas retirement.
Close to Home and Well Established: Puerto Vallarta, Mexico
By Richard Jerome
Everything a sun-loving retiree could want.
If you are planning to play golf at one of the 11 courses in the Puerto Vallarta area, Nuevo Vallarta, just north of the old town, places you in the epicenter. One of the premiere sites is Paradise Village, a vast 440-acre property with everything necessary at hand, including a hospital, church, shopping center, supermarket, fitness center, marina, and every kind of housing option. It comes with just about everything a sun-loving retiree could want. And it has a golf course.
El Tigre golf course is the centerpiece of the property. The course is fun to play, providing an interesting mix of holes and designs. Overall, it is quite challenging, but fair (and not overly intimidating, as some resort courses can be). Perhaps the biggest challenge comes at the very end. The 18th hole plays 543 yards (and that's from the white tees), and generally with a breeze blowing into you from the ocean. There is water on the left and out of bounds on the right, and, when you finally do get there, you find a green completely surrounded by bunkers. The tiger can be tamed, though. Michael Emmett from Ontario, Canada, fired a smooth 58 and with that holds the course record.
Golf at El Tigre is not cheap. But remember, this is Mexico, and that means everything is negotiable, including golf. In the off-season, from May to October, prices are much more reasonable and deals can readily be had. A couple with a year's membership, playing an average of three times a week, would be paying about $30 a round.
Across the road from El Tigre you will find another enormous property, the Grand Mayan, which now boasts two full-sized courses as well as one 10-hole, par three course where you can play until 11 p.m.
The original Nayar course is something of a Band-Aid affair. Originally designed by Jim Lipe, Jack Nicklaus later came in and redesigned 10 of the 18 holes (which is just enough to now call it a Nicklaus design). Nayar is fun and probably the easiest of the 11 courses around.
A 15-minute taxi ride north from the Mayan will land you at the Flamingos course, on the outskirts of Bucerías. Built in 1970, it is an interesting mixture of rolling terrain, old mangrove trees, natural lagoons, and tropical rain forest. Unlike many other courses around Vallarta, it is not bordered by rows of houses. Flamingos offers the best value for your dollar. They have deals on 5, 10, and 20 game cards, and for about $50 you can come out and play at twilight. The fairways are wide and forgiving, but the course still offers up many challenges.
After golf, you might want to take a look at the nearby Bucerías, a favorite destination for expats. Calm, relaxed, and coasting along at a slower pace, many will tell you that Bucerías is what Puerto Vallarta was 50 years ago. Boasting beautiful beaches, cobblestone streets, and brightly colored homes, there's no lack of restaurants either. Try budget-friendly La Taker, where the homemade soft corn tacos are the best around, and the chocolate flan is a must-try.
Northward along the new Highway 200, 30 minutes' drive from Flamingos will deliver you to Punta Mita, another Jack Nicklaus design and one of the most scenic golf courses in the world.
There are actually two golf courses on the 200-acre resort at Punta Mita: The Pacifico and The Bahia. Both sit along the white sandy beaches and turquoise waters of this northernmost point of Banderas Bay. And the views are spectacular.
Pacifico is the more player-friendly of the two. And you must experience the third hole. A par three, playing 190 yards, the hole involves crossing a narrow causeway through the ocean to a green set on a lava rock island. There is always wind coming off the ocean, so you will need your "A game" to post a par here. Punta Mita's other course, The Bahia, is the more challenging of the two, and you will have to have a solid short game and a hot putter to score well there.
One of the most scenic courses in the world.
The last course in the area north of Vallarta is Litibu. It is situated between Punta Mita and Sayulita along the coastal road. Designed by Greg Norman, it is a fairly challenging course where seven holes are "link" style, and eight other holes are surrounded by jungle. The last three holes run along the Pacific Ocean with beautiful views of Punta Mita and Mexico's western coastline.
A 25-minute ride from Litubu will land you in Sayulita, a beach town imbued with a laidback, California-style atmosphere that offers a beautiful beach, surfing, funky art shops, and spas and yoga aplenty.
Back in Nuevo Vallarta, the three remaining golf courses are to the south. You can hop on a bus for about $1, and in 25 minutes you are right at the gates of the Marina golf course. It's reminiscent of a municipal course in that it is almost in the center of the city, which is what makes it different. Bring lots of balls; the course is tight and there's a lot of water.
Fifteen minutes to the southeast are the final two courses: the Vista Vallarta courses. As the name implies, you get many views of the bays and the mountains around Vallarta. Both courses are a very good all-round test of golf; even with the wide fairways you need to carefully place your shot. You will find jungle, sloping fairways, and many elevation changes. Both courses are worth a visit.
A final tip: I would suggest you bring balls, and, depending on where you play, lots of balls. Even if you can find them for sale outside a golf course, which is rare, you will pay about three times the U.S. price. And keep in mind, like all other destinations along Mexico's Pacific coast, the rainy season runs late May to October.
As for nearby real estate, there are many deals to be had in and around Puerto Vallarta. And even though prices have risen in recent years, it is still very affordable by U.S. standards. For example, a two-bedroom, two-bathroom, modern condominium with view can be purchased for around $200,000. If you are considering renting, then a long-term lease of this same unit falls in the $700-a-month ballpark.
Quality healthcare in Puerto Vallarta is offered through private clinics, where a doctor's visit will cost about $40. And dental procedures, such as implants for example, are about half the price you would pay in the U.S. or Canada.
Affordable, Warm-Weather, and Beginning to Shine: Ecuador
By John Williams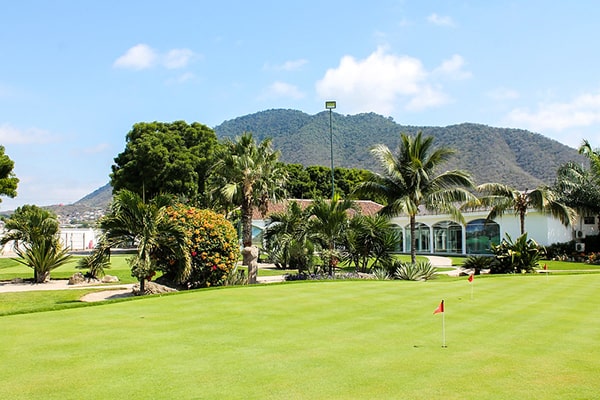 "Hey, I could get used to this" was the comment from a visiting Canadian when we played golf at Montecristi Golf Club & Villas in Ecuador. We had just stepped up to the fifth tee box and he realized that we had seen only one other group of players on the course so far. My reply was "I have." And, so can you.
When I moved to a little beach town in Ecuador in September 2017, one of the activities I thought I would lose was playing golf—a game that I had enjoyed for decades. I was willing to make the sacrifice because, after all, I was living on a spectacularly beautiful and uncrowded beach where I listen to the waves rolling all day and all night. I call it the "heartbeat of the planet."
For several years prior to taking the expat plunge, I had done research. I checked on available healthcare, cost of living, weather, personal safety, and also recreational activities. Ecuador is about the same physical size as Nevada, with about 17 million people, largely living in urban centers around the largest city of Guayaquil, the capital city of Quito, and in various smaller cities and villages in the highlands and along the Pacific coast.
Of the eight golf courses in Ecuador I knew there were four in the Quito area, two around Guayaquil, one in Cuenca, and one in Montecristi. I wanted to live on the beach, but Guayaquil, Quito, and Cuenca are not beach towns. So, no golf for me, and I was OK with that, I thought.
However, what I discovered after settling in and buying a suitable car was that Montecristi is only about a 30-minute drive on a modern highway from Playa Santa Marianita, where I live. So, I went exploring. The Montecristi Golf Club Camp & Villas is an "urbanization," the Ecuadorian term for a housing development, and is very well executed. It encompasses 2,300 acres on which the golf course and its spectacular clubhouse and dining room reside as centerpieces. The first stage of the development plan includes 584 residential units.
The golf course is 6,596 yards long, and some holes were playable when I first arrived. It was still a little rough around the edges, but hey…it was golf in my area of Ecuador. As I played, I thought about three things that would change Montecristi Golf Club into full-blown excellence: golf carts that ran dependably, asphalt cart paths instead of dirt, and real sand bunkers instead of sifted (sometimes not so sifted) dirt.
I joined the club anyway. The cost? A $400 initial fee and total monthly dues of $136 for unlimited rounds of golf, including cart. Here's the calculation: I play an average of 10 rounds per month, so my cost per round is under $14. Better yet, in the time I have been a member, they have purchased brand new state-of-the-art ClubCar golf carts with GPS, are completing paving the paths, and are just finishing putting sand in all of the bunkers. They must have been reading my mind.
The regulatory agency for golf is the Ecuador Golf Federation, or FEG (Federación Ecuatoriana de Golf), which has eight member golf courses, and 1,135 registered golfers in their handicap system, including 27 professionals. Two new courses on the coast are in late-stage planning. The FEG holds three-day "National Open" tournaments eight times a year, one at each of the member clubs, where the professionals and the amateurs participate on the same courses and dates. The price to play in these events is about $120. Yes, $40 per round for a three-day official National Open tournament. Think you can't afford quality golf on a retirement income? Think again. You can in Ecuador.
For more fun, if you want to take a golf excursion to courses other than the closest one, travel is simple and inexpensive. A three-hour ride on a nice public bus from where I live to Guayaquil, with its two courses, costs about $9, and they gladly make room for your clubs. The eight-hour bus ride to Quito (and its four courses) is about $12, and there is even a night bus so you can rest while traveling. If you prefer to fly, airfares are about $60 each way. The clubs reciprocate and treat you as a welcome guest.
Play warm with 12 hours of daylight, all year.
With inexpensive transportation and low fees, you can afford to play golf anywhere in the country. And don't forget, in Ecuador, you can play warm with 12 hours of daylight every day, all year.
An Unexpected Golfing Nirvana: Southeast Asia
By Scott Dalton
If you love golf and you want to indulge yourself in it, then Southeast Asia is the place for you. I first arrived in my late teens to play on the Asian Golf Tour. Since then, I have been a golf teacher, consultant, and general manager at some of the foremost clubs in the region. This has enabled me to discover some of the lesser-known but superb golf courses that abound. I have met many a retired golfer living near courses which they have almost to themselves, playing out their golfing dream.
Just imagine teeing off on the first on a beautiful post-monsoon morning. The cloudless sky is a robin's egg blue—a perfect backdrop for the lush jungle greens that line both sides of the first hole.
A squirrel scurries up a tall tembusu tree, and exotic birds, like rainbows in flight, flit past. After nailing your drive, you walk down the fairway, tiny translucent pearls of dew on the tight-mown grass. Your six iron ends up eight feet from the pin, an easy uphill putt. As you walk towards the green, a cacophony of exciting fragrances greet you with every step: jasmine, tamarind, and honeysuckle.
Sounds too good to be true? It's not. This was my golf day only last Sunday (I did miss the eight-foot putt though). I was playing on a fantastic course in eastern Thailand called Chatrium Golf Resort Soi Dao. This breathtaking sanctuary is a little bit out of the way, being nearly four hours from Bangkok. But it's well worth the effort, especially for a long weekend, as it has a super little hotel attached.
Chanthaburi itself is a lovely old historic town and boasts the best fruit in Thailand. From this ground comes some unbelievable gems, so it's well worth having a stroll through the market between rounds.
After the round, I joined Patricia and Ian "Hootie" Torrance, retirees on their golfing pilgrimage. I'd first run into them in Indonesia. In 2015, at the age of 57, they sold their car, boat, and house and followed their golf retirement dream.
Commencing in Bali, they found the green fees exorbitant compared to the rest of Indonesia, so they decided to try east Java for a month but ended up staying six. Then it was Hua Hin in Thailand, and now they are based in Si Racha—a charming Thai town near Pattaya, where they have over 30 courses to choose from.
I asked them what made golf in Southeast Asia so special.
"Value for money," says Patricia. "We have played in the States and Europe. It's not just the horrendous expense there, it's that so many courses in these countries are member-or guest-only. Here we are graciously welcomed with Asian hospitality and can play on perfectly manicured greens and fairways."
"Just look around you," she says, from the luxurious club house with views of the majestic Pop Nam Rong mountain. "It's the total package, from the food and beverage, to the service. It comes from the heart, there are drink holes every three holes around the course, it's all laid on."
"I wasn't even allowed to have a beer during play on my home course," said Hootie. "Too many rules and restrictions, and not just on the golf course. Here I can play a world-class championship golf course for a fraction of the cost and still have a cold beer."
Patricia and Hootie are right. Having played golf all around the world, sometimes for a living, I know how good it is in Southeast Asia. A "perfect storm" created this astonishing golfing delight. When I first came to play golf in Southeast Asia in the early '80s, there were only a few of the old classic courses, generally founded by Scottish emigres. Then in the '90s the massive golfing boom began. Every tycoon worth his salt needed a golf course to call his own. Then…the Asian financial crisis came and notions of member-only fiefdoms fell by the wayside. In the meantime, every big-name golf architect had designed and created masterpieces throughout the region, in stunning natural surrounds, with varying degrees of difficulty and style. The owners soon opened their doors to all and any golfers.
You can play in tranquil settings, overlooked by world-famous temples or serene pagodas, or you can tee off across the hammered curve of a bay, over the crashing surf, to a strategically placed landing area. The possibilities are endless.
Thailand and Indonesia are the big guns, but Vietnam is flourishing and there is a burgeoning golfing scene in Cambodia, Burma, and Laos. Generally, courses are clustered together. Competition is fierce between clubs. Many offer annual memberships and overseas memberships, as well as three-month and long-term options.
More and more retirees are establishing their retirement on their love of golf in Southeast Asia. It's not just the affordability of a round. If you consider the low cost of living and all the other attractions Southeast Asia has to offer, it's no wonder that retiring to chase your fairway to heaven is becoming such a popular idea.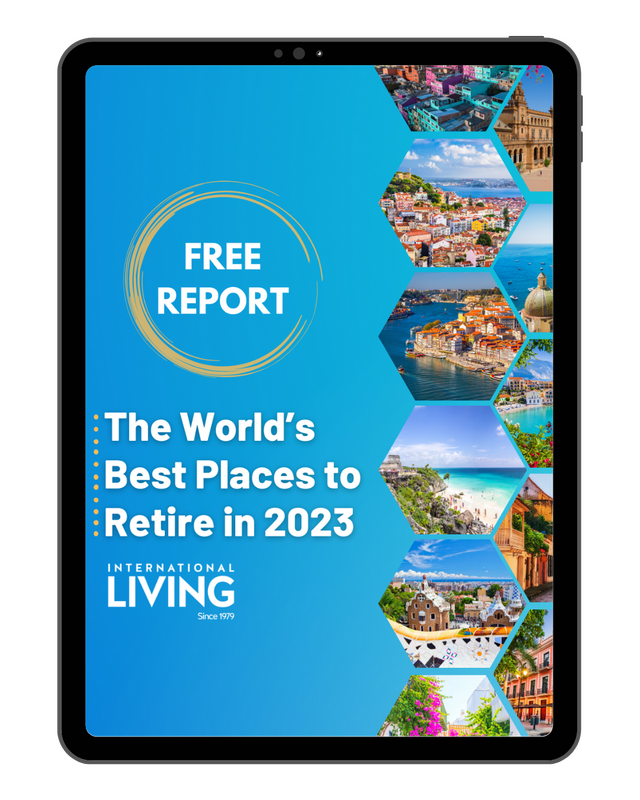 Get Your Free Report on the World's Best Places to Retire:
Learn more about the best places in the world to retire in our daily postcard e-letter.
Simply enter your email address below to sign up for our free daily postcards and we'll also send you a FREE report on The World's Top 10 Retirement Havens, plus access to over 10 more free reports. Our gift to you, on our favorite destinations.
Related Articles
5 Great Places for a Golfing Retirement
Golf Course Living by the Beach…With No Property Taxes
Which of These 9 Retirement Personality Types Are You?