It was a steamy night in Florida six years ago when I sat in front of the air conditioner reading articles in International Living about people who had relocated internationally and were now living their dreams…"happily ever after."
I thought how courageous these people were to leave their homeland and the comfort of everything familiar to them to go in search of a better life. Their scenarios reminded me of stories I'd read about immigrants coming to America. I tried to imagine how they must have felt seeing Ellis Island for the first time. As I considered their sacrifice, boldness, and determination, I felt sure I could never do that.
And yet, here I am today, living in the mountain town of Cotacachi, Ecuador. I feel proud that we were able to realize our dream of a better life. And now that our new lives are well-established here (we've been living here for over a year now), I honestly say I have no regrets.
My husband, Kim, and I live comfortably within our budget of $2,000 per month and everyday life is more fulfilling as we get to do the things we love. We're constantly meeting interesting people and making new friends. We're both healthier and can afford to travel and explore a whole new continent.
Such a change required serious deliberation. There were many things to be considered. When we first contemplated the idea, it felt daunting. I felt as if I was standing at the edge of an abyss, with no idea how to reach the other side. Talking to expats here in Ecuador though, we realize that everyone had similar concerns.
When planning our move, we relied heavily on International Living for information. It became our mentor, offering support from others who'd done what we were about to do…move overseas. So if you're standing, staring into that abyss like I was six years ago, let me put your mind at ease by saying that you too can do this.
What helped me most during the planning stages was making lists and thinking of only one thing at a time. When a project was completed, there was the satisfaction of crossing it off the list and knowing I was one step closer to our goal of living in Ecuador. Another method that helped us was to delegate assignments to both of us. Kim and I each have our own strengths and that cut the work in half.
One of the first questions to address was whether or not a scouting trip to Ecuador was necessary. Neither of us had been here before. One of the considerations was the expense of the trip. We weighed pros and cons and since we were retired, we waited for airline tickets to reach what we thought was a reasonable price and booked.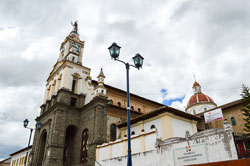 We traveled the entire country for three months and found the location that suited us both. We were tired of being hot or cold for half of every year. Here in Cotacachi, the temperature is comfortable and almost the same every day.
For us, the fact-finding trip was a good idea. After it, we knew where we were going to move to and what to expect as far as costs were concerned. And, we made several friends in Ecuador who helped us during our move.
The quality of healthcare was an important aspect of living in Ecuador for us. During our scouting trip, my husband had occasion to visit Clinica Santa Ana, a hospital in Cuenca. We were impressed with the doctor, the staff, and the facility. The hospital offered us a translator each time we saw the doctor. These hospital visits weren't planned, but they allowed us to resolve many of the questions we had concerning the medical care here.
Our dog was also on our priority list of considerations. We had recently adopted a two-year old Carolina dog named Blaze. She was young and had stolen both of our hearts. There was no question, she was coming with us. So we researched the required steps to take her to Ecuador and her transportation involved close communication with the airline to meet their specific requirements. I'm thankful every day that she is here as she's an important part of the family.
These are some of the things that worked for us as we planned our move to Ecuador. Of course, your move-overseas plans will be based on what's right for you and your situation. But whatever that is…it is doable.
If I can do it, so can you. There are plenty of people here in Ecuador who will tell you the same thing…and you'll be in good company.
Get Your Free Ecuador Report Here:
Learn more about Ecuador and other countries in our daily postcard e-letter.
Simply enter your email address below and we'll send you a FREE REPORT – Ecuador: Live Like Royalty on Your Social Security.
This special guide covers real estate, retirement and more in Ecuador and is yours free when you sign up for our postcards below.

Get Your Free Report Here