My husband, Damon, and I spent three years traveling the world looking for an exotic locale to call our new home. We loved every town, city, and country—Costa Rica's beaches, Ecuador's mountain cities, Thailand's temples and islands—each more interesting and captivating than the next.
We didn't know what we were looking for in a new home, but we would know it when we found it.
And we found it just south of our own border, in beautiful Mexico.
Are you interested in retiring abroad? Yes | Not Sure Yet
Of the 28 countries we had traveled in the three years of our journey, it was Mexico—with the richest culture imaginable, ripe with passion and appreciation for its history—that spoke to our souls like no other country did. Right here, in our very own backyard, was the biggest hidden gem of all.
We moved to the colonial town of San Miguel de Allende in the state of Guanajuato in 2021 for a six-month trial. (You can stay in Mexico for up to six months on a U.S. passport.)
Those six months changed our lives.
At 6,234 feet elevation, this historical city is nestled high in the Bajio Mountains of Central Mexico. Known for its 19th-century Spanish colonial architecture and its vibrant art community, San Miguel feels alive and welcoming.
If strolling along cobblestone streets flanked by richly colored buildings and homes is a draw for you, then be prepared for the walk of your life. Whether you stroll down the main street of Ancha de San Antonio, or along the beautiful Calle Aldama, the town is a photographer's fantasy.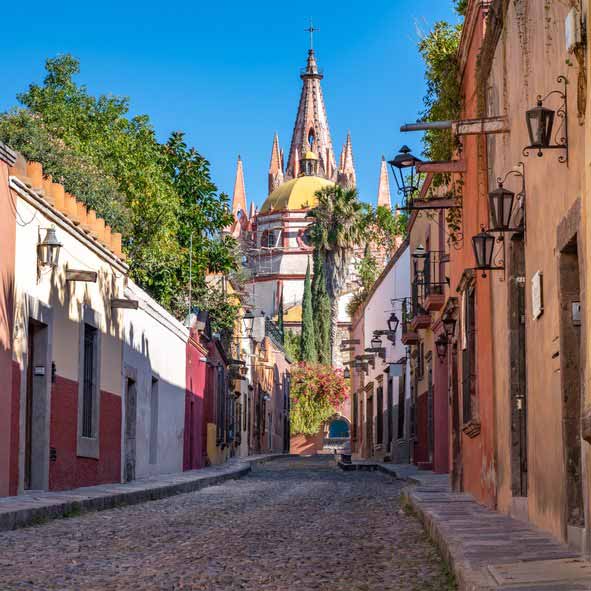 And, of course, there are festivals aplenty. The Mexican people know how to celebrate, and with over 5,000 traditional Mexican festivals and events each year, they do it in full vibrant color and soaked in music.
You don't have to be of the Catholic faith to appreciate the reverence and joy of the many religious ceremonies. All are beautiful and captivating in their own right. (Fun Fact: More than 3 million people enter Mexico City every October to celebrate Dia de Los Muertos.)
And if the fear of being alone in a foreign country holds you back from trying your hand at expat living, then know that there is a vibrant and well-connected expat community in San Miguel. There are approximately 10,000 people living as expats here.
Damon and I threw ourselves into San Miguel, and everything it offered. The year-round comfort of temperatures ranging from the high 60s F to mid-80s F was a godsend. And the ease of walking into town meant that buying a car wasn't necessary, especially with taxis running us about $2.50 in town. (Even better, the city bus in San Miguel costs about 35 cents a trip.)
The many cuisine options available to us within a 15-minute walk from our home mean that we eat out four to five times a week. And with the average cost of a meal running between $7.50 and $10 per person, doing so doesn't break the bank either.
Rooftop dining with friends is a staple in San Miguel, and the town is full of restaurants with spectacular views of the cathedral. Friday nights are a date night ritual again, because blockbuster movies from the U.S. (shown in English with Spanish subtitles), cost around $3.29 each. It's also completely free to stroll into the Jardin Allende plaza at sunset and people-watch as mariachis play music well into the night.
With the many deluxe bus lines traveling everywhere in Mexico, comfortable, affordable transportation to other Mexican states is easy. And when I say deluxe, I mean buses with giant reclining seats, each with a movie monitor and air conditioning. For about $9, (for a 90-minute trip) we can visit the city of Guanajuato. It was the home of famed Mexican artist, Diego Rivera, and is known for its narrow streets that wind through architecture that reminds me a lot of Europe.
For around $40, we can take a six-and-a-half-hour hour bus trip to the metropolitan city of Jalisco. Alternatively, it's a four-hour ride to Mexico City for about $27. There's never a shortage of options for getting around.
And the best part of all—with direct flights back to the U.S., there's never a reason why we can't fly home to visit friends and family (or better yet, they can come to visit us). A direct flight from Leon, Mexico to California takes around three hours.
When our six-month visa came to an end, we came to the realization that we had stumbled into something neither one of us had believed possible. We didn't want to leave. So much so that we decided to begin the process for attaining residency in Mexico.
The process was simple, clear, and easy to complete, and within a month of starting it, we became legal residents of Mexico. Now we live full-time in a culturally rich community, and we embrace every day as a new discovery.
Get Your Free Mexico Report Here:
Learn more about Mexico and other countries in our daily postcard e-letter. Simply enter your email address below and we'll send you a free special report - Why Millions of Americans Are Moving to Mexico.
This special guide covers real estate, retirement and more in Mexico and is yours free when you sign up for our postcards below.
Related Articles
Top 10 Reasons to Move to Mexico
Maps of Mexico: Best Beachside and Mountain Towns
Real Estate & Property Information for San Miguel de Allende
Popular Articles You May Also Like